In these uncertain days, taking care of your health is more important than ever. In addition to taking your vitamins, resting and eating well, boosting your immune system by incorporating turmeric into your everyday has more benefits than meets the eye. One excellent spot to park it: Hot Cocoa!
In India's Ayurvedic medical culture, turmeric powder or juice is given to people with many gripes, particularly for pain and inflammation. 
Somewhere in the internet, golden milk was touted as an 'ancient Indian secret' and though it's often added to milk in India, this concept seems to be an interpretation rather than an authentic classic. Interpretation being the specialty of any chef looking to stash the power of cannabis, a desire to take hot cocoa to the next level spawned this awesome take on two favorites.
What you end up with is quite delicious and is the perfect vehicle to get maximum benefit from turmeric. 
Combining it with hot cocoa is utterly divine, adding the devils lettuce, makes it not only literally intoxicating, its ingredients push through both the THC and turmeric's curcumin faster and better than most consumables. 
Black pepper and cardamom, both enhance your stone and help the turmeric work its magic, and since everything is fat soluble, it will play nicely together.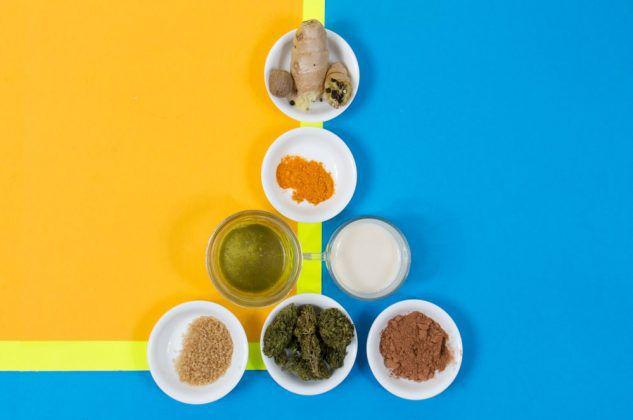 Cannabis Infused Golden Hot Cocoa
2 tablespoons cocoa
1 tablespoon Demerara sugar
1 teaspoon turmeric
3-5 black cardamom pods (OR dip a toothpick in essential oil and then dip in milk)
A few cracks of a black pepper grinder
A ½ inch nub of fresh ginger
¼ cup half and half (you can use any milk here dairy or not)
½ teaspoon cannabis coconut oil or butter*
2/3 cups boiling water
In a mug, add cocoa and sugar put aside. If you are using a milk frother, lightly crack spices except turmeric and add to mug with cocoa. Without a milk frother, use a dry saucepan to lightly toast the cardamom and pepper before heating milk, do not boil, do not pour milk over flame.
While milk is heating, boil water separately and pour over cocoa, stirring thoroughly. Remove milk from heat and stir in infused oil and turmeric. Let stand for a few seconds, then slowly pour over cocoa.
If you want to get really weird, you can use some boozy rum cream with the milk, and it will be mildly alcoholic, but incredibly tasty. Drink up when you're feeling under the weather in any way–inflammation doesn't just mean injuries and sore muscles, it counts for sinuses and PMS too.
* Cannabis Infused Coconut Oil
Put ¼ cup coconut oil in a clean mason jar with decarboxylated starting material (20 minutes at 225 in a sealed container for raw cannabis, 10 for hash and wax). Seal the Mason jar and placed in a warm water bath for 1 hour. Cool the Mason jar to room temperature and place in a freezer overnight. The next day, defrost and place in a water bath once more, just to heat through. Strain if using raw cannabis. If using a concentrate or hash you won't have to strain the material.
Danielle Guercio is a contributing writer to The Fresh Toast. The Alaska Cannabist has partnered with The Fresh Toast, a lifestyle and entertainment platform featuring coverage of cannabis, culture, comedy, food, drink, edibles and more.