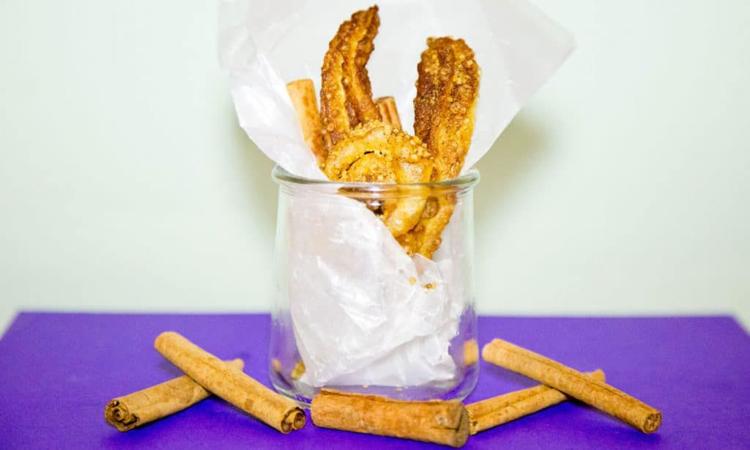 Churros evoke memories of theme parks, subway cars, city beaches and for some, childhood and special occasions. These marijuana-infused churros will give you new memories.
If you're a fellow Great British Baking Show fan, you know them as challenging choux pastry that require a bit of finesse to prepare properly. Unless you have the muscle memory of making them a few times, it's gonna take you a few tries to get them down pat, but they are really fun to try at home, because then it's OK to eat more than one.
The basic gist of a churro is a rich but light pastry that puffs up in oil as its deep fried, and it's every bit as delicious as it sounds. Once cooked, these crispy crullers are sprinkled with cinnamon and sugar, and they turn into magic wands ready to be ingested with aromatic and psychoactive pleasure.
The cinnamon that gets dispensed generously on the top has more purpose than flavor and garnish. Potent terpenes from spices like cinnamon can help enhance an experience or speed up the absorption of cannabinoids into your system. Cinnamon is one of the sacred spices in 'holy anointing oil', the missing link between cannabis classical antiquity and the current climate.
Makes 20 churros – 6 mg THC per churro
1 cup canola oil or shortening for frying
1 teaspoon vanilla extract
1/3 cup cannabis infused butter*
Garnish: 1 tablespoon cinnamon and ¼ cup caster sugar
You really want to set up your workspace before you mess with any frying. There's a not-oft-employed stovetop portion of the dough-making process and since you also will be doing some frying, so get prepared instead of diving in. Once you do, it all moves quickly. Get the oil in a heavy duty skillet or deep pan ready for the flames. Deep fat frying is typically no bueno for cannabis recipes, but these cook up so quickly that it's NBD.
Make a station of paper towel lined cookie sheets to receive the hot churros. Have a saucepan to make your dough, and the piping bag or small plastic bag fitted with a star tip before you even measure out the goods. The last bit of prep is mixing the sugar and cinnamon so you can dust and promptly shove them in your mouth with no lag time.
Let the oil come to 325 degrees while you prepare the dough. Melt the butter and bring the water to a boil in a small pan. Add sugar and salt and once incorporated, take off the heat and stir in the flour and work it in well. This will be a bit tough and a wooden spoon is the best tool to go for it.
Beat the eggs and add some vanilla, getting them nice and fluffy. Scoop in the mixture from the saucepan and gently but thoroughly work it in. This will make a paste-like dough that then goes into the piping bag or Ziploc.
Once you've got the dough ready to be piped out, work with 4 churros at a time. Squeeze the bag so you get churros of your desired length, mine were 6 inches to allow for better dosing and quicker cooking. Fry 1-2 minutes per side, turning once and then draining on paper towels. They will be done really quickly, with less than 10 minutes to fry all 20.
Dust immediately with cinnamon sugar mixture, and enjoy responsibly.
Decarboxylate 3.5g of finely ground cannabis at 225 degrees for 20 minutes in a tightly sealed, oven safe container. Put cannabis in lidded mason jar or vacuum sealed bag with cannabis and one stick of butter. Heat in water bath just under boiling for at least 1 hour. Strain and chill to use in recipes.
Danielle Guercio is a contributing writer to The Fresh Toast. The Daily News-Miner has partnered with The Fresh Toast, a lifestyle and entertainment platform featuring coverage of cannabis, culture, comedy, food, drink, edibles and more. Online at www.thefreshtoast.com