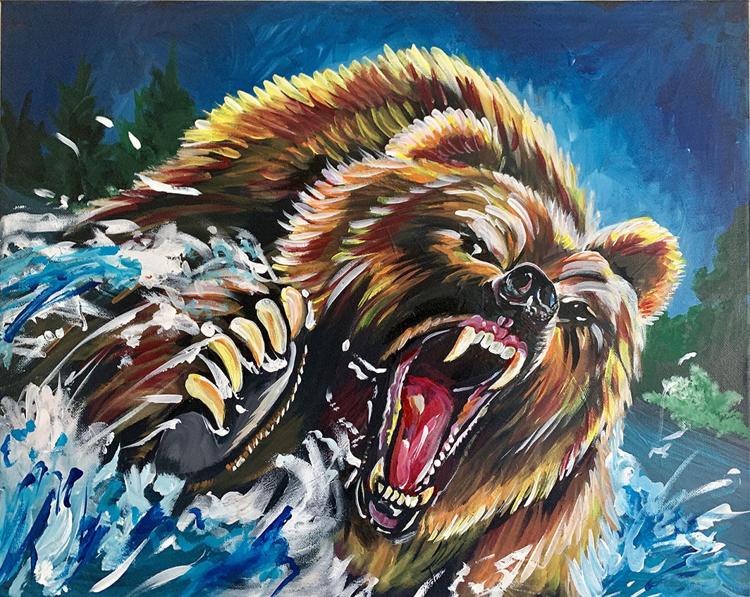 Wasilla artist Lori Teich loves what the cannabis industry has done for her and for her work.
"The opportunities that I've received from the cannabis industry have been amazing," she said, discussing how dispensaries in Alaska have become valuable display venues for herself and other Alaska artists. "AM Delight in Anchorage has displayed my art as well as many other artists in their store. If you go there, all the tiles on the ceiling are painted with awesome work making it feel like a graffiti paradise, which is really welcoming."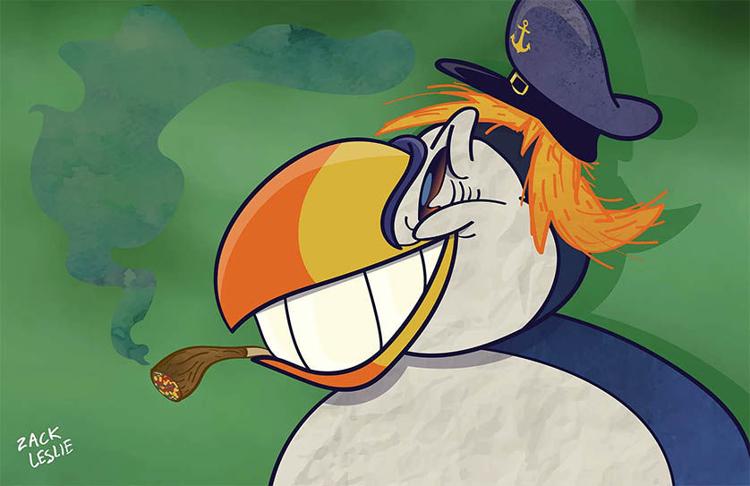 Teich's experiences are in keeping with what other artists have discovered: Many legal cannabis outlets have become de facto art galleries in addition to selling marijuana products, opening up much needed space for artists to show and sell their work and enhancing cultural life in Alaska.
The showings aren't just for cannabis customers. Many shops throughout Alaska are now holding monthly First Friday events where non-consumers who might otherwise not enter an establishment are drawn in by the artwork and learn in the process that dispensaries are a vibrant part of their neighborhoods.
It's a development that both artists and dispensaries find beneficial. Winston Montecillo, an employee at Anchorage's Enlighten Alaska, books artists for the shop's First Friday showings. He said the store, which is staffed by artists, musicians, photographers, yoga instructors, and others, consciously seeks to provide a fun and comfortable space in the heart of that city's Spenard district.
"We wanted to be a community fixture and not just a retail shop," he said.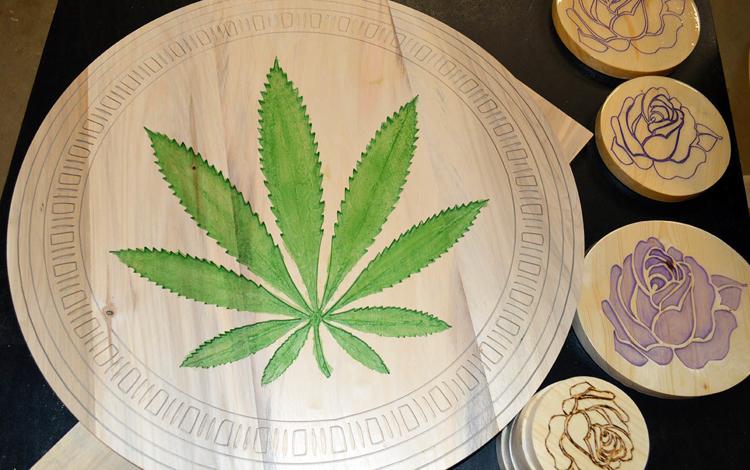 To that end, Enlighten focuses on boosting the local scene, bringing in a variety of artists, photographers, and once even a tattoo artist who paints on the side. This has led to happy results for both the store and those who have shown their work there.
Anchorage-based cartoonist Zack Leslie stated bluntly that, "Enlighten was easily my most successful gallery so far," before adding with a chuckle, "Who would've thought cartoons would resonate with stoners so much?"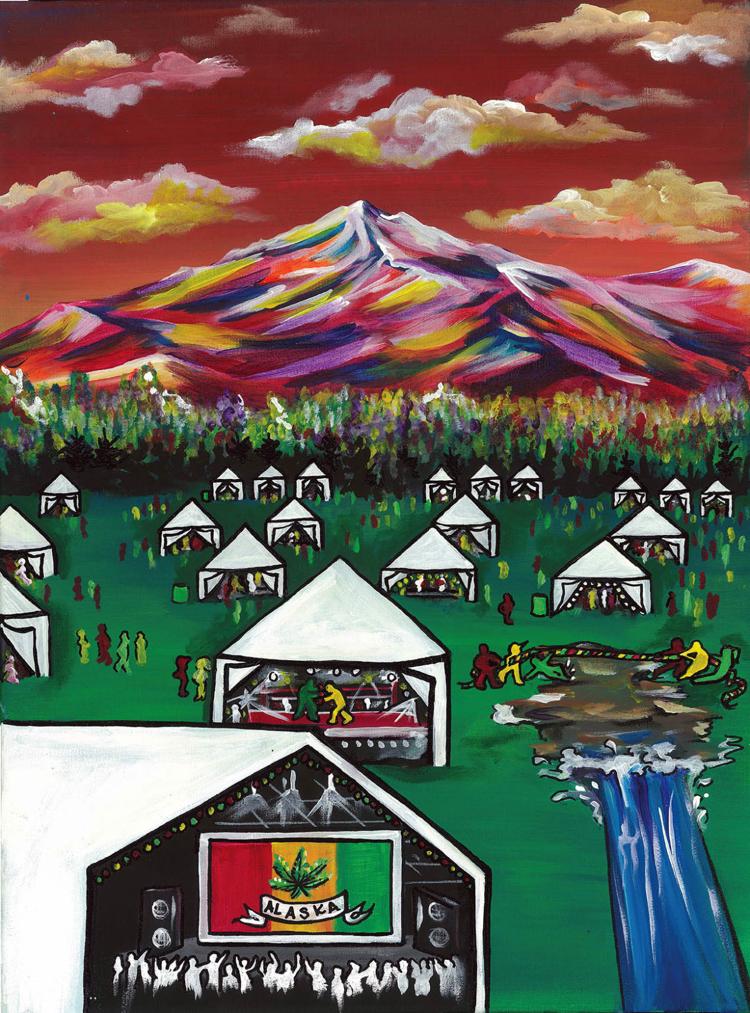 Montecillo said one of the reasons artists have been so pleased is that Enlighten does not charge them a commission. Artists receive a full return for everything they sell from the shop, including additional wares they might bring in other than the art hanging on the walls. He said First Friday launches also include vendors, growers and others from the cannabis industry who can meet with customers.
"Our First Fridays have turned into one of our biggest days of the month and one of the funnest days to come in," Montecillo said.
GOOD Cannabis in Fairbanks has also become a go-to spot on First Fridays. Budtender Tierney Goan is in charge of finding artists and said the monthly event "is usually a pretty popping night. Lots of people through the door. There's snacks. Everybody loves free snacks."
"We've had live (music) artists before," she added.
While Enlighten lets artists keep all their sales proceeds, GOOD has taken a slightly different approach but one that fits with the shop's broader commitment to helping build community.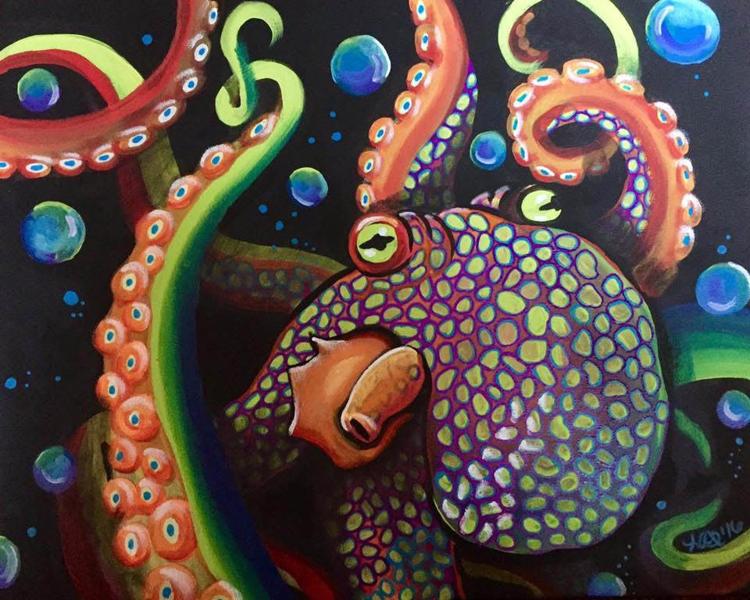 "We don't take anything from the artists money-wise," Goan said. "We take 30%, and it goes straight to charity. We generally talk to the artist first about what sort of charity they're interested in, but we keep it local. We like to do Alaskan charities, because that's the biggest return locally."
Fairbanks artist Larry Davis, who was on display at GOOD in August, chose the local Boys & Girls Club as recipient of proceeds from his sales, while September artist Shayla Sackinger, a self-proclaimed bird nerd, opted to send her 30% to the Alaska Songbird Institute.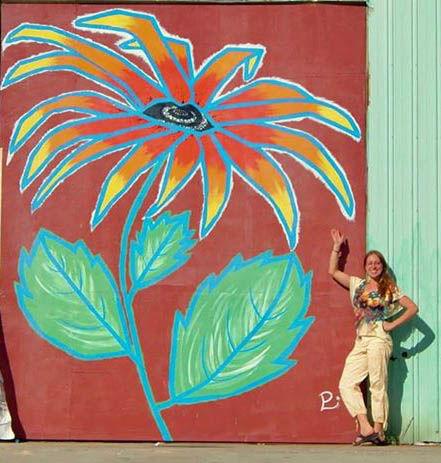 Murals are also becoming commonplace on the outside walls of many establishments. Marc Theiler, owner of Red Run in Kenai, said, "Our team wanted to make our community's morning commute from North Kenai into the general Kenai/Soldotna area more bright and beautiful. We wanted to give them something worthwhile and vibrant. So we commissioned our resident artist, Adam Hoover, to paint a mural that would inspire. And that he did."

The classically Alaska scene, which Teich helped Hoover get started on, depicts mountains, rivers, and a moose, all bathed in the glowing light so emblematic of the Far North. The mural is further enhanced in summer months by the garden beds in front of it, which contain plants that blend naturally with the painting. It's unsurprising, then, that Theiler has found that, "We have people stopping all the time to take pictures."
Fairbanks artist Pamela Lipari contributed a sunflower mural to the wall of that town's outlet GoodSinse after being inspired by what she found at the shop.
"I worked there for a while and really enjoyed seeing the positive influence it had on everyone," she said. "We had lots of talented people bring in woodwork, beadwork, and handcrafted items like bags and jars."
Cannabis is also, naturally, inspiring the artists. Leslie's cartoon "Puffin," with its double-entendre title, shows a puffin, well, puffin', an obvious reference. Michael Blodget, a custom woodworker who along with his wife, Sue, has operated the Alaska Wood Shop in Wasilla for over 20 years, has branched out into cannabis-themed items as well, including tabletops and drink coasters with cannabis leaves etched into them and dyed green, as well as a version of the Alaska flag with those same leaves replacing the stars.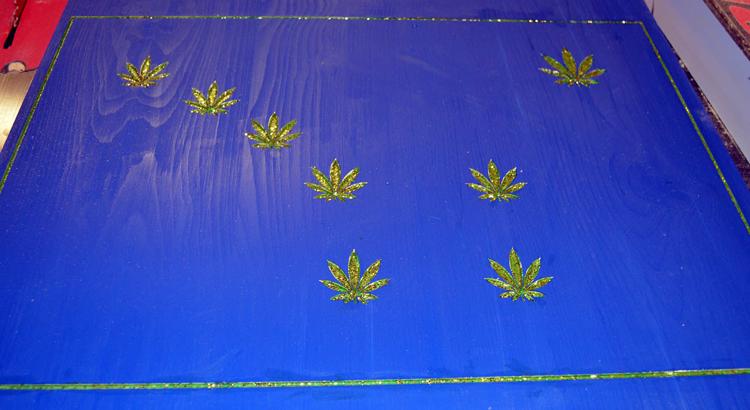 "We viewed it as, if there's a market out there, we'll do it and have fun with it," Sue said, with Michael adding, "One of the kids got us going."
Plenty of artists credit cannabis with helping them get centered and deeper into their work.
"Cannabis has a very positive impact in my art," Lipari said. "It really allows you to relax completely, be less judgmental with yourself and really opens up your creativity. I've done a with-and-without comparison, and you can see there is a major difference."
This is echoed by Teich, a Coast Guard veteran and full-time artist who suffers from arthritis. She said she consumes both for inspiration and for pain relief.
"When I go to paint, it's almost like meditation, and cannabis helps me dial that in," she said. "I'm able to focus and not worry or be in pain."
Teich did the poster artwork for this year's Great Alaskan Cannabis Bowl, with Cody Coman adding the logo. Coman, the chief production officer at Trich Productions, which runs the Bowl, is effusive with his praise for Teich, saying she "is combining cannabis and all things art all over Alaska."
Red Run's Theiler, in discussing his own outlook, perhaps best summarized what artists and the dispensary operators supporting them are seeking to accomplish with the synergy between cannabis and creativity.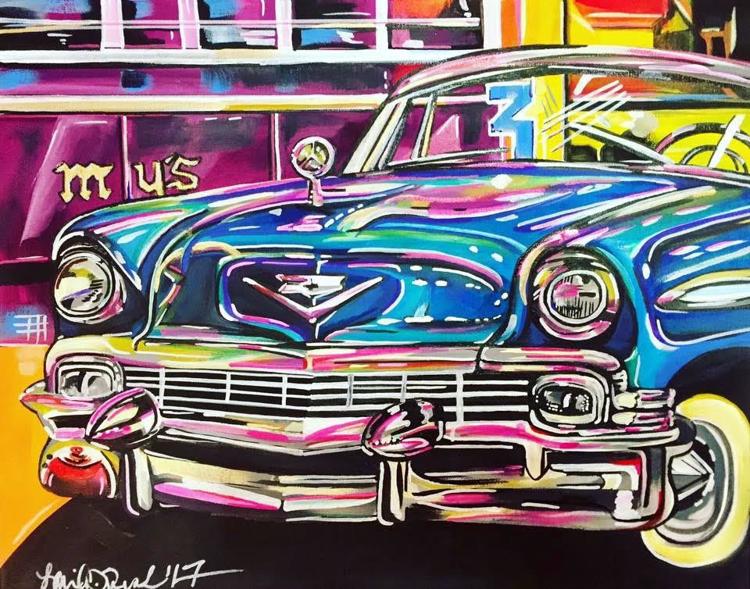 "If every person could make each and every day a bit brighter for all those around, without seeking anything in return, this world would become the garden we all long for," he said. "The idea was just to make our people's day a bit brighter so that they could in turn make someone else's day a bit brighter through inspiration and good attitude."