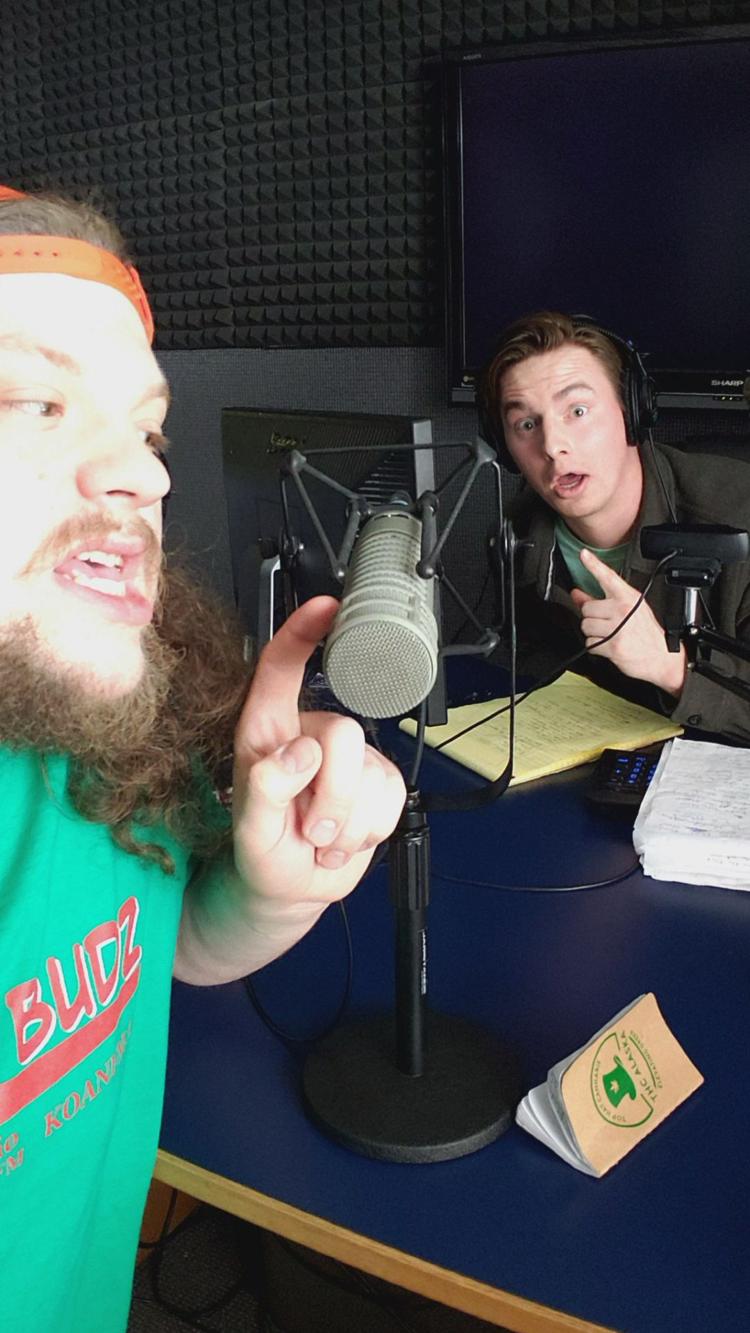 When it comes to the brave new world of legalized cannabis, you might say that Payton McCann and Ben Farleigh are living the dream. Friends since high school, the two comedians not only work in the industry, they also host "Best Budz," a weekly Anchorage radio show devoted to one of their favorite subjects: weed.
McCann and Farleigh talked about their friendship, the show and their plans for the future during a raucous phone interview as they sat in a car at the Anchorage Applebee's parking lot.
McCann, the more clean-cut of the two, said he first met the bearded and bushy-haired Farleigh at a high school party.
"Ben showed up and he looked basically as he does now, which was a little alarming. And he's got a backpack on and he puts it on the kitchen table and it's just one big bag of weed. I was like, 'That is the way to live your life,'" McCann said. "He was one of the coolest dudes I've ever seen."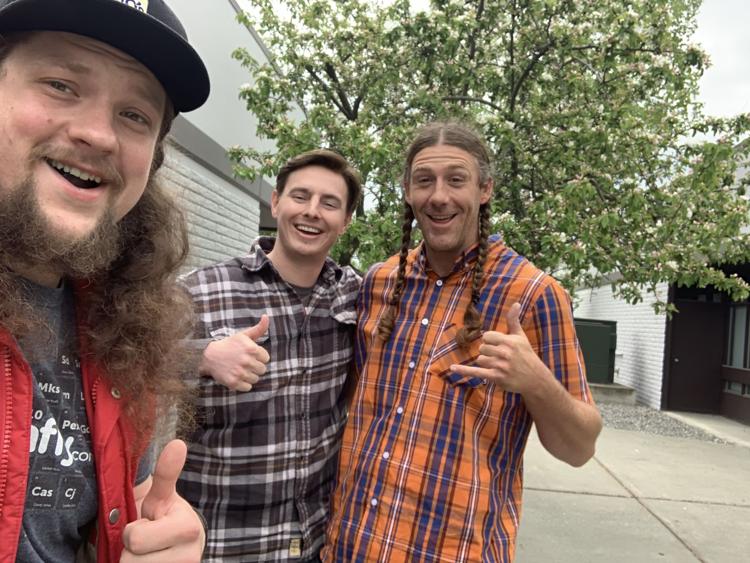 The two lost touch for several years, and McCann moved to New York to pursue a stand-up comedy career. He returned to Anchorage and reconnected with Farleigh, who also was working the local comedy scene.
"He was more refined and I was also super jealous because he was in New York and he was way bigger than I was," Farleigh said. "We both kind of came together through stand-up comedy."
Farleigh, 26, is a fifth-generation Alaskan whose great grandfather was John Troy, Alaska territorial governor from 1933 to 1939. Farleigh went to the University of Alaska Anchorage for a year before he "figured out that college was just a money pit for a social guy like me."
"Being a comedian is most definitely my life ambition. Not just stand-up but all facets of comedy. Movies, TV, radio, all over," he said.
McCann was born in Anchorage and graduated from Colony High School in the Mat-Su Valley. He entered the advanced dentistry program at Marquette University but moved back to Anchorage after he realized he didn't really want to be a dentist. He first started doing stand-up while taking classes at UAA.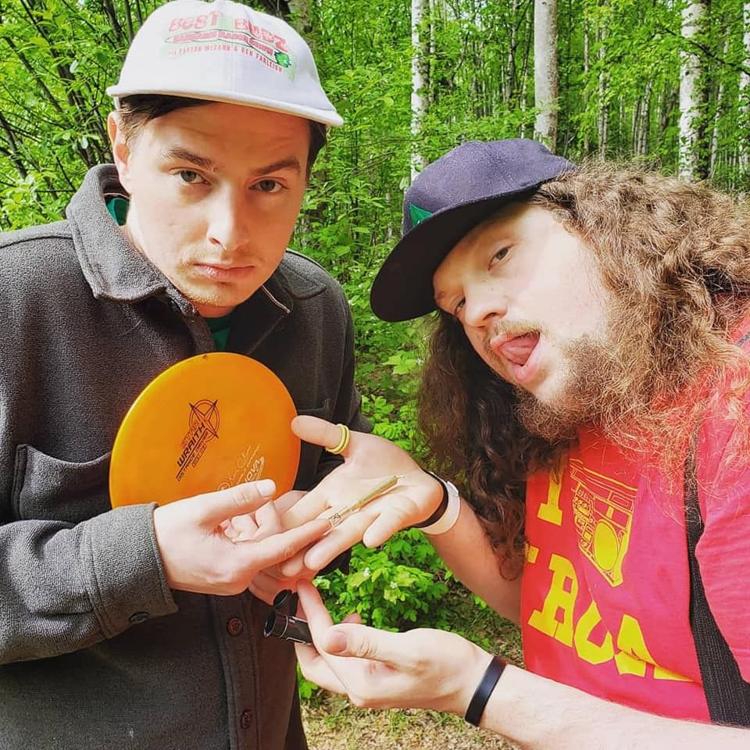 As anybody with show business aspirations knows, you need a day job to pay the bills while pursuing your dreams. Farleigh works at Catalyst Cannabis Co, a cannabis cultivator and retail shop in Anchorage. McCann works at Midnight Sun Manufacturing, a cannabis concentrate facility in Willow.
Weed on conservative radio?
The radio show came about after one of McCann's coworkers introduced him to Mike Robbins, the station manager at KOAN-FM 95.1/AM 1080 in Anchorage.
"I'd always wanted to do a radio show, and no one else had a cannabis show on the radio. So we went in for a meeting, and I said, 'If I do it I'm going to do it with Ben, because he's the perfect person to do it with. We work really well off of each other,'" McCann said.
KOAN is a conservative talk radio station and Fox news affiliate, which at first glance might seem like an odd fit for a show about cannabis. Nevertheless, the station has been welcoming.
"They want to provide a safe haven for guys who want to spew crazy shit, and we're just another brand of crazy shit," Farleigh said. "And Mike is a money man. He knows that we can get ad space sold to these weed companies. I think his whole idea behind it was that he wanted to be the one making the money and not let another radio station be the first one."
"They're cool. It doesn't seem like there's an anti-weed thing. They're super happy to have us and we're super happy to be there. Plus, I don't think we were exactly jockeying for position for the noon to 1 p.m. slot on a Saturday," McCann said, adding that the time slot is actually perfect because it's stoner-friendly.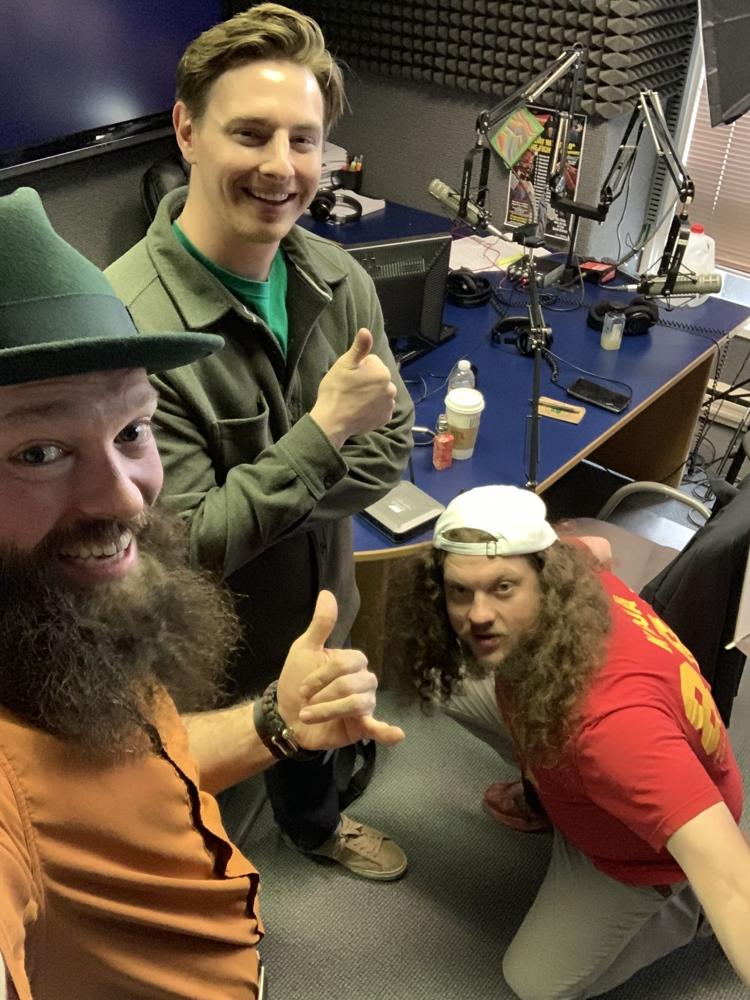 The show did a soft opening April 13, with its first official broadcast April 20.
"That was fun because we just did it about 4/20. And boy, it's cool to have your inaugural show about weed be on 4/20. Everything worked out," Farleigh said.
The live show airs on KOAN's website and both FM and AM channels as well as on the "Best Budz" Facebook page. The duo is working on releasing podcasts of past episodes, and an upcoming studio overhaul will allow them to upgrade their broadcast.
"Once we get the new studio with cameras and everything, we can stream and viewers can hear the intros and outros, because right now with the Facebook stream we just have us talking," Payton said.
So far "Best Budz" has aired shows about medical marijuana, best practices in the cannabis business, the future of Alaska cannabis and the history of weed in America. Guests have included Rico Rossi, a Bay Area hip-hop artist who markets "Leangria," a cannabis-infused fruit syrup concentrate that can be mixed with any cold beverage, and Cody Coman, the founder of Trich Productions, a cannabis-friendly production company in Wasilla.
When asked if they get high before doing the show, both men started laughing.
"Yeah. I try not to get too high, but Ben definitely does. We try to make that a thing, where I'm more like the straight man," McCann said.
"He keeps me on track, too," Farleigh said. "There's times when you can definitely tell I'm drifting. By the end of the show, usually I'm so high that I forget the words that I was going to say."
"Usually we can finish each other's sentences, so I know where he's going with it," McCann said.
Farleigh and McCann said the show is not just a lark for them.
"It's pretty raw right now, but in a couple of months it's going to be a totally different show. Right now we're just working out things between ourselves and making sure that we know how to flow the show perfectly. We keep it really fresh, too," Farleigh said.
"We want to keep growing the show, keep getting better and get more and more people listening every week. Mike is talking about maybe getting syndicated," McCann said.
"We're not afraid of getting famous here," Farleigh said. "Honestly, if it's another big ass national show, where people tune in just because it's like the only pot radio show, like if we got on Sirius? That'd be a big one," Farleigh said. "That would be hella sick if we could get kind of our own thing where we're big enough to where a guy's coming in with a huge bong and he's like a super weed celebrity or the best glass blower."