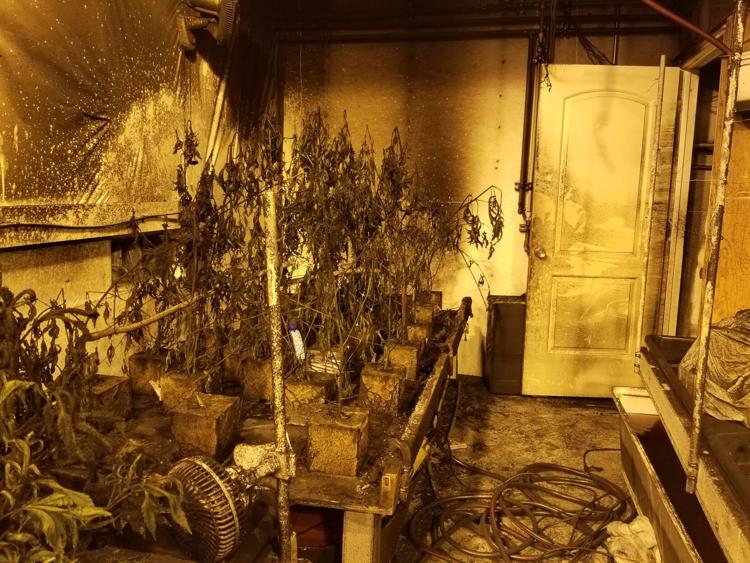 Almost every farmer can tell you there are many perils inherent in growing plants for a living. For the cannabis cultivator, the danger usually comes in the form of pests or mold, and countless hours and dollars are spent to prevent them. However, as Terreisa Lane and Whitney Fisher of Blue Bear Cannafarm found out last Christmas morning, there's one thing even more deadly for a successful cannabis grow: fire.
The mother and daughter growers discussed the disaster that destroyed their crops during a phone interview in mid-April. With the help of employee McKenzie Miller, the women were taking advantage of the COVID-19 stay-at-home health mandates to finish repairing the damage to their grow rooms and ready their first new crop for harvest.
A hopeful beginning
Lane already had "an appreciation for cannabis" and began learning about growing techniques about a year before cannabis became legal in Alaska.
"I think our story basically starts where everybody else starts, with great intentions and lofty dreams," Lane said, noting that she and her husband, Gary, began clearing land for a cultivation facility on their 100-acre Nordale Road property in 2015.
"We could feel that legalization was coming down the pipe and really going to happen," Lane said. "We knew for a couple of years that we were going to do this. We didn't just wake up one day and say, 'Let's put up a building!'"
Lane, who had previously worked as a Snap-on Tools dealer, waitress and bartender, asked Fisher, who had earned an anthropology degree at the University of Alaska Fairbanks and moved to Pennsylvania, to come home and help her run the business.
"I reached out to Whitney and told her I needed help with the cannabis business and she agreed. She specifically came up here to help with it," Lane said. "Whitney really runs the farm, I just kind of drop in every once in a while and take credit for her work."
The cultivation facility was built in 2016, and Blue Bear Cannafarm was up and running in 2017. They chose to grow hydroponically, with their plants rooted in a Rockwool growing medium set on flood tables. A reservoir of water and nutrients sits below the tables, and once a day the table is flooded with this solution, which drains back into the reservoir.
Disaster strikes
Their choice of growing method turned out to be a fortunate one, Lane and Fisher said as they explained the fire — which they refer to as "a smoldering event" —and its aftermath.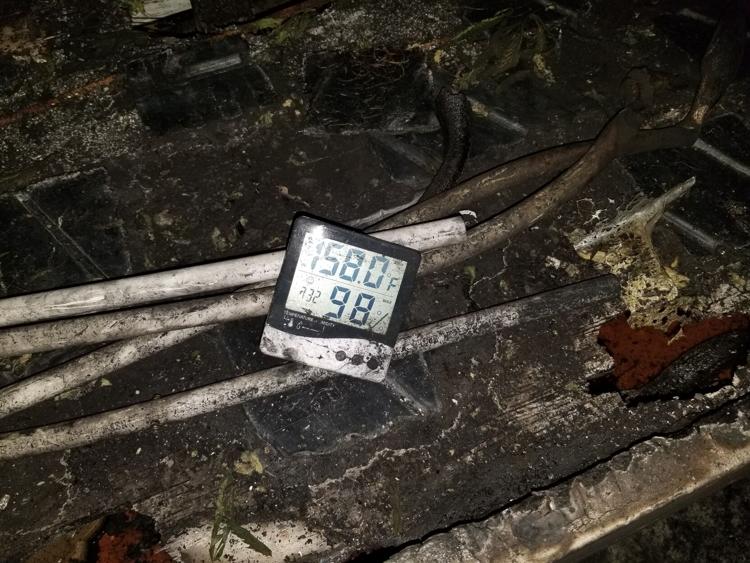 "A grow light bulb from one of the ballasts burst and then fell into the table. We assume that the broken bulb was so hot that it incinerated the plastic flood table that the plants were sitting on," Lane said. "It burned the flood table completely and the only plastic left was sitting underneath the Rockwool cubes," adding that the fire then burned through the wooden table below the flood table and into the water reservoir directly underneath.
That water reservoir saved the day and kept the building from burning, but the crop was ruined, according to Fisher.
"The water eventually put it out, but it smoldered long enough to cover everything in plastic soot. The fire itself didn't cause any structural damage, it was all just soot damage," Fisher said. "I'm fairly certain that if we had used soil it probably all would have gone up in flames."
Lane said the fire started at about 2 a.m. Christmas morning and was discovered by Fisher several hours later.
"Gary and I were having our morning coffee and tea, we were discussing the prime rib that I would be making and I was relishing the fact that I had slept late and was going to have a relaxing day to call my family and friends living Outside," Lane said. "I knew when Whitney called that morning at 8 a.m. that something bad had happened. She just told me that I had to get over there now. When I got up to the door I could smell the smoke.
"I was in shock. Whitney was in shock. We moved around wondering what we could save and how to best approach the salvaging," Lane said. "We determined that nothing in the bloom rooms could be saved and nothing in the cure room could be saved, which was very sad because we had three different harvests hanging in the cure room."
Fortunately, their mother plants were in a separate room that didn't see as much damage. Even though the temperature in the building shot up to 158 degrees during the fire, the hardy mothers survived the ordeal and with some tender loving care were able to produce cuttings for a new crop. At the time of the fire, Lane and Fisher also had a new strain of young plants stored inside clone domes in the same room as the mother plants. These also survived, and Lane and Fisher have named the strain "Phoenix M" in honor of their ability to rise from the ashes and flourish.
Lane said the disaster was incredibly stressful, especially since it occurred during what is usually a happy time of year.
"Whitney and I both cried. The heartache of working toward something that you love and want so bad, then poof, all gone. Up in smoke. I can't even describe the trauma that we felt. It literally left me breathless and speechless," Lane said. "It definitely ruined Christmas 2019 and January and February and March. Now that it is April and Blue Bear Cannafarm smells like cannabis again, things are better. It did not ruin all Christmases forever."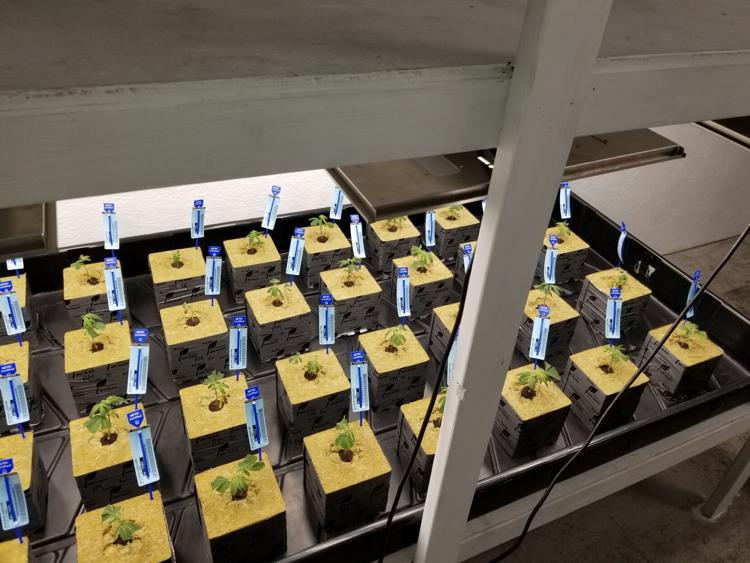 Picking up the pieces
Since the fire, Lane, Fisher and employee Miller have channeled all of her energy into getting the facility up and running.
"At this time, it's only three of us. It's me, Mom and McKenzie who are putting this whole building back together. We did all of the cleaning, repainting, the duct work and everything," Fisher said, noting that they did hire a professional electrician to do the rewiring. "None of us are electricians, and I don't want to play with that."
Since the main area of the cultivation facility is split into two side-by-side rooms, the women were able to rehab one side and get a crop started before tackling the work on the other side. The work is not only rewarding, it also saves them money.
"We've tried to be really frugal because we're building all of this out of pocket. We quite literally hunkered down and stopped spending money," Lane said, noting that she's proud of the work her daughter and Miller have done. "This was a big project for non-professionals. It's been a lot of blood, sweat and tears, but they're at the end so they can smile about it a little."
Growing and changing
Blue Bear Cannafarm's grow rooms can hold 360 plants, and the facility produces 10 different cannabis strains. In April they were fast approaching their first harvest since the fire and were especially excited about Phoenix M, which is a 50/50 mix of sativa and indica. Other strains include Sour Diesel, Green Crack, Moonshine Ghost Train Haze, Star Killer, Cotton Candy Cane, Chocolate Mint OG, Super Silver Haze, Chupacabra 50/50 and OG Kush.
Since they first became operational in 2017, Lane and Fisher have sold cannabis to multiple retailers throughout the state.
"It's probably easier to say the retailers that we haven't sold to," Lane said, noting her customers include stores in Anchorage, Nome Juneau and Ketchikan, as well as local retailers such as Good Sinse, Good Titrations and Nature's ReLeaf.
No longer content to just provide product to others, Lane and Fisher plan to open a retail store this fall in partnership with Monique Dangle, the owner of AK Green Bee.
"The new store will be called 'The Honey Pot' and it will be off of Badger Road. We have a new building being built, a log cabin. I don't have any pictures of that because we quite literally just got our application into AMCO," Lane said.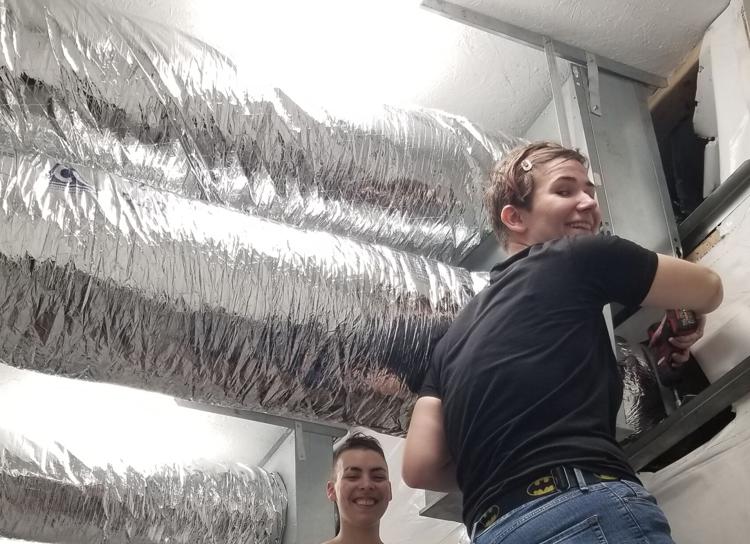 In the meantime, Blue Bear Cannafarm will continue to bring its cultivation facility up to speed and work on developing new strains.
"Normally we would have a small research and development project going on to get some new strains, but we had our hands full, so we don't have anything in R&D right now," Lane said. "We had just found Honey Badger before the fire and recently cloned a couple tables of that. We also have two CBD strains — Green Crack CBD and NorCal Critical — that won't be on any shelves until our store opens."
A positive future
Blue Bear Cannafarm will continue to sell to other retailers and concentrate manufacturers once the Honey Pot opens, according to Lane. She acknowledges that she and her daughter may have to increase their cultivation capacity to do so but said they'll address that need if it comes.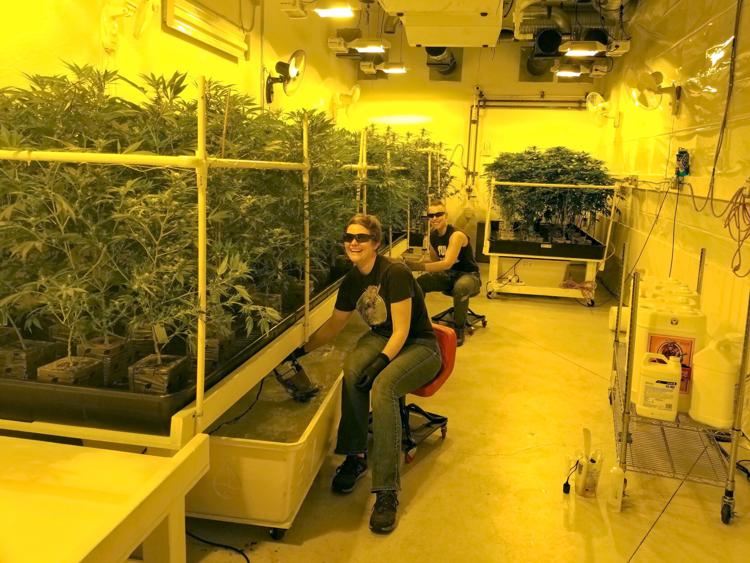 "I would really like it if we were able to expand our building out and grow even more. By the time we're ready to expand we may not want to. I don't know yet. Every day there are more and more cultivators, so there just may not be a need to expand," Lane said.
When asked if she has any concerns about her ability to stay afloat in a glutted market and an uncertain economy, Lane was optimistic.
"I believe the cannabis industry is a necessary business. I'm not afraid that we'll lose everything."
Contact staff writer Dorothy Chomicz at dchomicz@AlaskaCannabist.com or 907-459-7582.