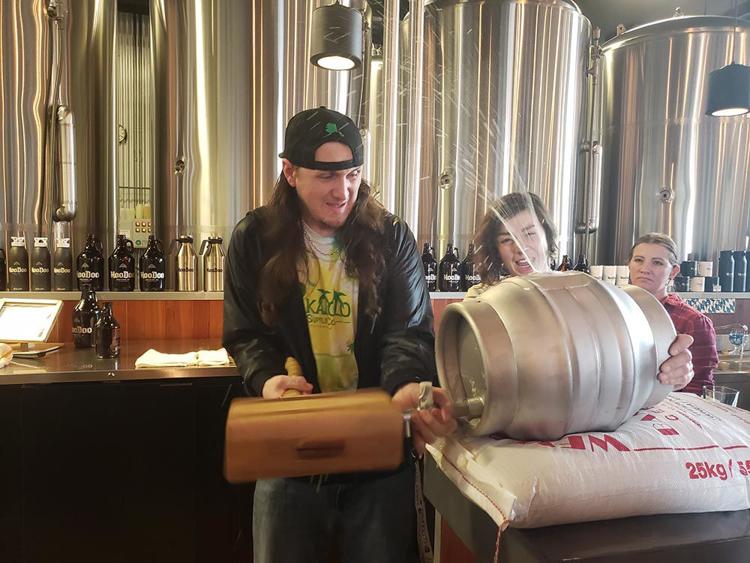 Pakalolo Supply Co. and HooDoo Brewing Company teamed up on April 20 to create something special in honor of 420: a beer that tastes like cannabis.
Tapped at exactly 4:20 p.m. the tiny, 4 1/2-gallon keg of Pakalolo Pale Ale yielded a crowd-pleasing beer with floral, citrus and piney top notes and a smooth finish. Did it contain any cannabis at all? No, because that would be illegal. Did it taste like cannabis? Absolutely!
So how does one create a beer that tastes like a nice, flowery bud but doesn't actually have any of the intoxicating effects of cannabis? It's all about the terpenes, according to Pakalolo owner Keenan Hollister.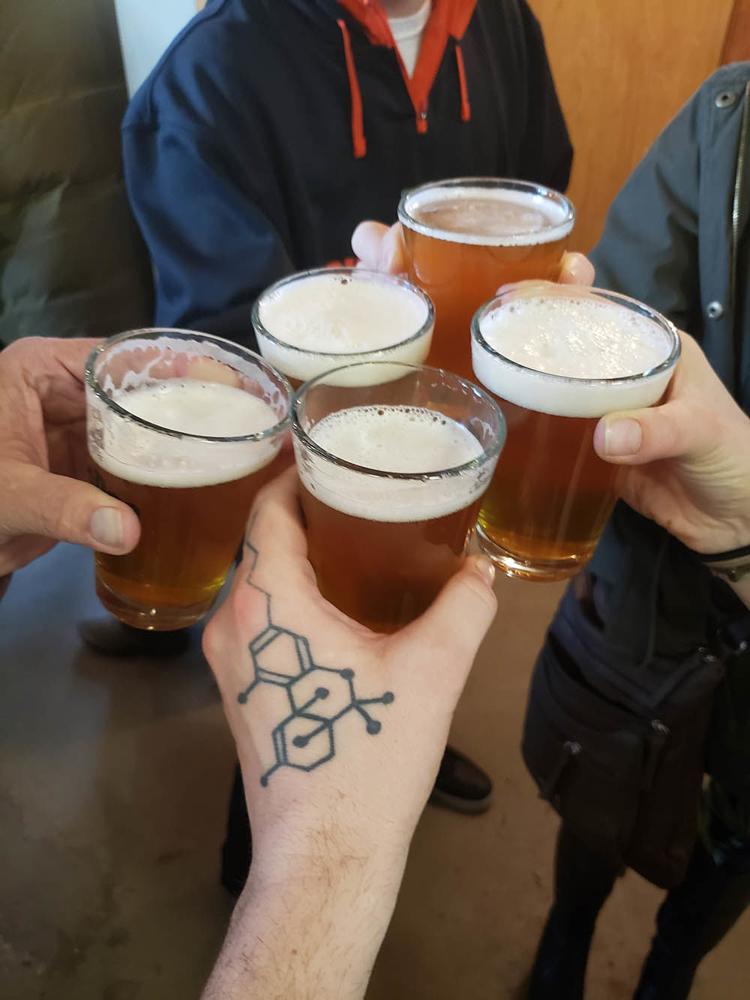 Terpenes are naturally occurring organic compounds that are the major components of essential oils produced by plants and flowers. Especially abundant in conifers, citrus, herbs and spices, terpenes are also what give different strains of cannabis — and not surprisingly, hops — their distinct aromas and flavor profiles.
Hollister said he and good friend Bobby Wilken, the owner of HooDoo, had been wanting to collaborate on a terpene-infused beer since sampling some in Oregon. To help make their dream a reality, Hollister and Wilken contacted Einstein Labs, an Anchorage-based cannabis manufacturing facility that produces extracts, concentrates, distillates and edibles.
"They're really good at the extraction processes and they're already doing some stuff with non-cannabis derived terpenes to flavor their vape pens and things. So we talked to them and asked them to help us come up with a concoction that we can add to a beer," Hollister said at his Fox Avenue office a week after the tasting.
Hollister and Wilken tried a few flavor combinations last summer but didn't get really serious until they got a batch of terpene oil samples from Einstein Labs the week before 4/20. Using Hollister's expertise in cannabis and Wilken's expertise in beer, the two friends sat down and began the painstaking process of finding the right terpene and beer combo. They chose HooDoo's Mosaic Pale Ale as a base because it's made with hops that have some of the same flavor profiles as the terpene samples.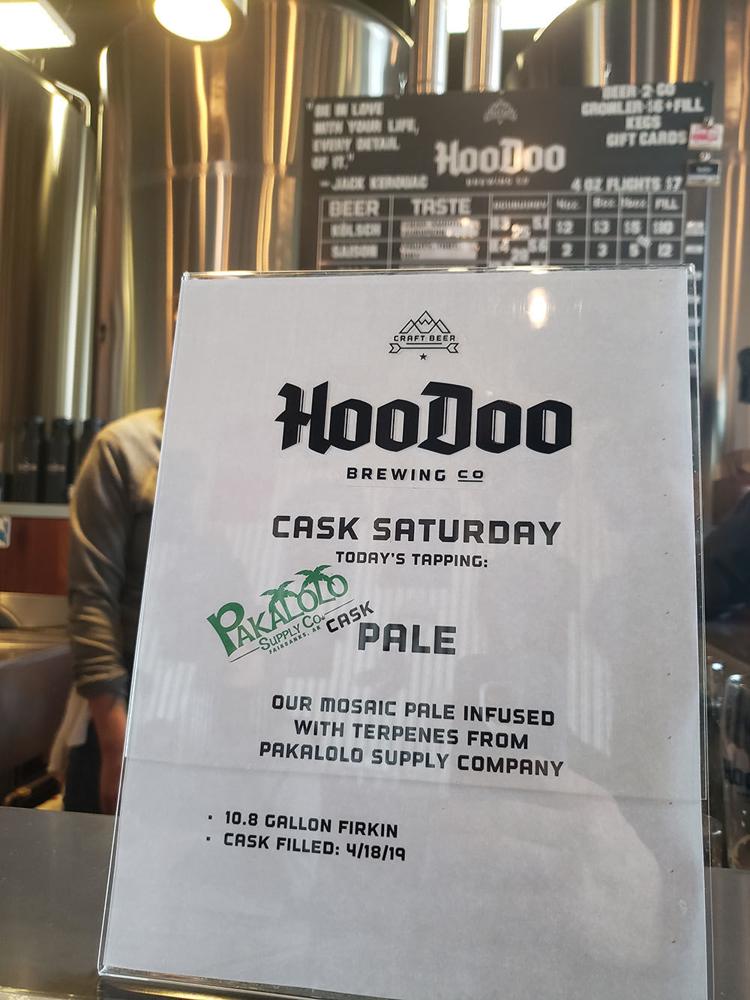 "It has a really citrusy, almost tropical hops variety with a little bit of pineyness, and a really straightforward, kind of heady hop aroma. We thought it'd be perfect," Wilken said.
Hollister said he and Wilken added different terpenes in tiny amounts to achieve just the right flavor.
"We had a basic amount of 10 different non-cannabis terpene oils, and then a couple of different beers, and we could try, say, 1/2 of a drop of this into this beer, and see how it tastes," Hollister said. "Some of the oils were too fruity or too flowery, and not cannabisy enough. We ended up combining two of them — one that had more of a citrusy taste and one that had more of a piney taste. We landed on a concoction that we thought accentuated the beer and gave it kind of a funky, dank aroma that is reminiscent of cannabis strains."
Wilken said he applied what he learned while attending a brewing school at a Belgian monastery.
"This monk said one of the best ways to add adjuncts to beer is to make it so subtle that it's noticeable but no one can really tell what you added," he said. "So that was kind of the idea, to just enhance it a little bit but not make it so it tastes kind of gross. It should still taste like a delicious beer."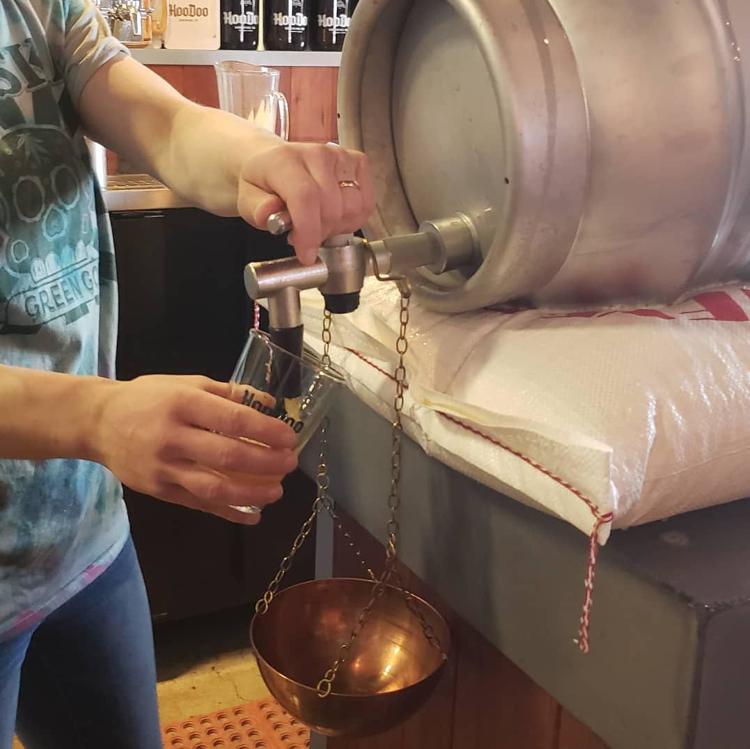 Once the two decided on a winning combination, they added a total of 20 drops of terpene oil to a small "pin" keg of beer and let it sit. Because the keg wouldn't be tapped until 4:20 p.m. the next day, they had no way of knowing if they got the ratio right or if the result would be palatable.
"It was packed at 4 p.m., with people lined up to try the beer. I had no idea, when I got to do the ceremonial tapping of the keg, that they had people who had pre-purchased beers to make sure they weren't going to sell out. So before I even got to taste it out of the keg, they had to pour 10 glasses," Hollister said.
Upon seeing how many people showed up to try Pakalolo Pale, Wilken decided to sell it in 8-ounce glasses instead of pint glasses.
"We switched to the half pints at the last minute so we could kind of spread the love around. It was definitely received really well. Everybody loved it," Wilken said.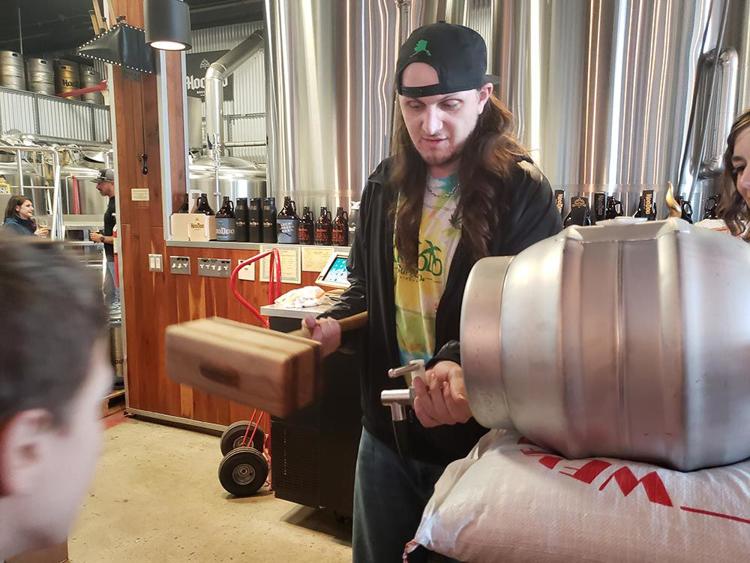 Both men enjoyed the creative process and plan to create additional terpene-infused beers again.
"It was fun to partner with them; they're our Fox Avenue friends," Wilken said, referring to the fact the two businesses are located less than quarter of a mile from each other, in the Railroad Industrial Area off Phillips Field Road.
"The response from people meant it definitely was a thing worth doing again, so we look forward to some collaborations in the future," Hollister said.