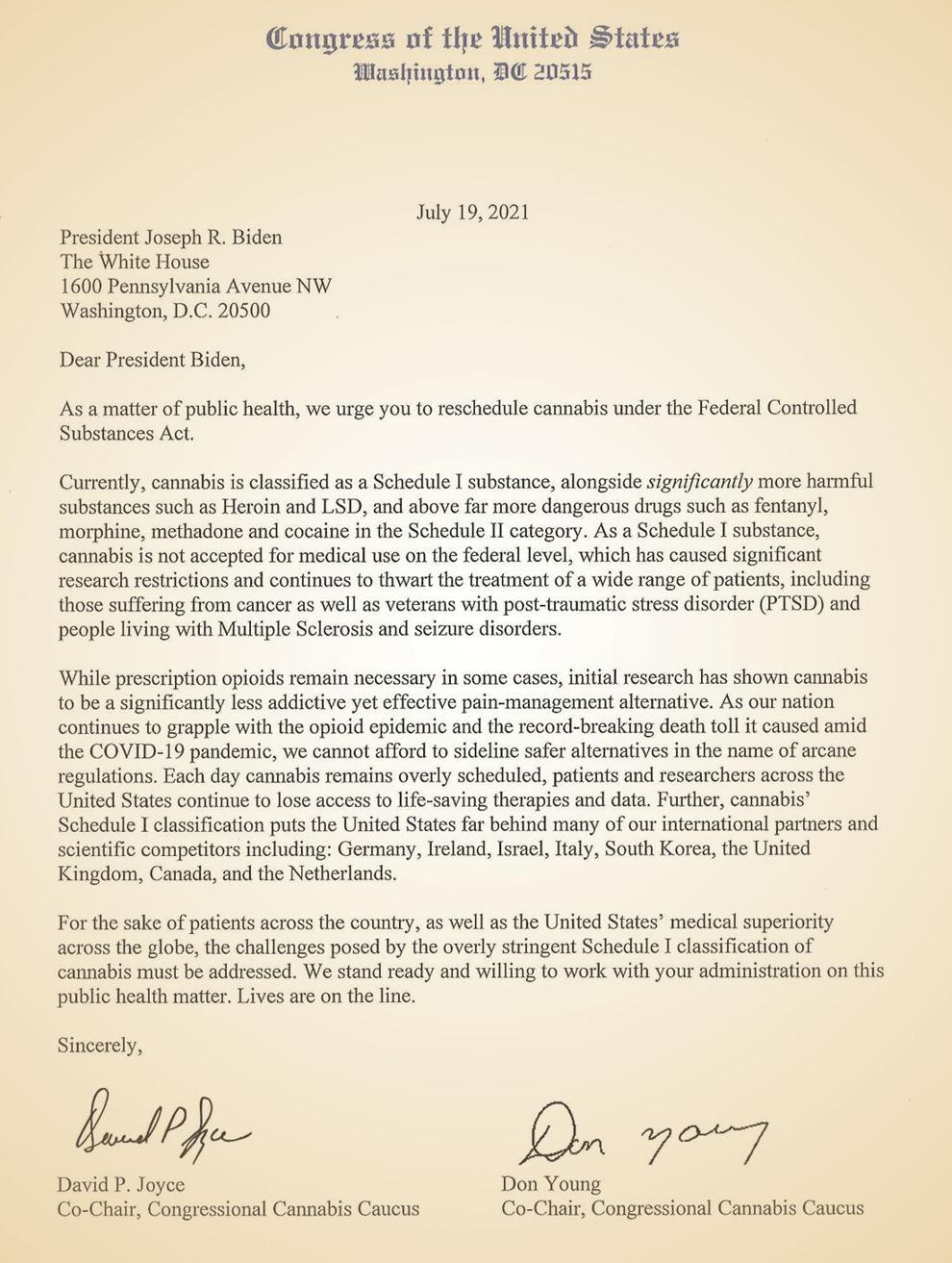 U.S. Rep. Don Young, known as Dean of the House, is the oldest and longest-serving member of Congress. The founder of the Cannabis Caucus in Congress, Young is arguably the most influential political leader in America pushing to legalize cannabis on the federal level. For Young, the advocacy is a constitutional issue that touches on individual freedom and state's rights. In 2021, Young co-sponsored the first GOP-led bill to repeal federal cannabis prohibition.
The Congressman took time from his busy schedule as a Congressman to discuss how his views as a conservative Republican compel him to support ending federal laws against cannabis and supporting Alaska cannabis businesses. "As the party of individual liberty and states' rights, cannabis reform is in our wheelhouse," Young said. Read more about Young's views and advocacy in the Q&A below:
Q: As a founding member of the Cannabis Caucus, you are among the strongest voices in Congress for marijuana reform as a state's rights issue. Can you discuss this?
A: When I was sworn into Congress, I took an oath to defend the United States Constitution. As Members of Congress, we don't get to pick and choose which amendments to the Constitution we defend; they must all be defended. My constituents chose to legalize adult-use marijuana in 2014, and it is Alaska's 10th Amendment right to set their own cannabis policies. Co-founding the Cannabis Caucus was a commonsense step to help defend Alaska and educate other Members of Congress on the topic. It gives me an elevated platform to make the case to my colleagues on both sides that our archaic federal cannabis policy must be reformed, and states that have acted to set their own policies must be protected.
Q: What is the significance of two Republicans — you and Rep. David Joyce of Ohio — sponsoring the first GOP-led effort to repeal federal marijuana laws? Is marijuana reform now a Republican issue?
A: Repealing federal prohibition is all about protecting individual liberty and empowering people to make decisions for themselves. As I've previously said, the 10th Amendment is a very large factor as well. As the party of individual liberty and states' rights, cannabis reform is in our wheelhouse. I continue making the case to my friends within our party, and I am hopeful that we are not too far off from making progress on this front. Rep. Joyce joined as Co-Chair after Rep. Rohrabacher left Congress, and he has been a great partner. He brings a unique background having formerly served as a public defender and a county prosecutor.
Q: Alaska was an early leader in legalizing marijuana for recreational and medicinal use, actions that many states have followed. Why is Alaska a pioneer in cannabis legalization?
A: Alaskans are just built differently. We tackle challenges head-on and find solutions to pressing issues. People often come to our state to live their lives free from outside interference. It is our pioneer attitude and spirit of self-reliance that helped Alaska lead the way in cannabis reform. If an individual chooses to use marijuana, frankly that's up to them. What is great about our state is that we support one another, but we also mind our own business.
Q: Is your goal to see cannabis regulated much in the same way that alcohol is regulated on the state and local level?
A: Yes, and the Common Sense Cannabis Reform for Veterans, Small Businesses, and Medical Professionals Act, which I helped introduce in May, would direct the FDA and the ATF to issue rules regulating cannabis nationwide. These regulations would be modeled on rules currently in use for the alcohol industry. Whenever I've sat down with cannabis entrepreneurs I've been impressed by their can-do attitude, and they always express how they want regulations so they can abide by them and do things by the book. That said, I don't want overregulation to the point that would in turn incentivize the illegal cannabis market to continue.
Q: How do you see cannabis growing Alaska's economy? Do you consider cannabis a future major industry for the state?
A: I have met with the Alaska Marijuana Industry Association, in addition to countless cannabis retailers, growers, and processors. These are businesses just like any other to me, and they are contributing to our economy. I wish them success, but I also know that our current laws will hinder their growth. Businesses need access to financial services, but banks and credit unions are hesitant to do business with them because of our outdated laws. This is why I helped pass the SAFE Banking Act, which protects financial institutions serving cannabis businesses operating legally under state law from punitive actions by the federal government. Broadly speaking, the more diversity in our economy the better off Alaska will be, and I believe there is a tremendous potential for this sector to keep prospering to serve Alaskans and those that visit our state.
Q: Are you a personal user of cannabis? Why or why not?
A: I am not, but I know lots of people personally and have met countless others whose lives have been positively impacted by cannabis. The last thing I want is for one of them to criminally punished for making that choice.
Q: Anything else you want to add?
A: I'm proud of how Alaska has helped lead the way in cannabis reform and to be their Representative in the House. So many of the ideas I have come from Alaskans and that's not something everyone understands about this job. When my constituents voted for adult-use cannabis it was my responsibility to be their voice and push back against federal overreach and I'll continue to do so.