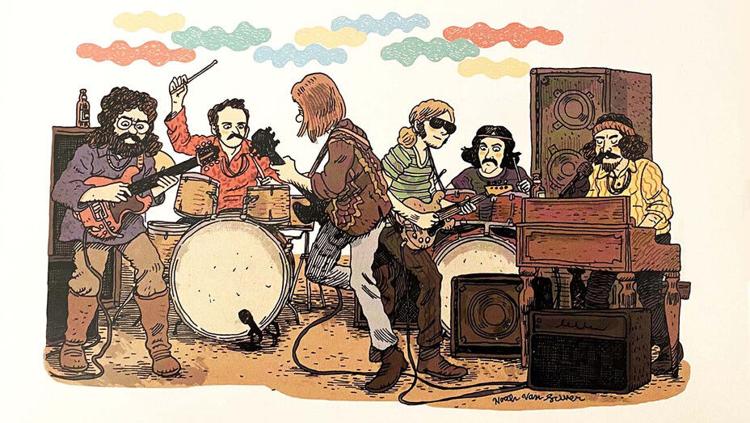 Grateful Dead guitarist Jerry Garcia was a known comic book fan, and during their long strange trip, the band itself often dabbled in comic art to illustrate their lyrics in newsletters sent to fans on their physical mailing list, and later through electronic messages. Fan-made comics were often sold outside shows. And underground cartoonist Gilbert Shelton, he of Freak Brothers fame, drew the cover for the band's 1978 Shakedown Street album.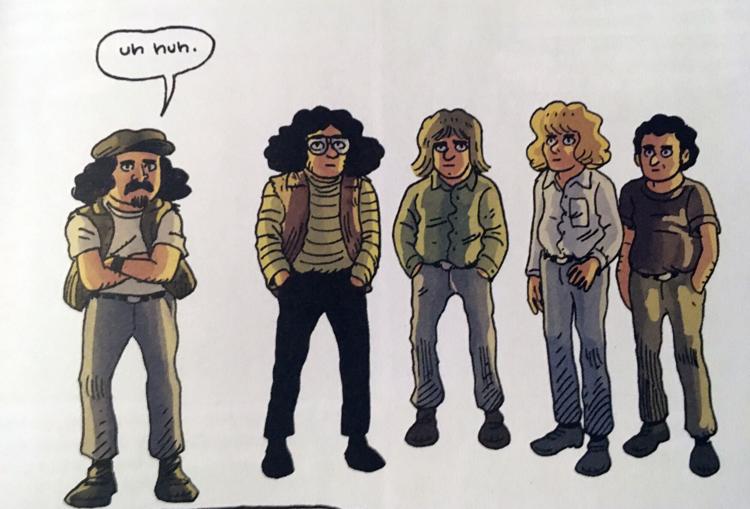 So it was really only a matter of time before the most marijuana (and other substances) associated band of the Sixties would show up in a full-length graphic novel. "Grateful Dead Origins" is the long awaited result. Cleverly written by actor and author Chris Miskiewicz and wonderfully drawn by Noah Van Sciver, who's also illustrated the life of Abraham Lincoln, the book takes readers into the fertile Bay Area cultural scene of the mid-Sixties, covering the band's history from their formation in 1965 through to their disastrous performance at Woodstock in 1969 (Garcia frequently noted during his lifetime that the band dependably blew their biggest gigs).
The story opens in May of 1965, on the night Phil Lesh and a few of his friends dropped acid and went to see his acquaintance Garcia's new electric ensemble, the Warlocks, at a San Francisco club. By then most of the primary players of what would become the Dead were onboard, but the band was dissatisfied with its bassist.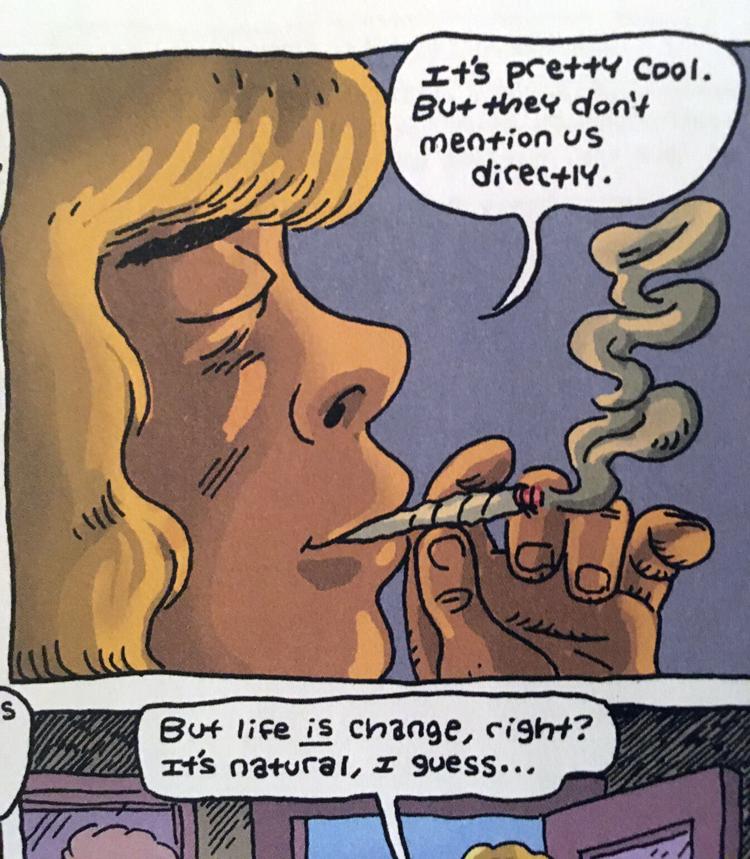 During a break, Garcia sat down with Lesh, who had studied music in college, and asked him to fill the spot. Lesh had never so much as touched a bass guitar, but in the spirit of the times, and in a fashion that would define much of the band's musical legacy, he took a chance on something new, and a legend was born.
For anyone familiar with the history of the Dead (and Deadheads are known for near biblical scholar-level research into all things Grateful), Origins doesn't offer any new information. But this isn't the intent. As famed Dead archivist David Lemieux explains in the introduction, what's been lacking is a visual record of the time. Photographs exist, and even a bit of film footage. But most of what is known comes from interviews, newspaper clippings, and from the thousands of hours of performance recordings.
Prior to the Seventies, Lemieux explains, when the band embarked on their quarter-century-long road trip, no one really had a sense that history was being made, and most people involved were too busy enjoying the moment to document it as it happened. So what Origins does is fill that void.
Miskiewicz and Van Sciver are the perfect pair to do this. Miskiewicz's script moves quickly, and is filled with endless humor. In one scene, the nascent band is fired from a house band gig by a manager who tells them "your songs go on forever until it gets too weird. I mean, who wants to hear that?" The band's decidedly nonprofessional approach to everything, including music itself, is highlighted.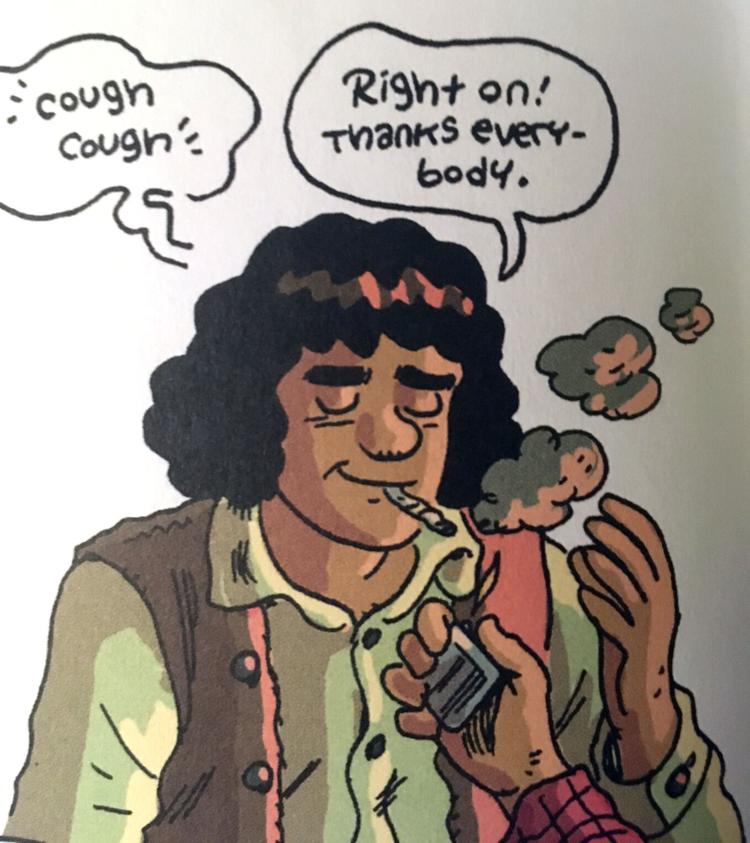 And their notoriously testy relationships with studio producers offer further comic moments, all drawn from actual incidents such as rhythm guitarist Bob Weir's request during one session for "thick air" to alter the tonal quality, and Garcia directing audio engineer Dan Healy to make a recording sound "more purple" (Healy delivered, and remained affiliated with the band through the end).
Van Sciver, meanwhile, pays homage to Sixties underground comic styles – particularly R. Crumb – to create an atmosphere that lends the book an authentic feel for the era.
Rather than attempt realistic depictions of the band members, he lets their personalities define how they're drawn. This is extended to the many subsequently famous people who passed through the band's orbit and appear in this book. The impish author and Merry Pranksters ringleader Ken Kesey, poet Allen Ginsberg, hard-driving businessman Bill Graham, the free-living but doomed Janis Joplin, then-governor of California Ronald Reagan, and many more make cameo appearances.
But the focus remains tightest on the band's trajectory itself. Key incidents are recreated, including the day Garcia stumbled on the mythological phrase Grateful Dead that became their moniker, Kesey's Acid Tests (where the phrase "you drank the Kool-Aid" had a far different meaning from today), the Monterey Festival (when the band and their meandering jams were unfortunately wedged between explosive performances by the Who and Jimi Hendrix), their 1967 pot bust (which Garcia escaped because he was out grocery shopping), and the 1968 free show at the intersection of Haight and Ashbury.
But author and artist wisely avoid getting bogged down in these moments. The scene around the Haight, for instance, would be tempting to get lost in, but here it's just a small part of what even then was a much larger tale.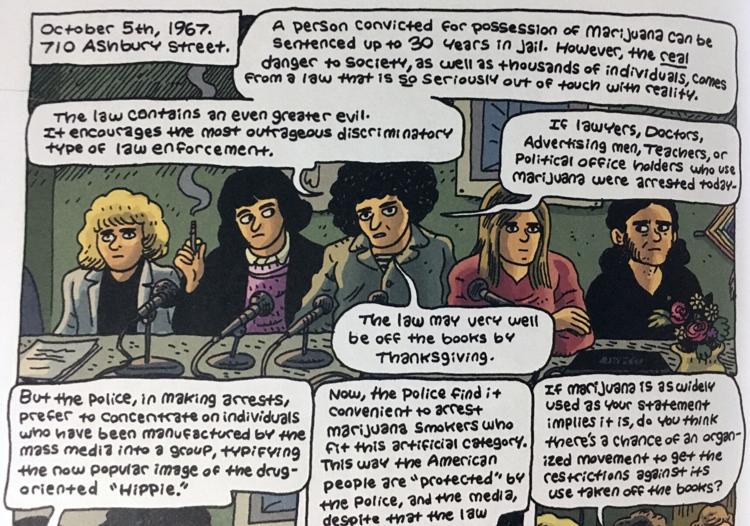 Part of that story, of course, is the influence that marijuana played in the band's music, lives, and wildly (and sometimes self-destructively) unorthodox attitude towards their business and promotional affairs. Scenes of pot-fueled philosophical ramblings are frequent. On a more serious note, the press conference that followed the 1967 bust gets nearly two full pages. The quotes from their manager at the time, Danny Rifkin, taken verbatim from his statements, argue against the draconian anti-marijuana laws of the time, and still resonate to this day, when full legalization remains unattained.
There are a few shortcomings. Kesey's bus is referred to as "Further" in the text, when it was actually and named "Futhur," a spelling the group repeatedly evoked in later years. How this slipped past all involved with this band-sanctioned production is hard to fathom. Drummer Billy Kreutzmann doesn't get enough time on the page, and the rhythmic experiments that expanded once percussionist Mickey Hart was added to the ensemble are only touched on. And notably, original keyboard player, harpist, and lead singer Ron "Pigpen" McKernan's descent into alcoholism, which would end his life in 1973 at age 27, is all but overlooked. Had he been a pot head instead, he might still be alive today.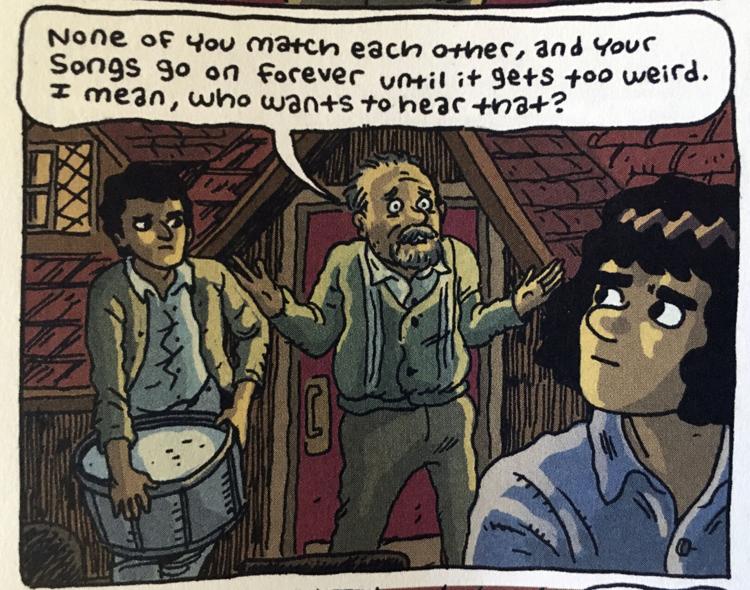 But for Deadheads everywhere, and those new to the group's history and impact, as well as for anyone interested in how the counterculture evolved during those key years when marijuana became the common denominator for opening up minds and possibilities, Grateful Dead Origins shows how it happened. And with the combination of words and art, it demonstrates how graphic novels are uniquely suited to capturing history in ways that neither words nor pictures alone can do. The music never stopped, but this is where it began.