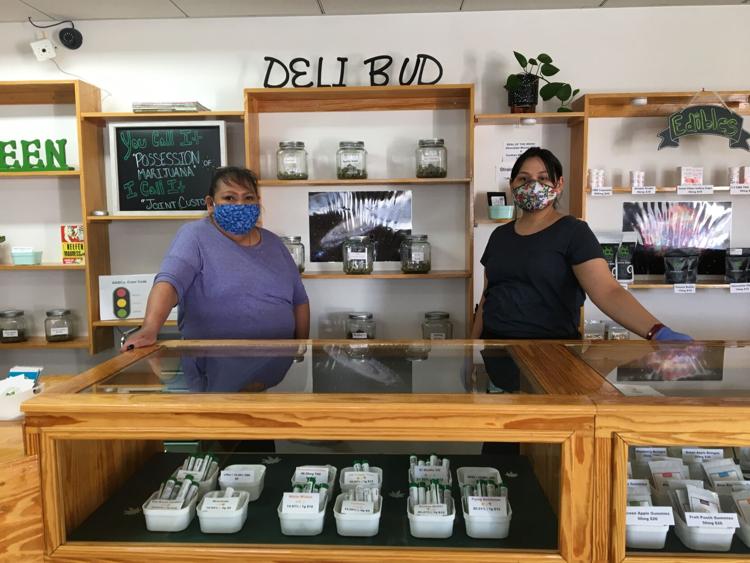 Great Alaskan Bud Company, a standard cannabis cultivation and retail store located off Phillips Field Road in Fairbanks, is a truly family run business.
When owner and cultivator Shawn Coyle discussed getting into the cannabis business after it was first legalized in the state, his wife, Veronica, supported his decision and helped him in every way she could. Using their savings, the couple converted the back half of a warehouse into a grow room in 2016. Two years later, they made the decision to remodel the front part of the building into a retail store. Their daughter Roni, who was living in Tennessee at the time, agreed to come back to Fairbanks to help them out, and the entire business is run by the three of them.
Veronica, the general manager of the business, and Roni, the head budtender and store manager, proudly showed off the fruits of their labors as they talked to Alaska Cannabist on a balmy August day. The room was redolent with the earthy, spicy smell of fresh weed, made even more pungent as Roni weighed and packaged bags of flower.
Shawn, a former technology director for a rural Alaska school district, was offsite working on a side project but would be in the store later to work the evening budtender shift.
The store has a clean look, with white walls, yards of gleaming woodwork and cool art such as the "Sorry, we're STONED" sign behind the counter. All of the cabinets, shelving, window frames and base trim in the store were made with wood recycled from the former bleachers at a Denali area school, according to Veronica.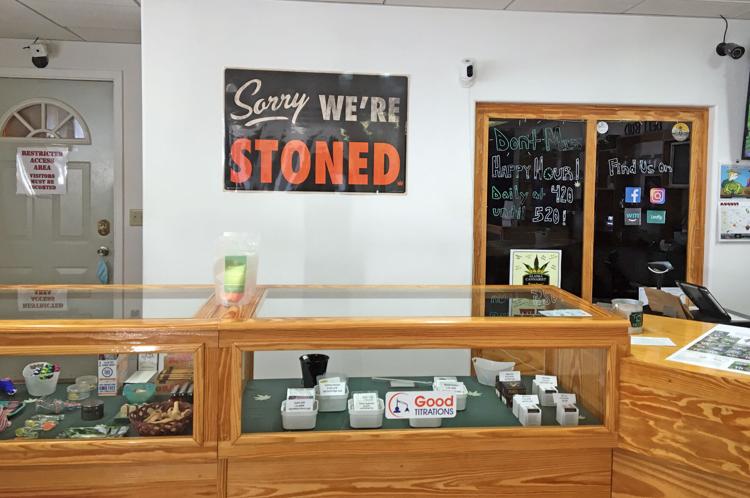 "Shawn and his friend custom-made these into shelves and cases, and I hand sanded them and varnished everything. It took me almost five months, because I did it all by myself. A lot of the time I would be down here until midnight," Veronica said. "This was before we opened the store, so we had the time to really prepare."
People learn about the Great Alaskan Bud Company through its Facebook and Instagram pages; the rest of its business comes by word of mouth or from passersby who notice the store.
"A lot of people don't know the store is here. They think we're just a grow. We get a lot of foot traffic from HooDoo Brewery, though. They wander in, look around and say 'Whoa!' This is cool!' Veronica said. "We have a lot of regular customers now, and that makes it really enjoyable. They come in all the time, sometimes daily, and say 'This is our spot!'"
Veronica said sales have remained steady despite the coronavirus pandemic and state-mandated stay-at-home orders in effect earlier this year.
"Through this COVID thing I was pretty amazed that we still had customers, but we're considered essential, right? Now that things have opened up, most of our customers have been really good about wearing masks when they come in, which is great."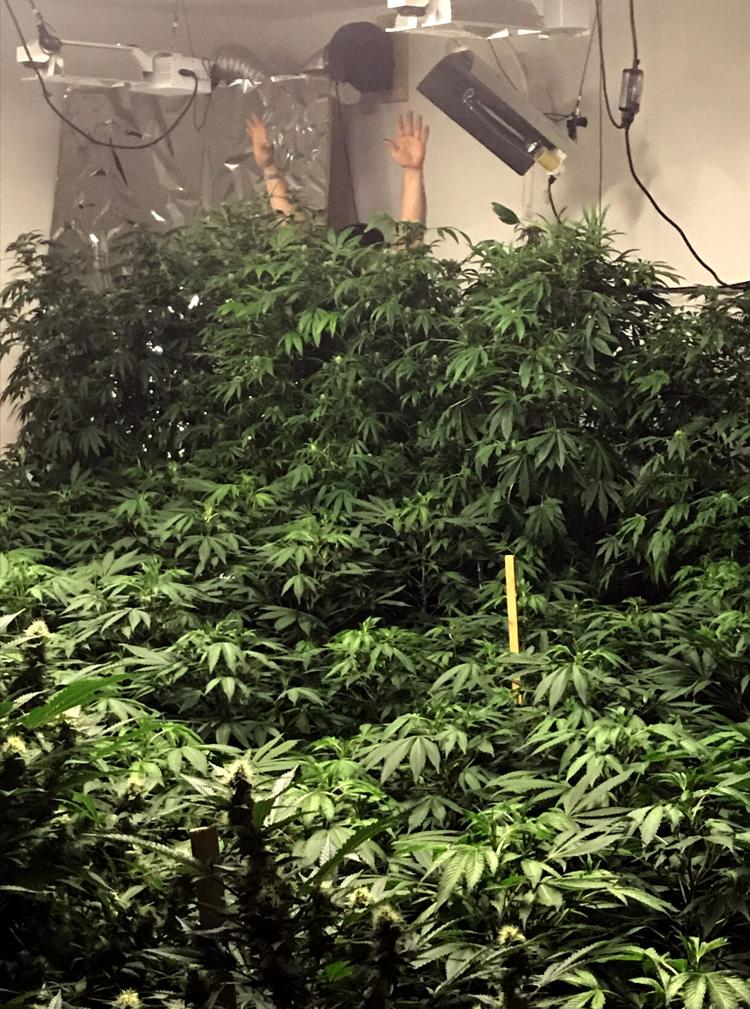 The Wizard of Odd
Great Alaskan Bud Company currently offers nine strains sold as flower or pre-rolls, as well as four strains of trim for customers who like to make their own cannabutter for home baking.
While nine strains might not seem like a lot, they all showcase Shawn's talent for cultivation and innovation. Not satisfied with growing typical, run-of-the-mill cannabis, Shawn produces some of the most unusual-looking weed Alaska Cannabist has encountered in quite a while.
One such strain is Kaptain Crunch, an indica-dominant hybrid that produces beautiful green and white variegated leaves. Shawn enthusiastically described the strain in a text message.
"Kaptain Crunch is an albino phenotype of Kaptain Hook out of Washington state," he wrote. "The scent is earthy and sour, while the inhale is spicy and pungent. You will experience a calm high with sparks of creativity."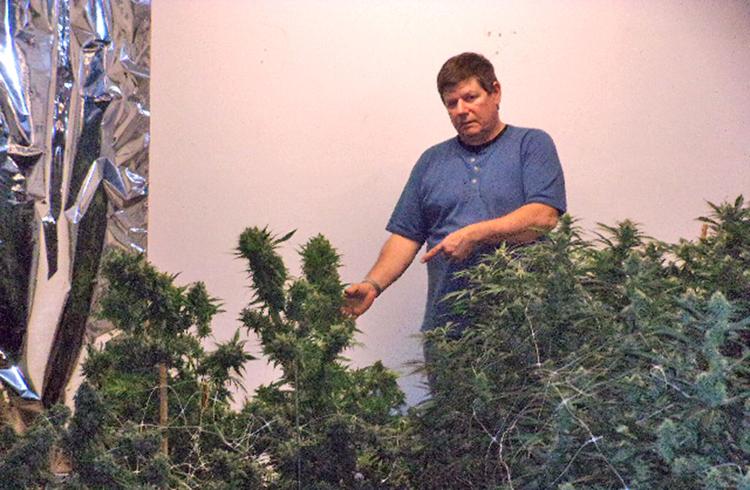 Another standout is Doctor T'Seuss, a gnarly looking plant that would look right at home in any garden in Whoville.
"The buds grow crazy, with buds compounding themselves until they become a huge, twisted mass of colas. It's a sativa hybrid strain that combines Canna'Tsu with Timewreck," Shawn wrote. "Timewreck's subtle, sour, fruity, earthy aromas produce notes of lemon, lime, sandalwood and pear, inducing a powerful disorienting euphoria. Hence its name."
For all of the non-cultivators or hobby smokers out there, colas are central flower clusters that form on the upper stem and branches of mature cannabis plants. Also known as terminal buds, colas are often made up of tightly woven buds that contain high concentrations of active resins, according to weedmaps.com.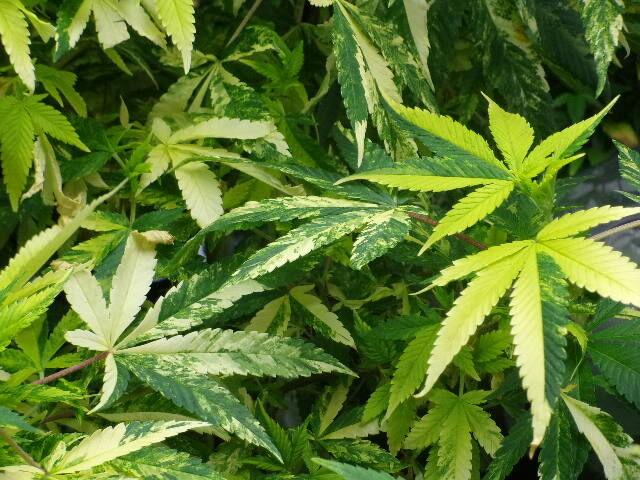 According to Roni, Kaptain Crunch is "a specialty bud that sells out really quickly." Doctor T'Seuss is another customer favorite. "We always have it in stock and it sells really well," she said. Another top-selling strain is Chocolope, which produces gorgeous, trichome-laden buds with vibrant green sugar leaves and golden, thread-like pistils.
The store sells concentrates made by local manufacturers Good Titrations and Good Cannabis, according to Veronica.
"We send them our products and they make the concentrates from them, but if we're running low on something we just order what they have. We don't just sell concentrates made from our product, because there's no reason to be like that in this business."
Great Alaskan Bud Company also sells CBD products purchased from other growers and edibles from manufacturers such as Momo's Bakery, Raspberry Roots, Arctic Bakery, Baked Alaska and Stoney Moose. They also sell a small amount of paraphernalia, such as glass candy cane-striped pipes and simple but elegant wooden pipes hand-carved by one of Shawn's friends.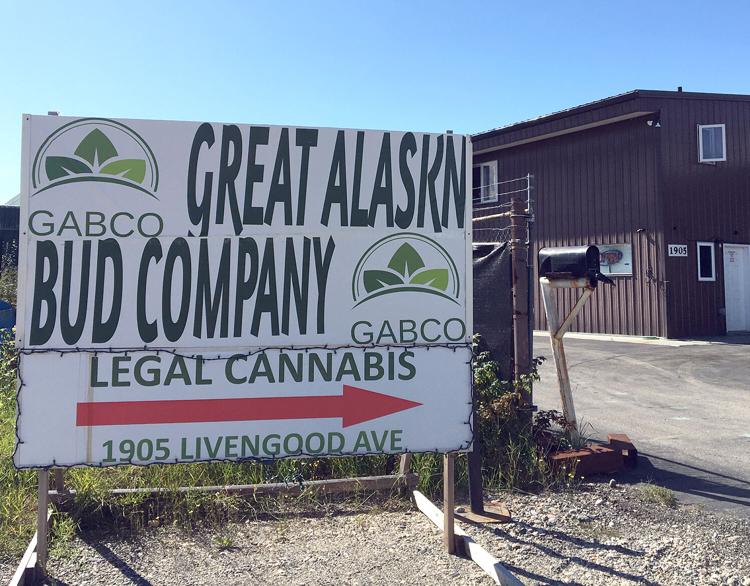 Keeping it personal
Veronica said the best thing about owning a cannabis store is customer satisfaction and interaction.
"We have met a lot of nice people that come in here. They all tell us the same thing — they enjoy us. People come in for all different reasons," Veronica said, noting that, while some customers just enjoy getting stoned, others use cannabis for pain management and other physical and mental health reasons. "Just knowing that we've helped them have some kind of comfort is rewarding."
The store's regular customers also appreciate the consistency of "not coming in here and always seeing somebody different behind the counter," according to Veronica.
"It really is a family business, because it's just me, Roni and Shawn. In the beginning, there were many times we wanted to give up. Then Roni moved back in 2018, and it was a godsend to have her. It's just the three of us, but we make it work."
Contact Alaska Cannabist writer Dorothy Chomicz at 459-7582. Email her at dchomicz@AlaskaCannabist.com.