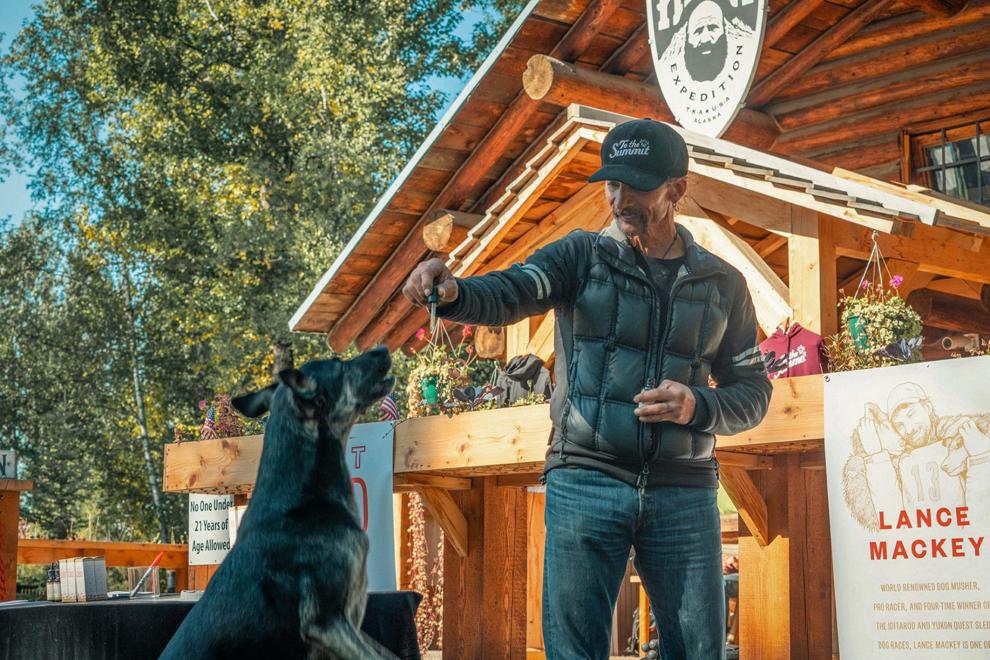 About a year ago, Joe McAneney approached Lance Mackey with a business idea. McAneney, who owns a cannabis dispensary in Talkeetna, wanted to build a lifestyle brand, starting with an all-natural CBD product for pets, which he hoped Mackey would endorse. Mackey, a cancer survivor, four-time Iditarod and Yukon Quest champion, and outspoken advocate for the cannabis industry, was intrigued.
"We thought it was a good fit," Mackey said. "He was not unfamiliar with me and the Iditarod and knew that my name brings a lot of attention, as well as my roots in Alaska."
Over a period of several weeks, Mackey learned about the therapeutic benefits of CBD, which is short for cannabidiol, one of the chemical compounds in cannabis. It's a natural product that can give users feelings of calm and relaxation and ease aches and pains but is not psychoactive. Tetrahydrocannabinol (THC) is the compound in cannabis that imparts the high.
The two came up with a CBD tincture for dogs. But before Mackey would put his name on it, he wanted to test its benefits on his dogs.
He gathered nine dogs, some of which were retired sled dogs, others house dogs of varying breeds with different physical issues. He administered the tincture but then had to leave town for about 10 days.
Lance Mackey gives his pet dog a few drops of the CBD tincture he developed with The High Expedition. Courtesy of The High Expedition
"When you see something every day, you might not notice the results," Mackey said. "I spent 10 days away, came back, and saw a huge dramatic result in nine different dogs, nine different ailments with one product.
"I saw a dog I didn't expect to see on my return because of age and ailments come running down to the road through the dog yard," he said. "It made me teary-eyed proud to be witnessing something so positive. It should have been available years ago."
The tincture is the first of many products McAneney is planning for his business, The High Expedition. It's a lifestyle brand based on sustainable, all-natural materials. In addition to his cannabis retail store in Talkeetna, McAneney's other products include a human-grade CBD product that incorporates chaga, a CBD-infused sparkling glacier water, and all-natural CBD-infused honey straws.
"We're incorporating wild Alaska ingredients into every one of our products, which makes them very unique," he said. "You're not going to be able to do this anywhere else."
Mackey and McAneney have added wild Alaska salmon oil to the tincture, which the dogs love. Mackey said it's especially beneficial to dogs with joint issues and separation anxiety.
Lance Mackey's race car sports a High Expedition on its hood. Courtesy of The High Expedition
"He's really excited," McAneney said. "He really likes our brand. He likes what we stand for. That's why you might have seen (The High Expedition logos) all over him" on both his mushing gear and race car.
"We're going to be developing a whole line of products, including pet treats and different things and not just tinctures."
Kirstie Ennis, a Marine veteran who lost her leg in Afghanistan and who is now climbing the highest summits on the seven continents, endorses …
Originally from New York state, McAneney first came to Alaska while he was in college to work at Denali National Park and Preserve for a summer. As he was taking the train back to Anchorage at the end of the season, he discovered the town of Talkeetna and was immediately smitten.
He moved to Alaska permanently in 2012 after graduating, working on the North Slope for two years while living in Anchorage but spending as much time in Talkeetna as possible. When Ballot Measure 2 passed in 2014, legalizing recreational marijuana in the state, he saw an opportunity. About the same time, one of the cabins on Talkeetna's two-block-long Main Street went up for sale. McAneney bought it, discovering that it had been built in the 1970s for the legendary mountain guide Ray Genet. Talkeetna is the jumping-off point for most climbers who attempt to summit 20,310-foot Denali or other mountains in the Alaska Range.
"There wasn't a whole lot about him, except he was the first guide on Denali and he was a badass," he said. "So I ended up reaching out to the family and had this idea to create this brand focused around his legacy and his philosophies, his mantras. And that's sort of how The High Expedition came about."
The business motto is "To the summit." The store in Talkeetna also includes a small museum dedicated to Genet, who died on Mount Everest in 1979.
What drives McAneney is his interest in sustainable business practices.
"I believe that the hemp plant can provide that for us and a lot of other businesses," he said. "Everything from our apparel to our consumable CBD products to our packaging, etc., is all going to be rooted in cannabis. And then I also have THC products as well. But I do believe the growth potential for us is our apparel line and our CBD products, because I don't really intend to franchise or open up a bunch of licensed dispensaries, because ours is very special. Our flagship store is pretty. I don't want to dilute the value of that experience."
He has sold and shipped products to 30 states so far and is planning to expand to Florida.
Kirstie Ennis uses CBD products to help her focus. Courtesy of The High Expedition
In addition to working with Mackey, who has invested in the business and receives a supply of the CBD tincture for his dogs, McAneney also has another all-natural Alaska CBD product he developed with climber Kirstie Ennis.
Ennis joined the U.S. Marines when she was 17 and served as a door gunner and CH-53 helicopter mechanic. She was critically injured when her aircraft crashed during combat in Afghanistan in 2012. Her left leg was amputated and she also sustained facial trauma, spinal injuries, a traumatic brain injury and shoulder injuries. After she recovered, she became determined to exceed all expectations and set a goal, among others, to summit the highest mountain on all seven continents. She was climbing Mount Everest in early May, and last year, Ennis climbed Denali and spent some time in Talkeetna afterward.
"I had heard she was climbing Denali last summer because it was a big, big deal," he said. "When she got off the mountain and everyone in town was talking about it, it wasn't had to spot the girl with one leg walking around."
McAneney was impressed with Ennis' heroism and determination to overcome difficult circumstances. He had heard Ennis used CBD products to help her focus on climbs and approached her to see if she would be interested in developing an all-natural CBD product with him. The result is a CBD product made with chaga, a type of fungus that grows on the bark of birch trees in cold climates and is valued for its therapeutic properties. Ennis is featured prominently on the label.
McAneney has also developed a sparkling glacier water infused with nano-CBD.
"I teamed up with a gentleman named Scott Lindquist," McAneney said. "He is the only commercially licensed, permitted individual in Alaska, in North America for that matter, to collect icebergs from glaciers." Lindquist is a former distiller for Alaska Distillery, where he worked on products such as Permafrost Vodka.
The icebergs, which McAneney markets as all-natural products from the Holocene era, contain trapped air bubbles that pop when they're released in a glass. The first 6,000-can batch was processed in Anchorage, but the rest will be produced in Talkeetna at Denali Brewing Company.
He is also working with Dr. Joe Carson, who has been producing all-natural products and supplements for animals for 40 years. The initial collaboration is for CBD-infused honey straws, but "he's interested in furthering the product line with me to include some premium probiotics and some other supplements that he makes."
Carson, reached on his farm in the Mat-Su Valley, said he produces 80,000 to 10,000 straws of honey every year. Honey, he said, is anti-inflammatory, antifungal, antibacterial, antimicrobial, antiseptic, antiviral and an antioxidant.
"Honey is the only really complete food other than bee pollen in the world," he said. Each straw contains one teaspoon of honey, and McAneney is adding 5 milligrams of nano-CBD to the straws. Carson's products are shipped around the world and are popular with dog mushers in Alaska.
"If you're going to get into dogs or pets or humans, there's aches and pains, and there's always a prescription for anything," Carson said. "Why not have some of these all-natural products as well. It's a naturopathic, homeopathic remedy. There's no silver bullet, but I think it's an appropriate tool in the arsenal."
The harness shed at Lance Mackey's Fairbanks kennel. He is working with The High Expedition to develop a line of CBD-infused pet treats as wel…
While his CBD products give him a market outside Alaska, McAneney is excited about the potential for onsite cannabis consumption. His cannabis retail shop in Talkeetna is a big tourist draw, which he believes is important to his long-term success.
"I believe the key to success in Alaska is going to be marketing to tourists and have your brand get exposure to all of these people from all over the world and all over the Lower 48 coming here," he said. "You know if you're just in your little spot that locals go to, you're really missing out on an opportunity to have your brand be exposed to people all over the world."
He's been pretty impressed with the overall level of professionalism and quality of products in Alaska.
"We get to expose a lot of people to their first ever legal, or potential first ever, cannabis experience," he said. "I believe we have a big burden to do that right and to do it in a very educational and professional way so that we can change a lot of people's minds as advocates."