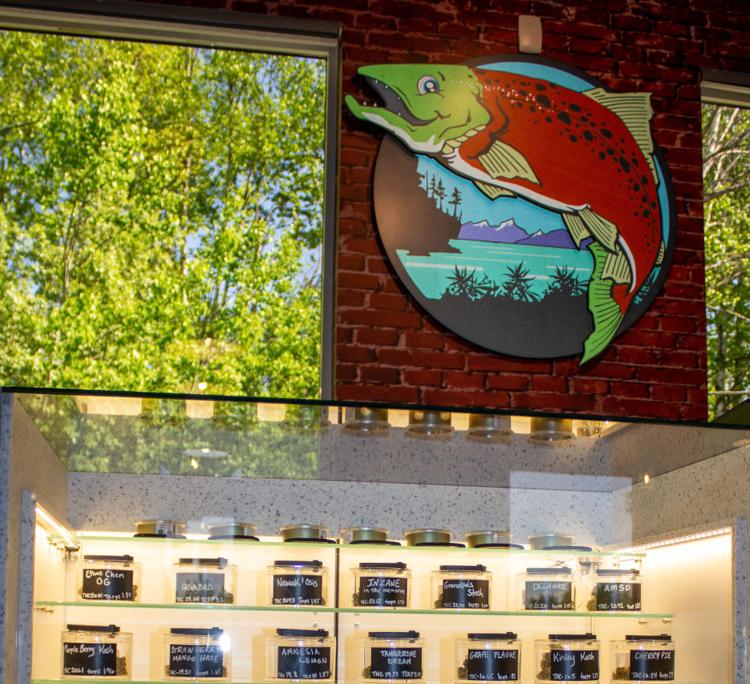 Opening a cannabis business can present challenges to any aspiring entrepreneur. Opening an integrated cannabis company during a pandemic seems even more daunting, but owner Kyle Lutz takes everything in stride.
"It's going pretty good," he says, noting that many of the pandemic-related business restrictions were starting to wind down within the first weeks after opening mid-May. Now the main challenge for his Wasilla-based retail shop, Laughing Salmon, is more typical of Alaska summers: roadwork.
"We've got road construction right in front of us, which, in the long term, will help us out." However, Lutz was already contemplating how to handle the reduced foot traffic to his storefront due to the blocked roads, including considering shortening hours for the time being. It will take a little trial and error to get the response to the road construction right, Lutz admits.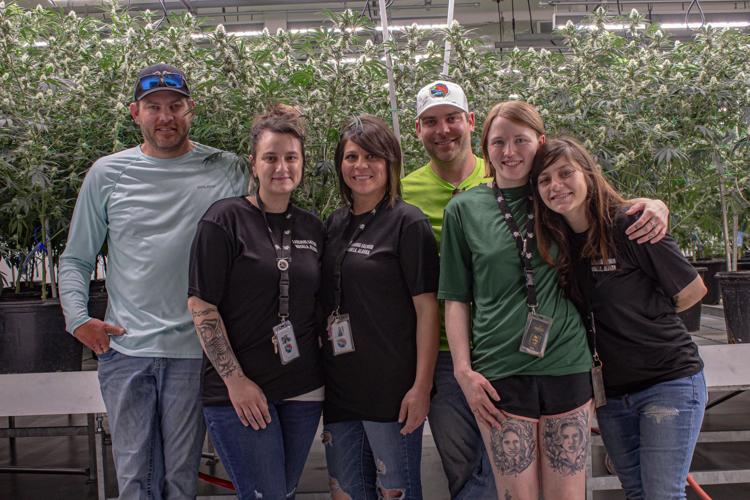 Lutz set out to build an "integrated cannabis company" in the Mat-Su Valley, obtaining licenses for not only retail but also cultivation and manufacturing, so he could supplement the supply chain leading to the products sold on Laughing Salmon's shelves. "If you're going to make it in the industry, you need to be fully integrated," Lutz explains.
Starting a cannabis company wasn't on Lutz's radar until the last couple of years. He came to Alaska from North Dakota in 2004 to attend University of Alaska Anchorage, studying business and marketing.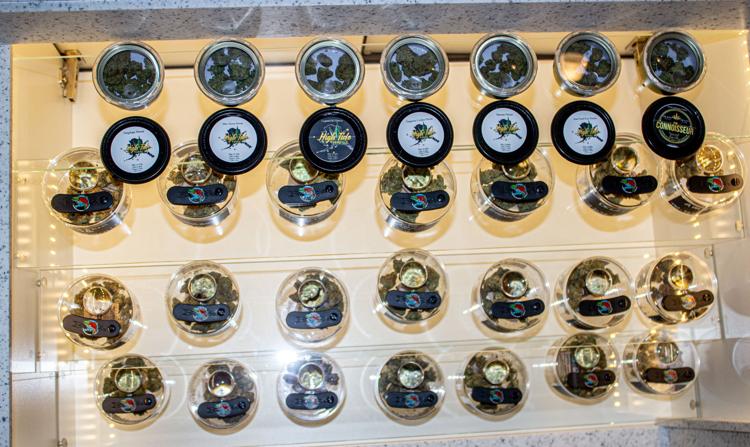 Then he took a job on the North Slope, starting out on the drilling rigs for five years, then moving into the position of drilling fluids engineer for the next 10.
As oil and gas prices were dropping, he began to think about what he'd do if he were ever laid off. His older brother, Dana, was living in Colorado when that state first legalized and was enthusiastic about the emerging industry. Meanwhile, Lutz's fiancee, Kamie, had been talking about starting a floral business. The three of them decided to enter the cannabis industry together. They took a chance and began building their shop even before the Mat-Su Borough allowed cannabis retail.
In designing his retail establishment, Lutz says he was going with "a mix of a homey feeling and also the commercial building style with a rustic look to it."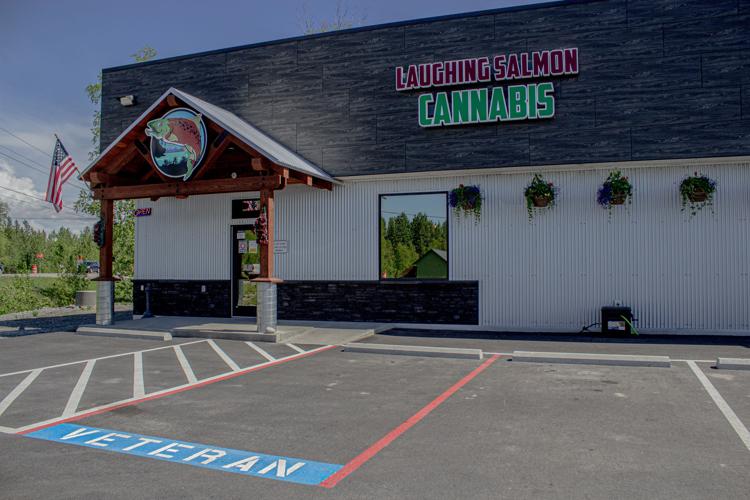 He is proud to say his shop runs 90% off of solar courtesy of a fellow North Dakotan who runs Alaska Solar Supply.
All three parts of the integrated business are up and running. They began with growing, then went to producing concentrates. They do outsource some of what they grow to other companies to produce additional concentrates as well as edibles. A major business focus, Lutz says, is to carry quality products at affordable prices.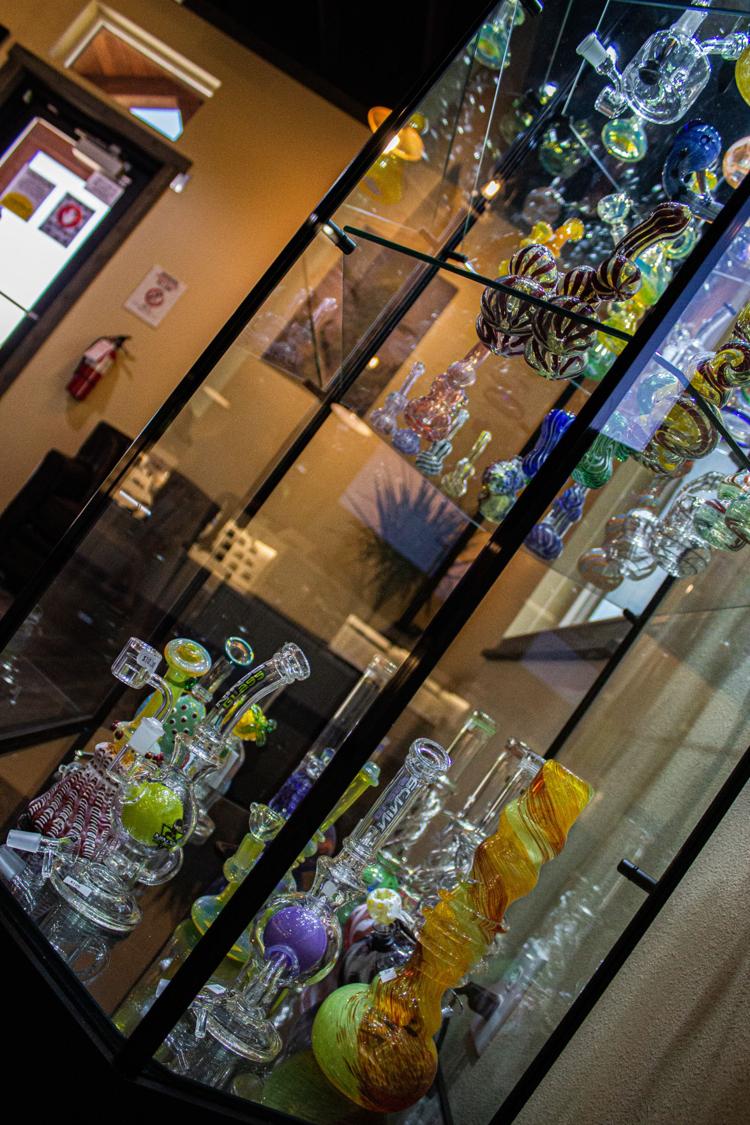 The manufacturing side of the business, known as High Tide Farms, originally specialized in solventless rosin but eventually moved into distillations to "purify" the concentrated end product to be more colorless, particularly appealing for vaping. To maintain a flavor profile, Lutz says they add a little bit of rosin or some terpenes toward the end of the process. High Tide concentrates are sold in shops across the state, including in Anchorage, Girdwood, Kenai, Homer, Ketchikan and Juneau.
In addition to carrying the expected array of manufactured products, Laughing Salmon offers about 30 different strains of flower, including their own signature strain, Nawak'osis (translated as the Sacred Weed), a proprietary 50/50 indica/sativa hybrid. A lot of their customers also enjoy their Cherry Pie strain, something they began growing very early on in their cannabis ventures, along with Legend OG, an indica-dominant strain. The shop continually brings in new strains from their seed bank.
Lutz only recently quit his job on the Slope to work full time on his companies. He says that he hopes to significantly expand his cultivation in the future, including installing light deprivation greenhouses. He also foresees expanding his manufacturing business.
Until then, he and his partners continue to navigate the myriad known and unpredictable obstacles that appear in their path on their way to business success.
Aliza Sherman is a freelance writer in Anchorage. Comments about this story? Email editor@AlaskaCannabist.com.