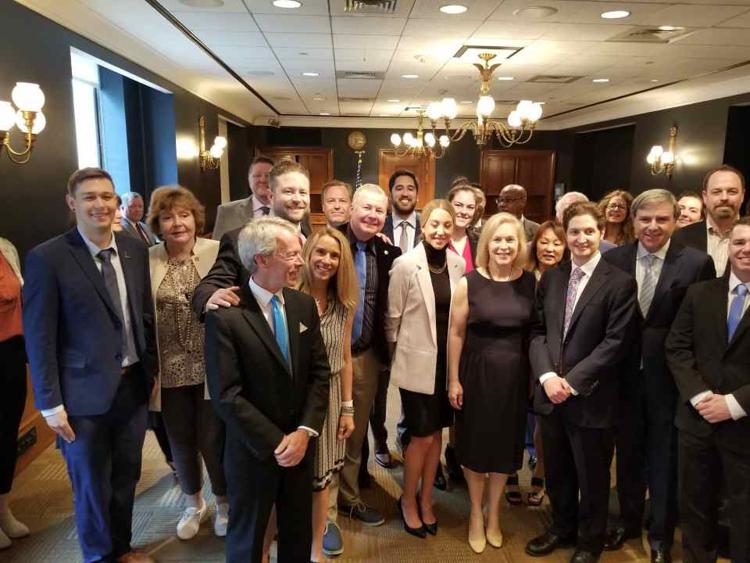 Call it the Cannabis Crusade. Members of the Alaska Marijuana Industry Association spent a few days on Capitol Hill in early May with advocates from several states in a trip that AMIA Director Cary Carrigan said had been in the works for months.
And, he said, it seems to be paying off.
"This has kind of been the big one," Carrigan said during a break from activities in the nation's capital. "We've got nine states on board; retailers, manufacturers, cultivators, a lot of people are here to address some really important issues."
Those issues include increased banking rights and abilities for cannabis businesses, bringing awareness to some of the therapeutic and medicinal uses of cannabis for military veterans and the inclusion of hemp cultivation in the congressional farm bill passed in December.
The group met with several members of the Congressional Cannabis Caucus, a group of senators and representatives focused on supporting responsible cannabis regulation. Carrigan noted a particularly warm welcome from Alaska Republican Rep. Don Young, who has long been a supporter of a states' rights approach to cannabis policy.
"Young was our opening speaker during a number of discussions and has just been great throughout the entire visit," Carrigan said.
Young noted in a statement to the Alaska Cannabist that he has been fortunate to be able to meet with members of the AMIA in Washington, D.C. and also in Alaska a number of times.
"Since Alaska legalized marijuana, I have heard from many constituents — including small business owners — who have been impacted by archaic federal marijuana policy that criminalizes them for selling marijuana-derived products otherwise legal under state law," Young said. "Additionally, veterans are unfairly impacted by laws that prevent medical cannabis from being prescribed to them by VA doctors."
The veterans aspect has been a particular focus for more than one Alaska congressional member recently. Alaska Republican Sen. Dan Sullivan introduced legislation earlier this year that urges the Department of Veterans Affairs to explore the possible benefits of medicinal cannabis use for veterans.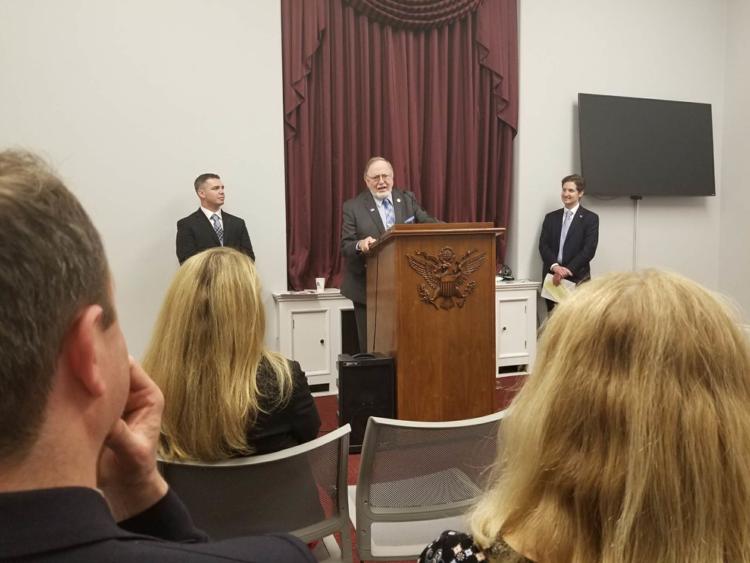 The other area of focus Carrigan identified for the D.C. trip was the issue of banking for cannabis businesses. While most states and several U.S territories have legalized medical cannabis use and 10 states and the District of Columbia have legalized recreational cannabis use, most banks are federally regulated, setting inconvenient limitations on cannabis businesses and cultivators when it comes to their banking needs. As it stands currently, even if a bank wanted to work with a cannabis business, because the substance is still illegal under federal law, banks could face hefty legal risks for handling cannabis-related money.
Several legislators are attempting to address that through the Secure and Fair Enforcement Banking Act, which would protect financial institutions that provide services to legal cannabis-related businesses. Young is one of the original cosponsors of the bill.
"I'm proud to cosponsor legislation such as the Safe Banking Act and the STATES Act to help streamline regulations and provide legal stability and certainty for my constituents," Young said. "The Alaska Marijuana Industry Association and I share significant common ground in these goals, and I am proud to be their partner in this effort."
A group of 38 state and U.S territory attorneys general sent a joint letter to congressional leaders in May urging support for cannabis business' banking rights.
For Carrigan, the inability for cannabis-related businesses to use federal banking is not only massively inconvenient for a business that is equally contributing to a local and state economy such as any other business but also is a matter of safety for employees of cannabis businesses.
"Nobody wants to run around with a bunch of cash on them, it's a public safety issue," Carrigan said.
Other issues that were brought up during the three-day visit included strengthening states' rights protected in the 10th Amendment to the U.S. Constitution, protecting newly implemented farming rights for hemp growers across the country and the need for tax reform with regard to cannabis business tax rates.
This was the second trip of its kind and involved two months of planning ahead of time to involve as many AMIA members as possible. Carrigan said that the AMIA invited members of the Alaska Marijuana Control Board to join the association on the trip but that the board's limited travel budget precluded it. He said he planned to update Alaska Alcohol and Marijuana Control Office Director Erica McConnell upon his return to the state.