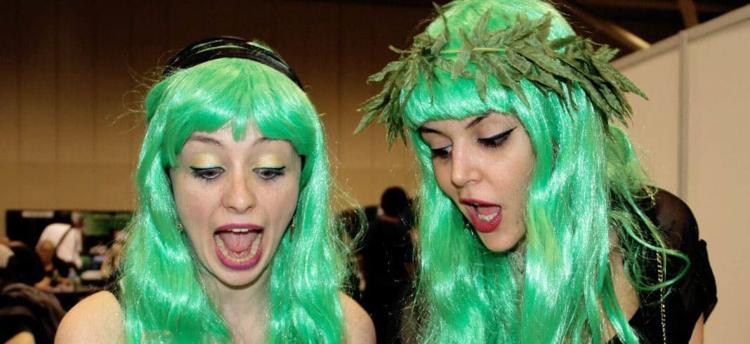 Halloween is the perfect holiday for stoners: costumes, decorations, snacks and lots of far-out fun.
Alaska Cannabist decided to go beyond your parents' Cheech and Chong and Zig Zag Man costumes and looked at some of the various strains of cannabis available at retailers around the state for costume and party inspiration. So if you're invited to a cannabis-themed Halloween party or a Hallo-Weed themed cannabis party, you can go in style as your favorite cannabis strain.
Budtenders also recommended which strains would be good to try at the party.
Aimee Altman, office manager of the House of Green in Anchorage, recommended Dark Star from Absolem's Garden as a fun strain to try. It's an indica, 25% THC, she said. Incredible Bulk by Black Rapids, a 21% indica is another good one, with costume potential as a roided-out The Hulk. Her personal favorite is Willy's Wonca, a BAM Alaska 25% sativa strain.
BAM is House of Green's in-house cultivation facility, Altman said. "We just opened another cultivation facility out in the Valley. We're growing fast."
As far as costume ideas, Altman is partial to Willy's Wonca. She's a passionate fan of the original "Willy Wonka and the Chocolate Factory" movie with Gene Wilder, she said. The costume would be easy — a knock-off tux with marijuana leaves scattered over the waistcoat and bow tie and a brightly-colored top hat. As far as snacks, "enter a world of pure imagination."
Several dispensaries carry a strain called Gorilla Dawg, which would be an amusing hybrid outfit. Or go as King Tut (sativa, 23%), Warlock (hybrid, 20%), Ghost Hulk (hybrid, 26%) or Kraken (indica, 29%), all available at GoodSinse in Fairbanks.
Great Northern Cannabis in Anchorage carries Orange Ghost (22.39%) and Super Skunk (26.15%). Can you imagine a stoned Pepe le Pew?
Or go for the Killer Goat (24.29%) from Alaska GreenWorks, available at Green Jar in Wasilla. Greatland Ganja on the Kenai Peninsula carries a Gunslinger strain, or for when you're done partying and ready to hit the hay, go for the Deep Sleep (indica.)
Pakalolo in Fairbanks carries Swamp Thing from Pug Hill Farms, as well as Purple Death Star from Liontree Farms, both of which have great costume potential.
Randon Birchette, who works at Uncle Herb's in Homer, was dressed for the part of Skywalker OG, an indica from Lady Grey, in late August, in an astronaut hoodie with gold chains.
In addition to costumes, Birchette recommends having a pumpkin bong carving contest, "and then you'd smoke out of it," he said.
"Lemon Icepucker is one I really enjoy personally," he said. "It's a sativa, it's very interesting and it's very popular on the (Kenai) Peninsula. A very lemony flavor."
He also recommends Mercyfruit Haze from Mercytree of Alaska. "They do a really great sativa," he said
Then there's the food. A great variety of cannabis-infused edibles are available at retailers around the state, or you can make your own. Try the Hallo-Weed candy pie on page 44. It's also a good idea to have non-cannabis snacks and plenty of soda, punch and water on hand. Keep in mind that moderation is key, and always have designated drivers or alternate transportation options available.
If you do decide to go the Hallo-Weed route, Alaska Cannabist would love to see photos of the costumes and decorations! Email to editor@alaskacannabist.com.