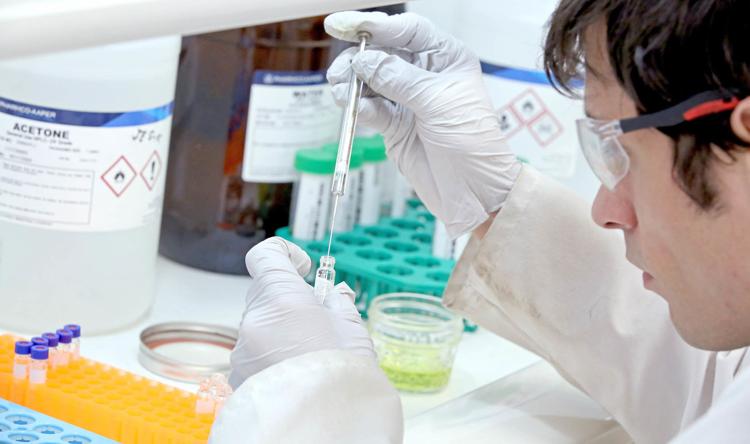 Most new industries experience growing pains, and Alaska's legal cannabis industry is no exception. Alaska voters passed a ballot measure legalizing recreational cannabis consumption in 2014, and the law went into effect in Feb. 24, 2015. State lawmakers struggled to establish regulations and licensing guidelines, and it wasn't until Oct. 28, 2016 — a full 20 months later — that Pakalolo Supply Co. in Fairbanks was able to make the first legal cannabis sale in Alaska.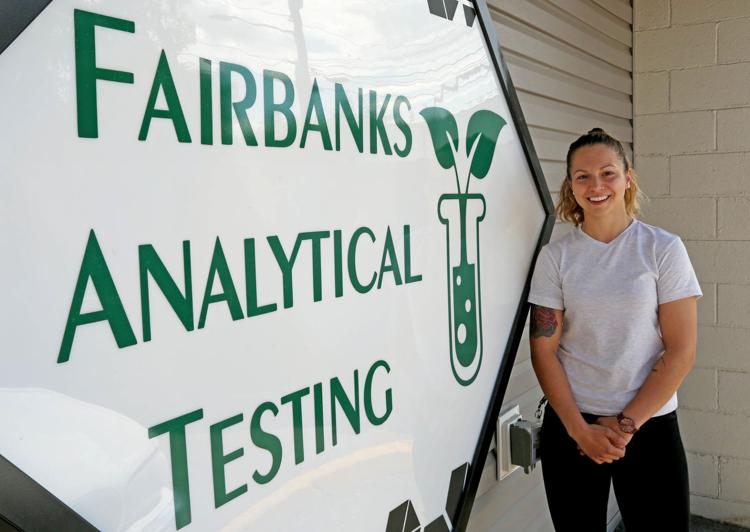 Getting their product tested was yet another hurdle that growers had to clear before they could set up shop. Until recently growers and manufacturers in the Interior had to send their product to Anchorage to get tested at one of the only two facilities in the state. That changed when Fairbanks Analytical Testing, LLC opened its doors on Jan. 4, 2019.
Located at 1521 Stacia Street, the building's tidy exterior and tastefully serene waiting area front a gleaming state of the art laboratory in which owner Dylanne Macomber and her staff of two test cannabis and related products for microbial contamination, potency, the presence of residual solvents, moisture content and terpine profiles.
Macomber is 24 years old and also works on the North Slope as a mechanical inspector. She decided early on that she wanted to open a testing lab, even though she has no background in chemistry.
"I got really lucky. I heard about the industry and I luckily cornered the market when I came into it here in Fairbanks," Macomber said during a recent tour of the facility. "I'm not looking to step on toes in Anchorage or Wasilla, I just want a piece of the pie. I think most of the manufacturers in Fairbanks come to me because it saves them money."
Starting a testing lab is not cheap, nor is it easy. Macomber and an investor spent $200,000 remodelling the building to accommodate their equipment. Outlets had to be rewired to a higher voltage, air handling units were installed, and two separate boiler systems were needed to operate the fume hood and the gas chromatographer. The testing equipment and associated materials cost another $300,000.
"It took me 19 months to get this place together," Macomber said.
The latest state regulations require that harvest batches be no larger than 10 pounds, of which a representational batch of 16 grams is submitted for testing. Macomber, chemist Josh England and lab director Alex Tackett prep samples for different testing methods, which vary according to the product being tested.
"Concentrates are tested differently than plant tissue and edibles. We separate the samples out based on our standard operating procedures, allocate them off for different tests, then run the procedures," Tackett said.
Buds, for example, are placed in a test tube of acetone and shaken for 30 minutes to separate the compounds.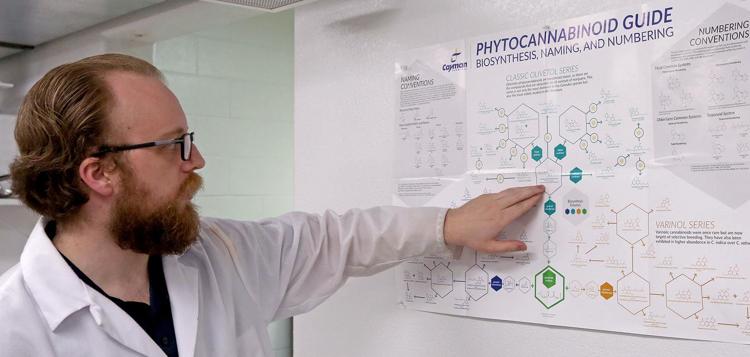 "We dissolve it out, because we can't just run our solids through the machine, England explained. "Right now this has dissolved chloroplast, terpines, cannabinoids and enzymes and other products, but the biggest concentration is going to be cannabinoids, because that's the main component of cannabis."
A portion of the resulting liquid is then placed on a pre-prepared culture medium and put in an incubator for microbial testing, which is required for all plant tissue and edibles.
This test, which takes place in a special room equipped with air purifiers, detects the presence of E. coli, salmonella, and four different strains of aspergillum, or yeast molds. The microbial test is done first because if the sample tests positive then the batch can not be sold to consumers. Fortunately for the grower, the product can be sold to a manufacture, because the process of turning it into a hash oil, shatter or concentrate kills the contaminants.
If the product passes the microbial test, it goes through two additional tests: Gas chromatography or high pressure liquid chromatography.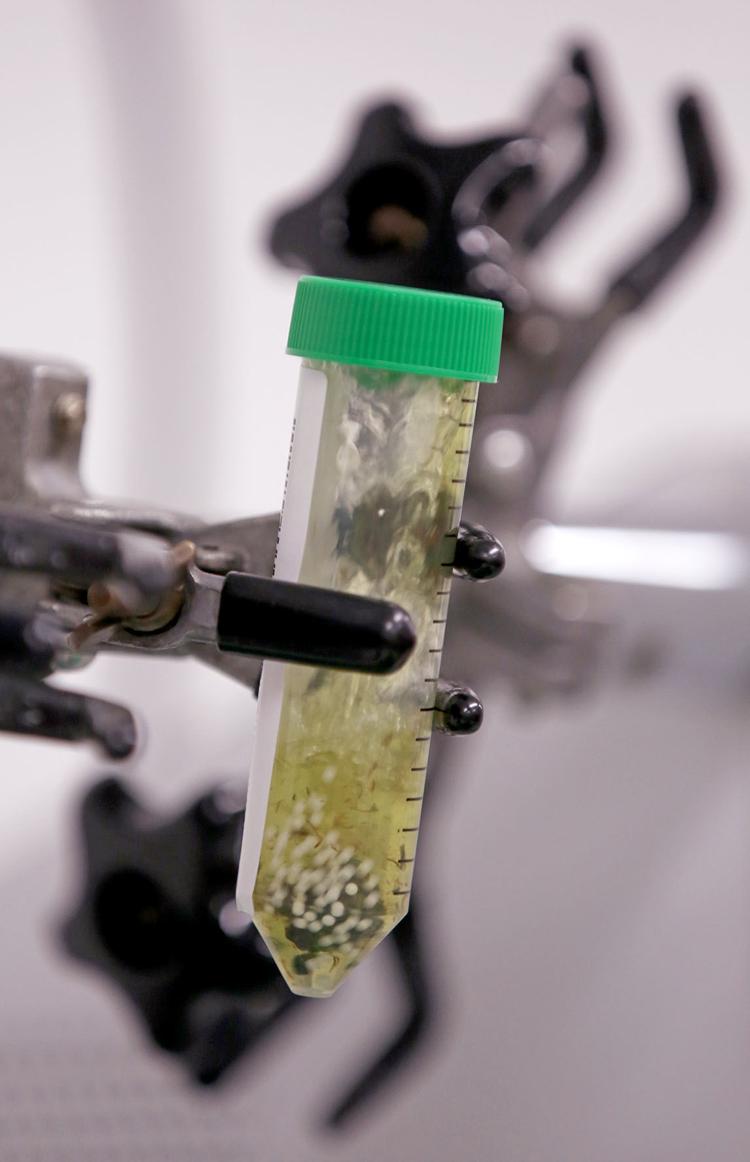 Gas chromatography tests for residual solvents such as butane and ethanol, which are often used when making distillate. HPLC is used to test for the concentration and different types of cannabinoids and terpines in the sample.
The lab tests for 10 cannabinoids even though the state only requires testing for five: THC, THCA, CBN, CBD and CBDA.
"All these different cannabinoids interact differently with receptors," England said. "The main bread and butter test we do is for potency of cannabinoids. The five main ones are the ones that are the most concentrated, so they're the most important, but you have all these other ones that people are interested in."
After the tests are run, the data is printed out and analyzed and report is generated. Most of the time the lab can give a grower or manufacturer their results in about three days.
"They give that information to the retailers, and the retailers use the state guidelines that dictate what they have to disclose. And then there's additional information that they can choose to disclose if they want," England said.
Theoretically, a cannabis product could be tested three times.
"The cannabis gets tested, they sell it to a manufacturer and they turn it into a distillate and that gets tested. Then if someone buys that distillate and use it to make edibles, then those get tested," England said.
The lab also test for moisture content of the cannabis by weighing a sample when it arrives and then again after drying it out.
"We test for that for a couple of reasons. The biggest is, if someone has weed that hasn't cured properly, it raises the risk of having it mold after the fact. If it's been tested properly for what it needs to be tested for, people can assume that it's safe," England said.
Any leftover or untested product is ground up into a fine powder, mixed 50/50 with dirt and disposed of.