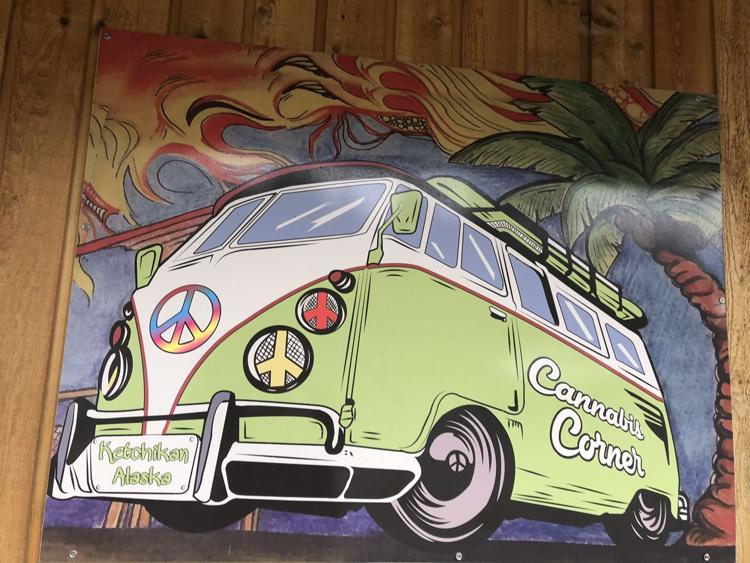 Five years after legalization, cannabis enthusiasts in Alaska can finally get high in public.
After several years of discussion between cannabis retailers and the Alaska Marijuana Control Board, onsite cannabis consumption was approved Dec. 20, 2018. It took a few more months to hash out the details, and in April 2019 the first free-standing cannabis retail stores were allowed to apply for onsite consumption endorsements.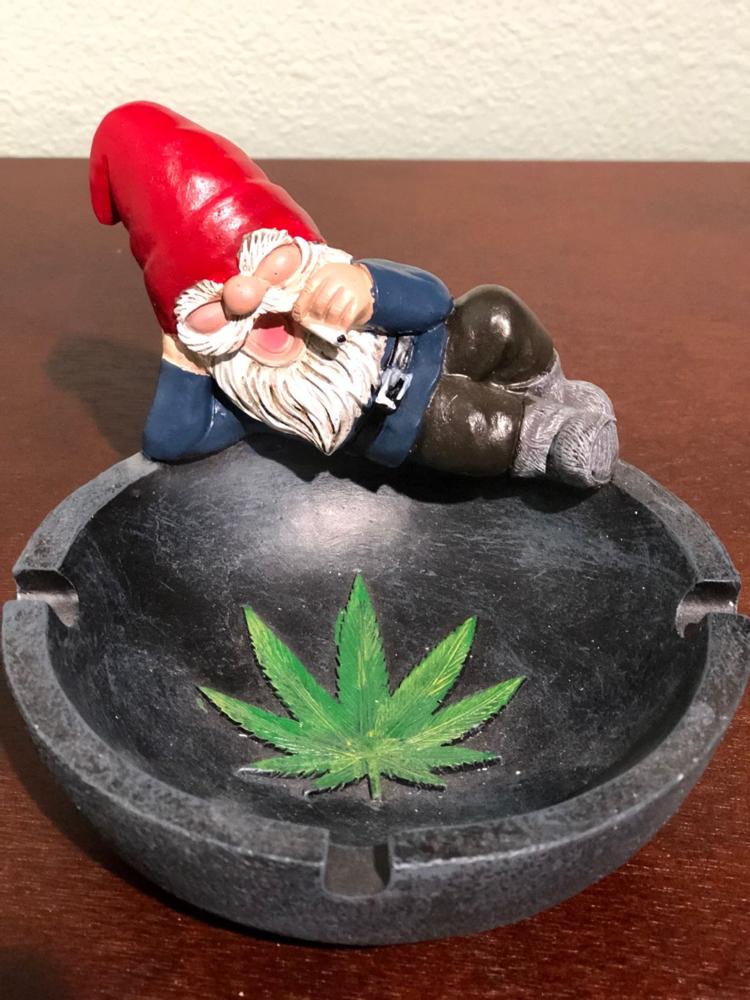 Cannabis Corner in Ketchikan was one of two applications to be approved on Jan. 23 of this year, and owners Kanoe and Ayme Zantua wasted no time in getting their smoking room ready for business.
Alaska Cannabist spoke to the couple in late February as they were awaiting final board approval of the room's set up and ventilation system.
If all goes according to plan, Cannabist Corner will be first establishment to offer onsite consumption in Alaska. When asked how they got everything done so quickly, Ayme said it was all about planning ahead.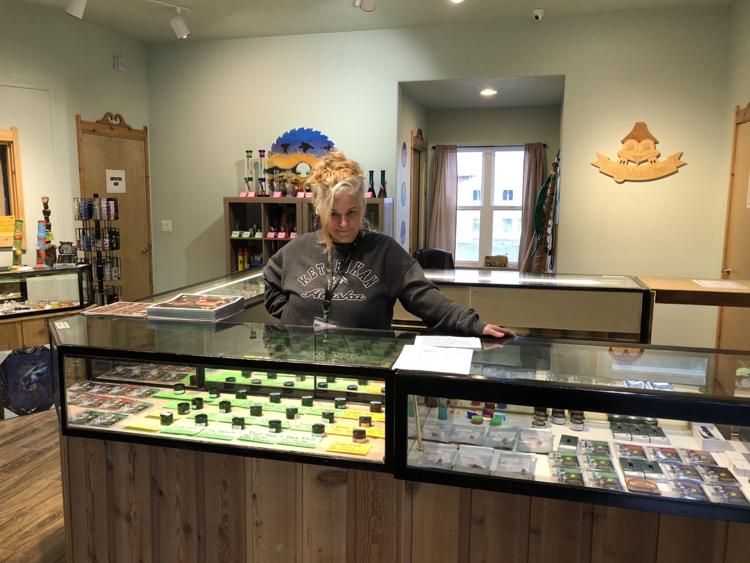 "We built the retail store from the ground up, with onsite consumption in mind. So when we opened three years ago, the consumption room was already built into the building. We are definitely looking to be open in March," Ayme said, noting they were putting the final touches on the decor and installing furniture.
"At the beginning we decided not to spend any money furnishing it until we knew for sure that we'd actually get to have onsite consumption," Kanoe said. "We've been using it as a storage room up until it was approved. Now it's looking like a lounge."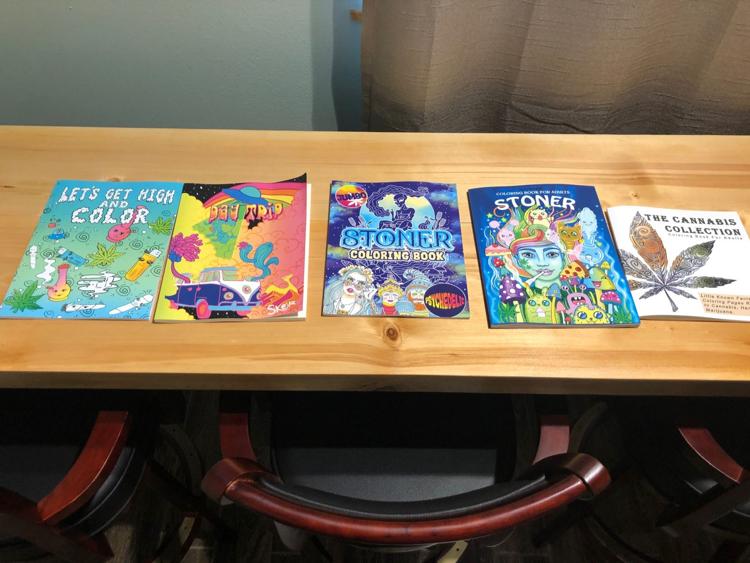 Relax and unwind
Ayme said she and Kanoe wanted the room to have a homey, welcoming vibe. The flooring is wood grain tile, the walls are a soft, mossy green, and several big, comfy couches and chairs sit near an electric fireplace and a large screen TV. A custom 12-foot long, bar-height table made from local planed wood sits against one wall, and cannabis-themed ashtrays are placed throughout. Lava lamps provide ambience and framed vinyl records grace the walls. Cannabis magazines, stoner coloring books — psychedelic or mildly adult-themed — and a graphic novel called "Reefer Madness" give customers something to do while kicking back with a nice fatty.
The couple said they wanted to provide a variety of entertainment options for their patrons, but their choices are limited at the moment. They thought about having board game nights for the locals, but marijuana control office rules won't allow organized games. It's not immediately clear what else might be prohibited.
"We're going to make it as entertaining for people as we can and still follow the rules. There's a record player and a couple of speakers and about 30 vinyl records," Kanoe said, noting the framed records on the wall can also be taken out and played. "We have a 55-inch LED TV with cable, and people can watch what they want. If it's the Super Bowl, it's probably going to be on, but if it's just a regular day, people can watch Comedy Central or even the Lifetime Channel. It's up to them. We were planning on doing some movie nights, but for now we're just going to stick to TV and music until things get clarified with the state."
Ayme said she expects the rules to be ironed out in the near future.
"I think it's so new, and there's zero history behind any of this, so there will have to be some clarification on what we can and cannot do with the consumption room as far as activities go."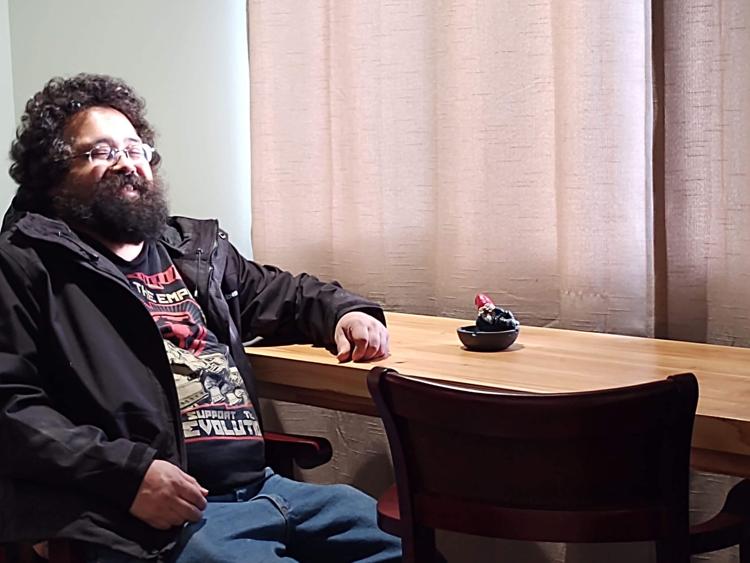 Kanoe said the prohibition against entertainment such as organized games is puzzling to him.
"It's kind of like the state wants people to go in and get high and leave, which I don't understand. You'd think they'd want them to stick around for a while and kind of let the high start to go."
The room has seating for 15, but the fire code allows up to 30 people in the room. Kanoe said he didn't anticipate a time when it would be filled to capacity.
"I don't imagine we'll have that many in there. I mean, we will if they really want to. If the other 15 want to stand then that's fine."
Seeking approval
Cannabis Corner gets most of its stock from Ketchikan, Sitka and Juneau but has a cultivation license and plans to start growing its own in the next several months. Ayme said their previous experience with the state made the process a fairly smooth one.
"You know, we've done the whole application process multiple times, between the retail store and the cultivation. As far as the paperwork goes, it made a lot of sense and was kind of easy to work through. We did hit a couple of snags because there were some policy changes after we turned in the paperwork," she said, referring to a change in regulations about the ventilation system. Kanoe explained the issue and how it was resolved.
"When they first approved onsite consumption, they didn't want any odor outside, so they didn't want ventilation to be outside. We got a Smoke Eater to clean the air inside the room, and then when we were ready to turn in our application we found out that they had changed that and now required that it be vented to the inside. It was a surprise to us," he said.
The couple were reasonably optimistic that their application would be approved because they met all of the requirements and had already received the blessing of their local government.
In December, the Ketchikan Gateway Borough Assembly voted 5-2 in favor of not opposing their license.
Though the retail store opened three years ago, many people in Ketchikan aren't aware it exists because, as Kanoe put it, "We've kind of been waiting to advertise until we have something worth advertising about."
With the coming of the onsite consumption room, Cannabis Corner has gained more visibility in the community, some of it negative.
"It takes time for people to realize that it's not this horrible thing that they think it will be," Kanoe said. "We have people who are not thrilled that we're going to have onsite consumption, because they just have assumptions in their head without even asking us any questions. They're worried that people will come driving out our place high and crash into something."
To that end, the couple have some stringent rules for their business.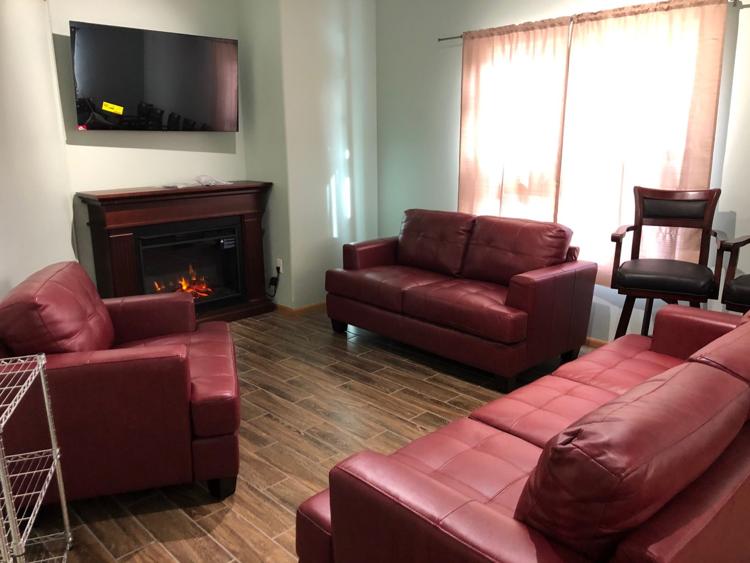 Safety first
"We're going to tell the locals that they need to have a designated driver or they need to come out on the bus or a taxi, because if they drive up to the store by themselves we're just going to say, 'Hey, you can't go in there.'
"There's no legal limit to how much weed you can smoke, so we're not going to say, 'Yeah, go ahead and get high and then drive your car,'" Kanoe said.
Customers must enter through the retail store and buy the product of their choice before they can enter the onsite consumption room.
They will not be allowed to bring their own cannabis products into the store, and concentrates are off limits because of their potency.
"If they want to go into the lounge, they need to do that first, and then they can purchase concentrates or anything else when they're ready to leave," Kanoe said.
The room is equipped with cameras and will be closely monitored by store employees. A door person will check to make sure customers haven't been drinking, and bags larger than a woman's purse will not be allowed in.
"We have to be pretty much in control of what people take into the room with them because we don't want any surprises. It's required by the state, but we're also going to do it to protect ourselves," Ayme said, noting that they won't be searching purses or anything else.
"I don't think searching people will be necessary. We want people to be comfortable coming into the store and using the consumption room."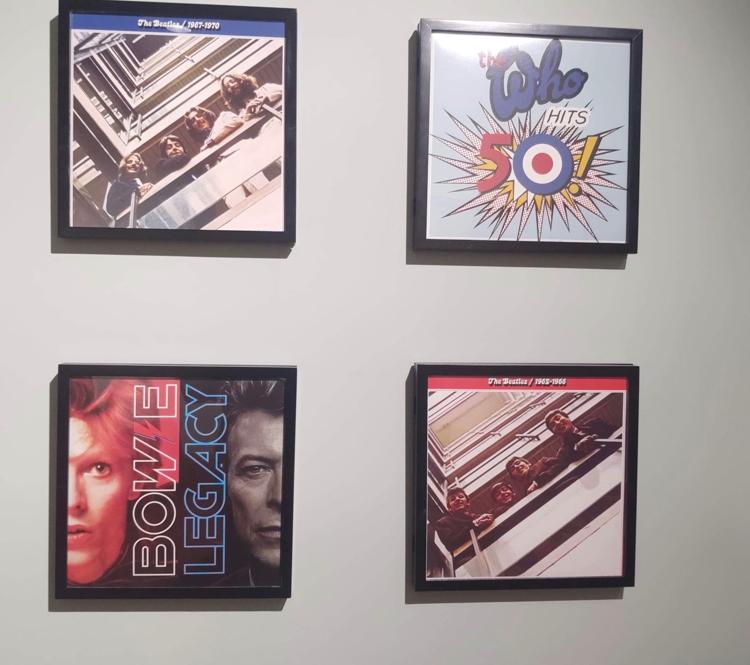 For the time being, bongs will not be allowed in the room, nor will the store provide them. The store sells nice glass pipes but also offers a $2 "throw away" pipe ideal for tourists or the budget-minded.
"Until we get better clarification, we will let people bring their own pipes in but they're going to have to let us look at them first and make sure that they don't have anything in it already," Kanoe said.
"If they want to buy flower and roll their own joints, they can do that, but we do have some pre-rolls. There will probably be a market for both. If it's tourists, they'll probably buy joints. If it's locals, it's either one, joints or flower. There is no limit to the amount of time patrons can spend in the consumption room.
"I'm against time limits. For one, you don't know how it's going to affect each person, and if it hits them too hard, I'd like them to be able just hang out and let it wear off until they're comfortable enough that they're ready to leave," Kanoe said.
When asked what they would do if a customer fell asleep in the room, Ayme said they didn't have a set policy.
"We would probably let them be for a while anyway. I imagine we would eventually wake them gently."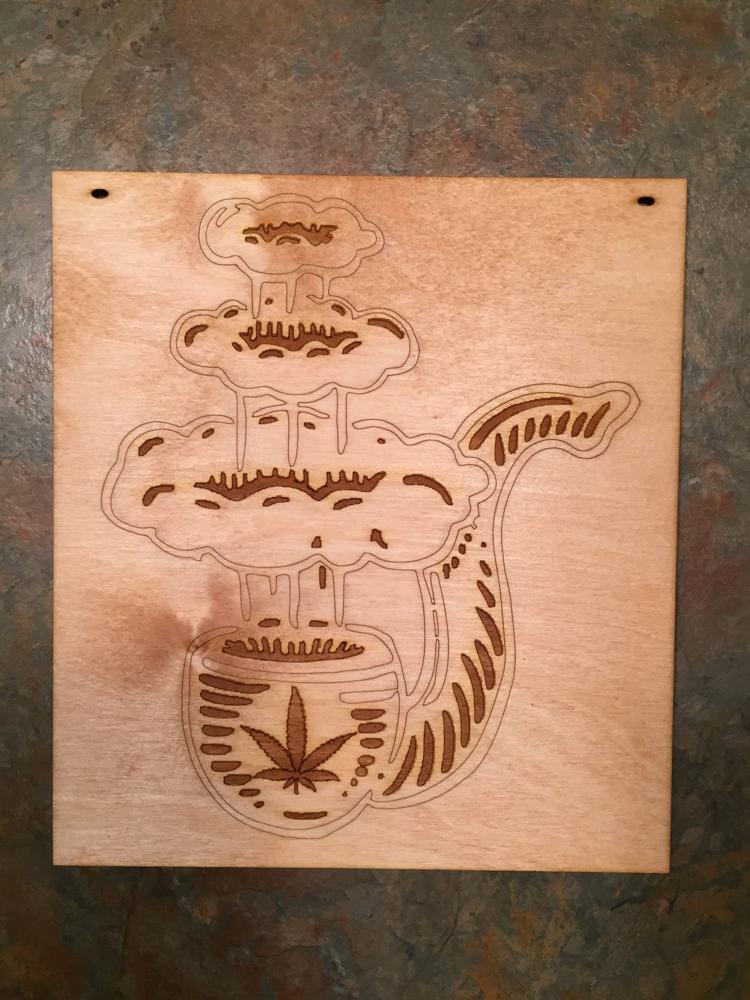 Fingers crossed
The couple said waiting for final approval from an AMCO inspector was nerve-racking but worth it.
"Everybody likes to remind us that since we're going to be the first to open, everybody's watching us," Kanoe said. "We're going to try to make it a smooth opening, and keep good vibes going for the industry."
Contact Alaska Cannabist staff writer Dorothy Chomicz at 459-7582 or dchomicz@AlaskaCannabist.com