Pakalolo Supply Co. is raising money for cancer research with a new strain of cannabis it recently started selling in its Fairbanks and Anchorage stores.
The strain, called "Holly's Cookies" comes from seeds given to the store by regular customer Holly Glaeser, who died of ovarian cancer May 3, 2018. Pakalolo owner Keenan Hollister shared Glaeser's story on June 8, the day he released the strain.
"After we first opened, a customer shared with us that she was battling cancer. It started out as ovarian cancer and it spread, so she at one point decided to quit chemotherapy and treat her symptoms with cannabis," Hollister said. "She was coming here a lot, and we were trying to help her out and give her products that would work for her and give her some relief."
Glaeser was a "very sweet and generous" person who got to know the Pakalolo staff and would bake cookies and other treats for them on their birthdays, according to Hollister.
She had purchased some cannabis seeds at a trade show and planned to grow them herself to try to ease her symptoms but decided to scrap that idea after cannabis became legal in Alaska.
"She said she didn't know what she was doing (growing-wise), so it was easier for her to come here. So she gave them to me, but at that time we weren't allowed to bring seeds from an outside source into the building," Hollister said.
So Hollister kept the seeds and was finally able to make use of them once the state relaxed its regulations about seeds or clones from outside sources. Hollister got the seeds approved and began growing what turned out to be "really great cannabis."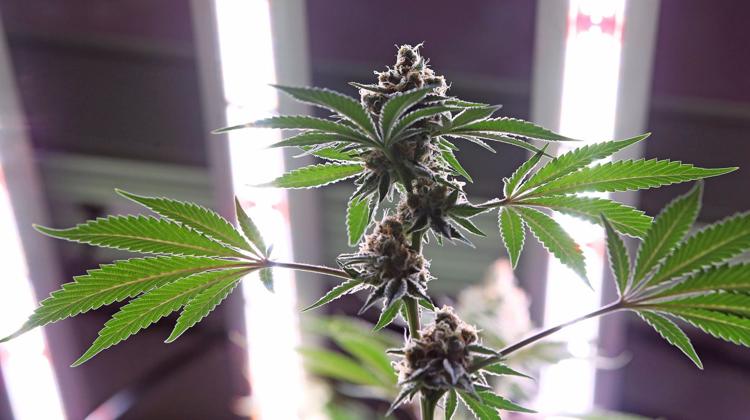 "It's called 'Holly's Cookies' because it comes from a strain called 'The Cookie Jar.' I'd heard of it before, and when she gave it to me it was like, 'Wow, this is a very special seed that you have here,'" Hollister said.
The seeds produced delicious, high THC bud with a sweet and earthy taste and an aroma reminiscent of baked goods, according to Hollister. Since the ribbon color for ovarian cancer awareness is teal, the buds are packaged in teal-colored containers. One dollar from every gram sold will be donated to Relay for Life, which benefits the American Cancer Society.
The strain will be sold at both Pakalolo stores and select partner stores for as long as it keeps producing quality product, according to Hollister. He anticipates selling at least 10 pounds of it a year.
"We feel like it's not our donation, it's the customer's donation. We're just facilitating it," Hollister said.