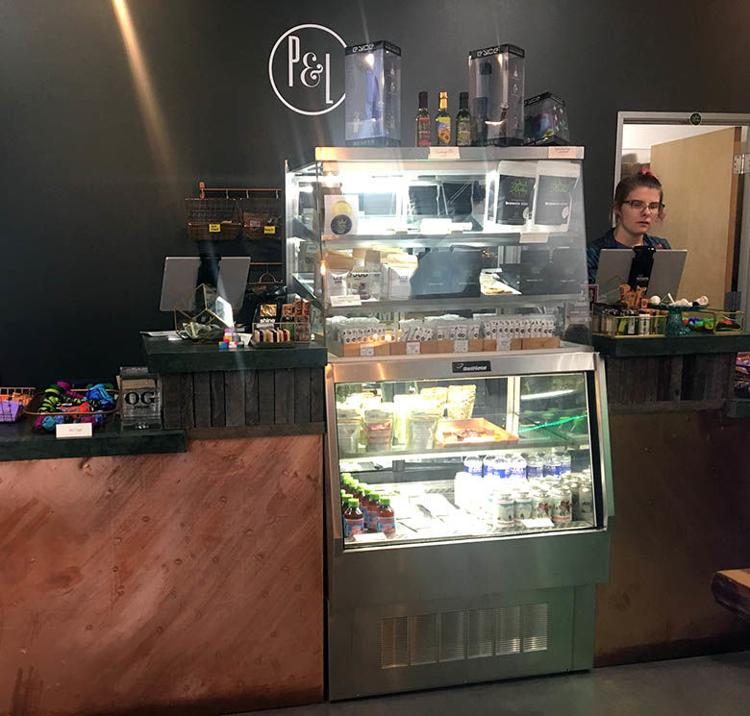 Cannabis stores come in many varieties. Some are small in size and selection, while some opt for a utilitarian look but carry a cornucopia of products. Others go for an eclectic aesthetic and offer a carefully curated selection of cannabis and paraphernalia. Pipe & Leaf, which opened earlier this year in a newly built store off Airport Way in Fairbanks, is definitely in the latter category.
The store gleams with understated industrial chic elegance. Shelves made from reclaimed wood and copper pipes hold tasteful displays of paraphernalia and pre-packaged buds. A couch and bamboo chair provide seating, and a rack of logo wear hangs under a display of colorful paintings. Budtenders roam the store to greet and help customers, and a cooler at the front counter holds a tempting display of edibles and cannabis-infused soft drinks. A glass-covered table — glowing with golden light reminiscent of the interior of the briefcase in Pulp Fiction — dominates the middle of the room. Inside it, backlit samples of concentrates and vaping accessories glimmer like jewels against a black background.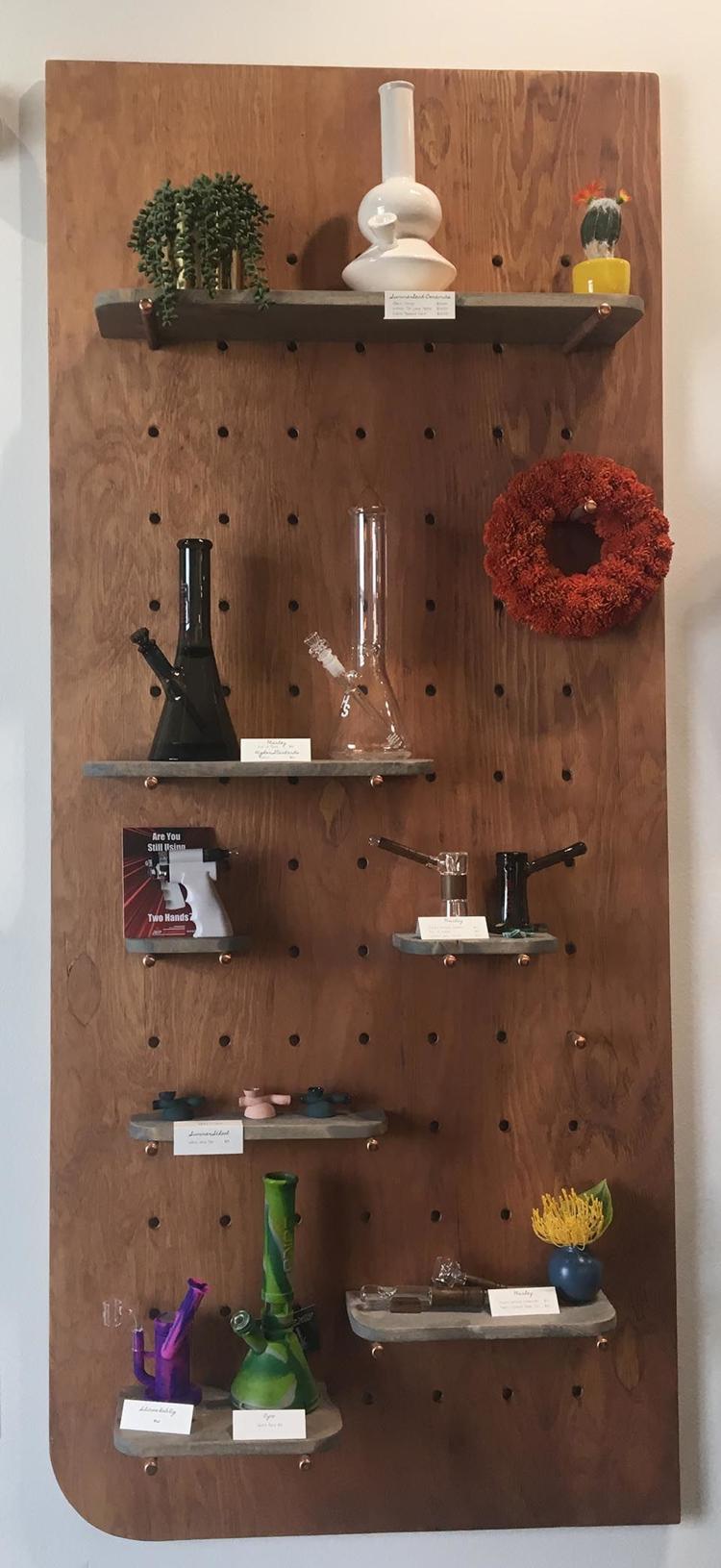 J.P. Hoff, who manages the store for his daughter and business partner Haley Essig, said customers shouldn't let the high-end look scare them off.
"Haley wanted it to be a boutique and a fun shopping experience without being high priced. People might expect when they walk in here that it'll be an expensive place to shop, but we always have a $10 gram and a $5 joint and a top selection deli bar with about 12 strains," he said. "We match some of the low prices in town but also provide some of the higher-end stuff. It's a big range."
Getting started
Essig and a friend came up with a business plan several years ago but the friend bowed out after his plans changed. Determined to move forward, Essig reached out to her dad and other family members for help. Two years ago she opened ThirdState, the cultivation branch of the operation. The roughly 2,500- to 3,000-square-foot indoor facility on Chena Hot Springs Road produces about 10 pounds every couple of weeks, and an outdoor greenhouse provides two harvests each summer.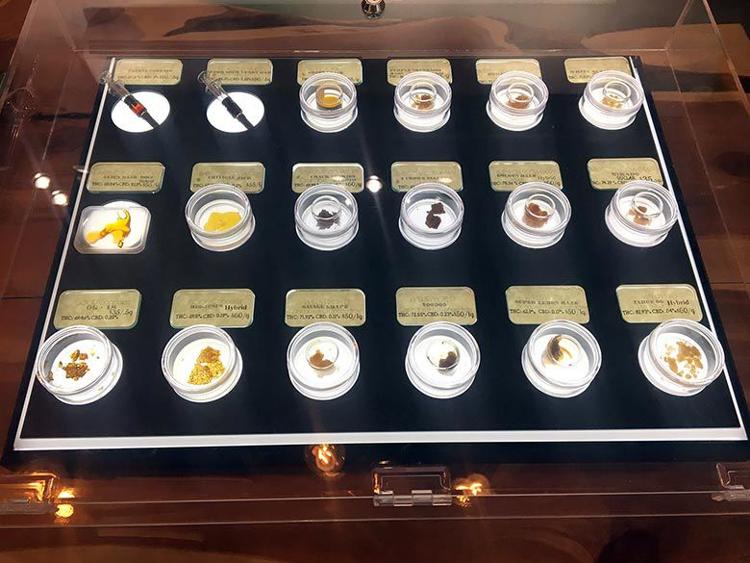 The name of the cultivation facility has a double meaning, according to Hoff. "We're the third legal state, and it also means the third state of consciousness."
The store, which is located on an access road at the west end of Airport Way near Teddy Bear Plaza, has been successful from day one, according to Hoff. He attributes much of this success to their employees.
"We couldn't have asked for a better opening. We have an experienced grower, and all of our employees have years of experience and they're all connoisseurs. They helped us, and during training everybody had input and ideas about how to do things."
Hoff and Essig also attended cannabis classes at Oaksterdam University in Oakland, California, and seminars in the Lower 48 and Alaska to ensure they had a good knowledge base of their own.
"I also really enjoy what we call around here, 'doing homework.' Our budtenders are always doing homework, and we do too," he said with a twinkle in his eye.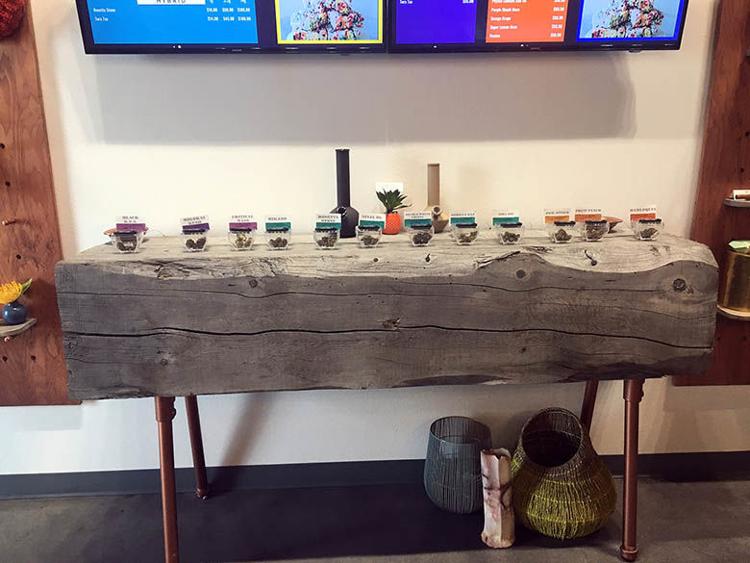 Fine tuning
Hoff said managing inventory is probably the biggest challenge at the moment.
"We got everything ready and opened, then inventory started depleting. We started out with five of everything, and now we don't order less than 20 of whatever we choose to buy," Hoff said, noting that the store carries product from other growers and manufacturers as well as their own.
ThirdState partners with manufacturers to make edibles and concentrates from several of their strains. Hoff's favorite is Tora Tsu, a two-part CBD to one-part THC cannabis available in flower, concentrate form and brownies. He said the strain is popular with a lot of Pipe & Leaf's customers because it provides a mellow, manageable high. However, some of the store's customers want "something really heavy," for which Hoff recommends some of their concentrates.
The trick to good customer service, according to Hoff, is to figure out each customer's needs.
"There's THC chasers, there's terpene chasers and there's CBD chasers. If you can get all three, that's the trifecta," Hoff said. "High means high, you know, but everybody's experience is different to an extent. It's hard to know that, because how do you explain your high? What's really fun and cool is to find the high that your customer is looking for, and they come back and say, 'That is exactly what I want.'"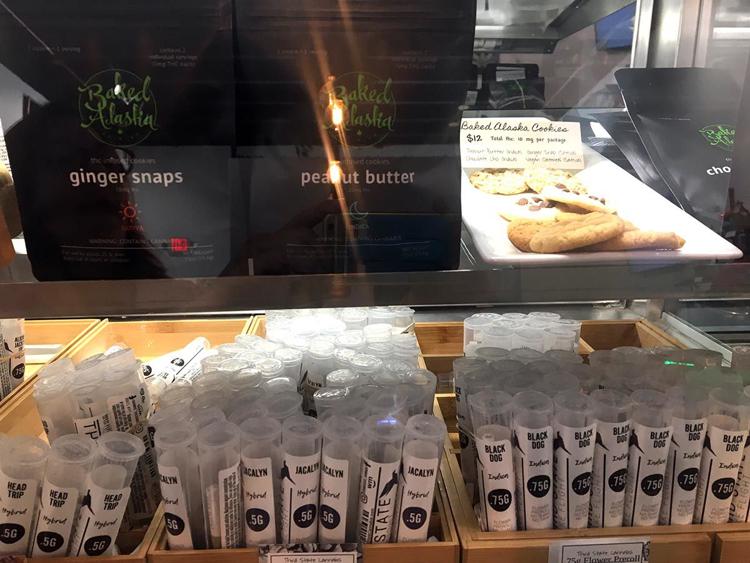 For an easily adjustable high, Hoff recommends "Hashade," a cannabis-infused Lemonade made by Kenai Peninsula-based Red Run Cannabis Company.
"It's probably the No. 1 edible in Alaska right now. They can't make it fast enough for the demand. It's made with hash oil, and the first sip you can taste the hash, but then the second sip it just tastes like lemonade. We tell people not to drink the whole thing," Hoff said, noting the bottle holds 10 servings with 5 mg of THC in each serving.
"One customer just has a capful, which he puts in another drink. I think a third of the bottle is about perfect."
Location and loyalty
Pipe & Leaf occupies one half of the building, while the other half is empty. When asked if he and his daughter have plans to put an onsite consumption operation in the empty side, Hoff shook his head and said they are tentatively looking at putting a gourmet burger chain restaurant in the space. Hoff feels it's a natural fit for the neighborhood.
"This is a nice, one-stop shop area. A couple of people have said that it's Fairbanks' 'mid-town.'"
Hoff said he thinks the store's appearance, inside and out, plays a big part in attracting a loyal customer base.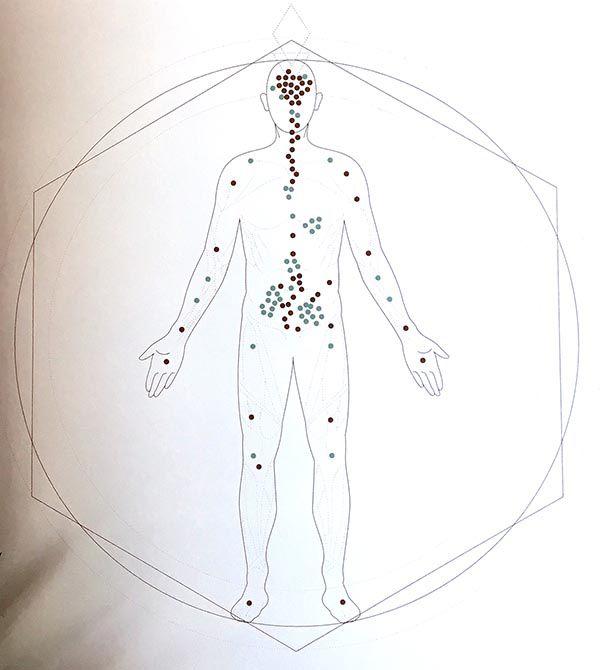 "That's what's been really cool. Women 40 years and older are our No. 1 customer, but we get all walks of life — 20-year-olds, veterans, grandma and grandpa, lots of tourists. I'd say for the last two months about 20% of our business has been tourists.
Hoff said Pipe & Leaf probably has "the happiest, outgoing customer base in the world."
"I don't know if you'd have that in other industries. I mean, people shopping are grumpy when they're at the store, but when our customers come in they're just happy to be here and excited about what they might choose and pick out," Hoff said. "We try to make it fun. We want it to be a shopping experience and not just grab and go. We want people to take their time, talk to our budtenders and learn about it."
Contact Alaska Cannabist staff writer Dorothy Chomicz at 907-459-7582 or dchomicz@AlaskaCannabist.com.