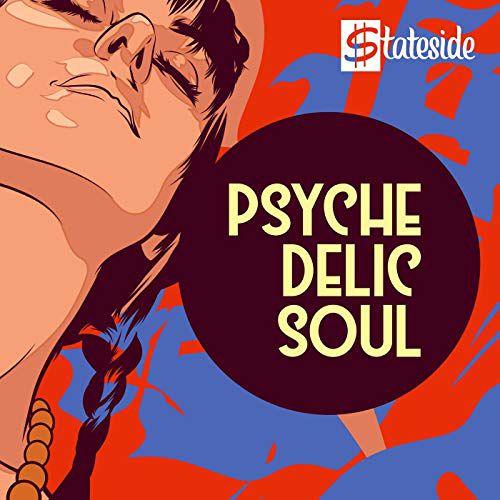 Think psychedelic music, and what usually comes to mind is white bands from the mid- to late-sixties churning out fuzzy guitar solos and trippy lyrics. But there was a second wave of psychedelia that hit R&B music in the early seventies, when feedback, wah-wah pedals, reverb and other effects found their way into soul and funk, taking it to a new level designed to appeal to stoners and trippers.
Funkadelic, the experimental side of George Clinton's immortal P-Funk troupe, were the most famous and outrageous progenitors of the form. And a few hits from the era, including "Papa Was a Rolling Stone" by the Temptations and "Everyday People" by Sly and the Family Stone still receive frequent airplay.
Psychedelic Soul

Various Artists

Warner Music Group

- XS Music Group
But on the whole it's been a largely forgotten time until recently, when downloadable music has brought a number of albums both classic and obscure back into availability, while a handful of compilations provide those new to the style with an entry level introduction.
Psychedelic Soul, available only as a download, is perhaps the best of those compilations yet released. Most other collections have leaned heavily toward white artists who worked some R&B rhythms into their psychedelic excursions while including only a handful of the most dependable hits from black artists. This one goes deep into the back catalogue, pulling some of the trippiest funk and soul gems ever, many of which never made much of a dent on the R&B charts, much less finding crossover success.
The album opens with a triple punch. On the first track, "Hallucinations," The Jimmy Castor Bunch promise "purple lights, freakish sights" while a soul riff churns and strings build. This is followed by the girl group The Three Degrees, whose "Collage" includes killer percussion and stoned philosophical meanderings that get deeper as one goes higher.
Next up, Barbara and Ernie cover the Jefferson Airplane classic "Somebody to Love." The song is slowed down to a smoldering groove in which vocalist Barbara Massey not only ranges even wider than Grace Slick, but also offers more expressiveness.
All of these songs spring from long forgotten albums. But the collection's best entries are a pair of songs from the short lived early seventies Chicago outfit, Rasputin's Stash.
Although commercially unsuccessful at the time, they're now considered by many to be the best overall psychedelic soul band ever. "Freak's Prayer" finds the singer confronting existential ennui, while "You Better Think" adds reverb to the horn lines and wraps up with a killer drum solo followed by all manner of psychedelic noise.
Also appearing twice is Bootsy Collins, who requires no introduction. "What's a Telephone Bill?" from his number one R&B album "Ahh...The Name is Bootsy, Baby!" is more seduction than psychedelic, but in this well-sequenced collection it fits in smoothly after the darkness of "Freak's Prayer."
Elsewhere the brief instrumental "Preview Side Too" from the same album is more deeply psychedelic, one of those musical experiments that Collins and producer George Clinton specialized in with their Parliament-Funkadelic excursions.
Little Richard is not a name one generally associates with psychedelic music, but the veteran from rock and roll's earliest days has had a checkered career, dipping his hands into plenty of genres. "Burning up with Love" was recorded in 1972 for an album to be titled "Southern Child" that was shelved and didn't see release until 2005. It should have been a monster hit.
Donny Hathaway weighs in with "Voices Inside (Everything Is Everything)" from 1970, which takes on an eerie aspect knowing about his subsequent paranoid schizophrenia diagnosis and suicide.
The title track from Allen Toussaint's "Southern Nights" is best known as a Glen Campbell countrypolitan hit, but in its original incarnation here it sounds more like a John Lennon outtake with an echoed lead vocal tripping through the lilting song. And the closing track, a reworking of "California Dreaming," comes from another P-Funk alumnus, Eddie Hazel.
A few white artists do find their way in. The theme song from "Harlem River Drive" comes from the groundbreaking Latin-funk fusion album that was the vision of Eddie Palmieri and his brother Charlie.
It brought Spanish and black Harlem together in a transcendent collection that is worth seeking out in its entirety. Dr. John's "I Walk On Guilded Splinters" is a classic from his first album, a nearly eight minute long, slow brewing swamp voodoo creeper from the peak of his Night Tripper period. The female vocal backing sounds like something out of a dark church ceremony.
And Ruby Jones, who would be better known as Ruby Starr when she joined Black Oak Arkansas, released a Curtis Mayfield produced album from which the psych-boogie "99,000 Times" is drawn.
Speaking of Mayfield, his eight minute epic "(Don't Worry) If There's a Hell Below We're All Going to Go" is the only major hit found in this collection. But since it's one of the finest psychedelic soul songs ever, it's a worthy inclusion. Beyond that, with all the obscurities gathered here, this album is a treasure trove of largely overlooked gems of mind bending and totally danceable grooves that, as Sly Stone would say, will take you higher.
A note one the sound quality. A few of the recording included in "Psychedelic Soul" have subpar volume levels. Fortunately there are software options, many of them free, that can be used to fix them. A few of the available applications can be found here: https://alternativeto.net/software/mp3gain-express/.