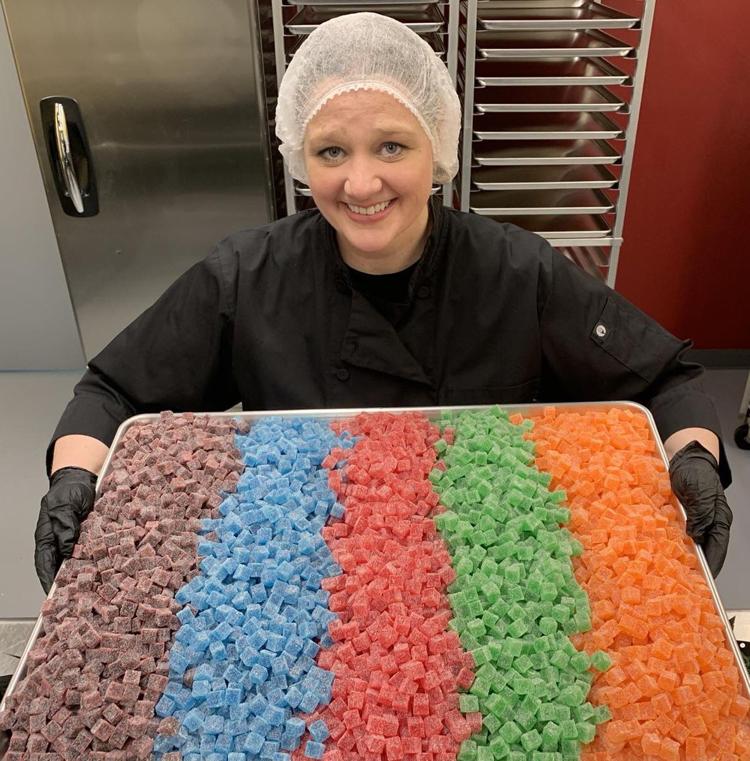 Many small business owners will tell you that the key to success is to work hard, do what you love, and keep it simple. For Jessica Rhoads, her home baking hobby and desire to help people led her to make the leap from licensed professional counselor to professional cannabis confectioner. Rhoads opened Dosed Edibles in Fairbanks several months ago and has been cranking out one product — cannabis gummies — at a prodigious rate ever since.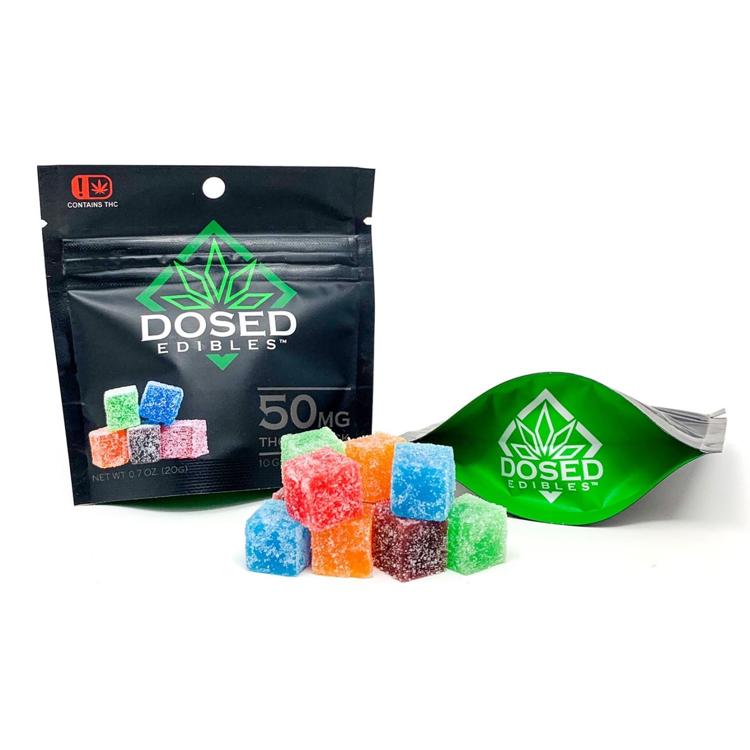 Rhoads began making cannabis gummies at home several years ago and perfected her recipe through trial and error. She began sharing them with family, friends and veterans with PTSD and chronic pain.
"I started giving them to people as I made them and people gave me great reports back and said it reduced their symptoms. I thought, 'Maybe I have something here that I should bring to the market,' so that's what I did," she said during a phone interview.
Rhoads started the licensing process in October of last year and presented to the Marijuana Control Board in January. She rented a partially equipped commercial kitchen space and sold her first product to retailers in March. Her timing couldn't have been worse.
"Opening a business during a pandemic is quite interesting," she said, referring to the governor's stay-at-home health mandates that went into effect at the end of March. "I was concerned that the pandemic was going to affect things, but it actually has gone fairly smoothly. It's going quite well and I'm very happy with where things are right now."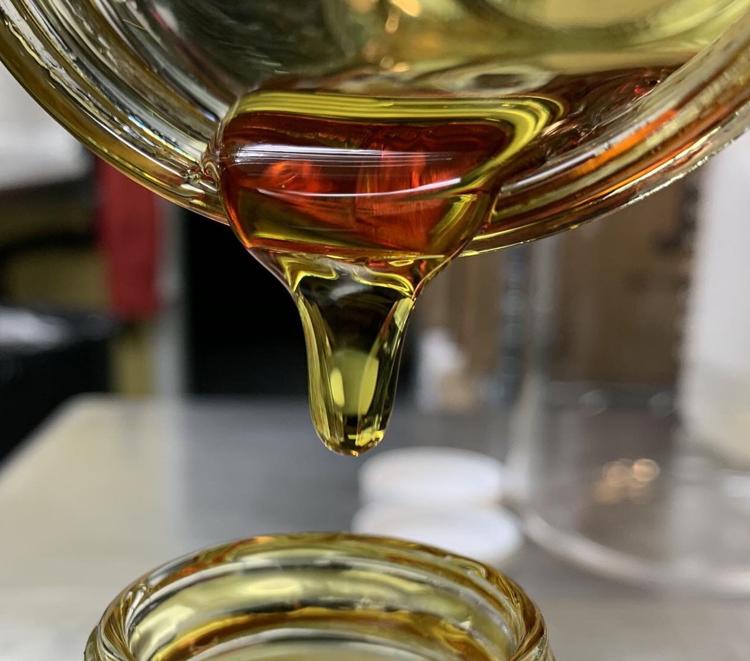 Keep it simple
Rhoads makes five flavors of gummies — strawberry, orange, lime, black cherry and blue raspberry — and each contains 5 milligrams of THC. The gummies are made with flavored gelatin and a mixture of MCT oil and cannabis distillate purchased from Refine Alaska Distillate in Talkeetna.
"It was really important to me for people to enjoy their edible. That's why I use the Refine Alaska Distillate, because it has a very minimal cannabis aftertaste. It doesn't have that strong, earthy flavor that comes with a lot of edibles," Rhoads said.
Every package of gummies contains two of each flavor, for a total of 50 mg per package. Rhoads sells her product to cannabis retailers around the state, and her customer list has grown at a steady rate.
"I had kind of planned out what stores I wanted to try to get into first and then just expanded from there," she said. "Thankfully, so many people have been encouraging and helpful. They're giving my information to other retailers, so it's been fantastic in how much support I've received in the industry so far."
The popularity of her Dosed Edibles gummies took Rhoads by surprise.
"It is faster than I expected, but I'm so happy about it, I'm not complaining," she said, adding that she currently sells 1,000 to 1,200 10-packs of gummies a week.
"To clarify, this is a one-person operation. It's just me. I'm the confectioner, I'm the owner, I do all the marketing," she said. "Right now I do anywhere from one to two batches a week, and each batch is a full, eight-hour day. I do plan on having a new employee start with me in July. Then I'll be able to ramp up and make more."
Rhoads said she'll soon offer single flavor 10-packs and is working on a tropical fruit, assorted flavor 10-pack.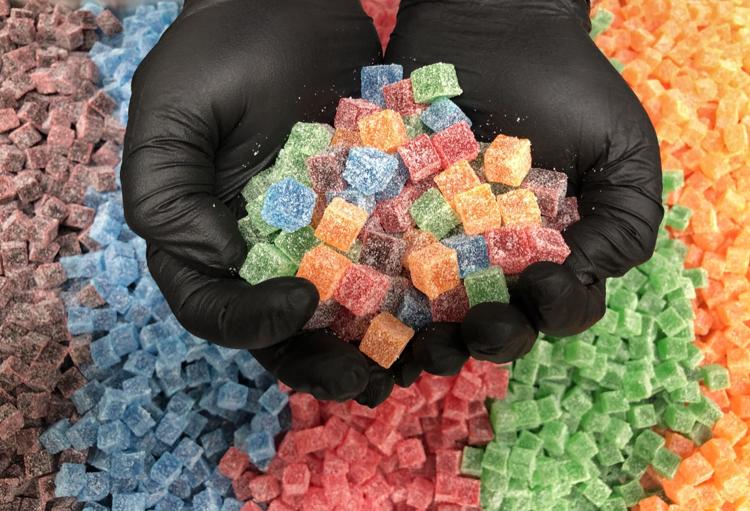 The benefits of edibles
Rhoads likes gummies because they make it easier for people to perfect their dosing.
"I've heard a lot of people say they love the little cubes that I make because it's easier for them to microdose. I've had some people tell me they'll bite the gummie in half, so they'll get 2.5 mg, or just eat one instead of two or three.
Rhoads said she's "super proud" that her gummies can help people manage their physical and mental health issues.
"I had an individual tell me she'd been prescribed some medication for chronic pain, and she no longer takes her pain medication. Instead she just eats three gummies and is good for the entire day. For me, that's why I do what I do."
Rhoads said she may eventually branch out into making other types of edibles but that for now she's content to stick with what she knows.
"When I presented to the AMCO board at the meeting in January in Juneau, they asked 'How many products are you going to have?' When I said, 'One,' they were so surprised because I guess no one else has ever presented just one product for their license," she said. "It's funny because the control board was like, 'Well, are you only going to work one day a week?' and here I am working seven days a week and I feel I'm doing a pretty dang good job. So I might just stick with the gummies because it's what I love and what I know and I'm getting good reviews on it."
Contact Alaska Cannabist writer Dorothy Chomicz at 459-7582 or dchomicz@AlaskaCannabist.com