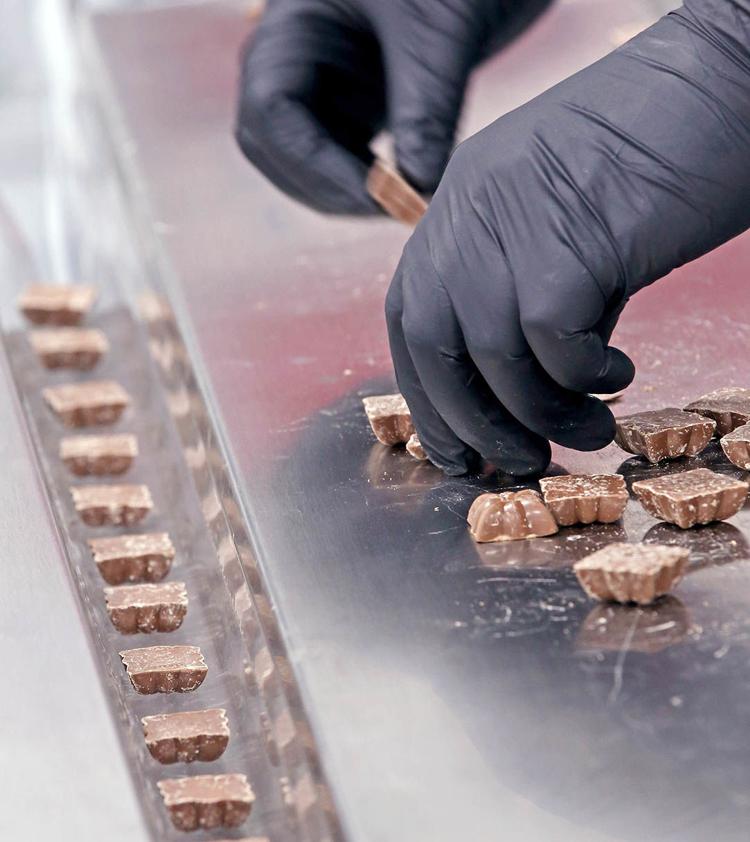 In the middle of a Fairbanks industrial district, a small business is churning out the sweet stuff for Alaska.
The wholesale manufacturer is called Arctic Bakery, and its main product is THC-infused chocolates sold under the name Northern Stars. The manufacturing facility, located at 1409 Well St., also produces a small number of infused joints. Both products are available at cannabis retail stores across the state.
Dave Lanning of Fairbanks is one of four owners as well as the manager of the 2,500-square-foot facility that employs six. The other owners are Robert Parr, Morgan Evans and Shawn Evans. Lanning got into the business side of edible manufacturing as an investment as well as the chance to do something recreationally post-retirement from his previous life as a civil engineer. Plus, he said, it's interesting to him from a technical standpoint because of the topic and the science involved.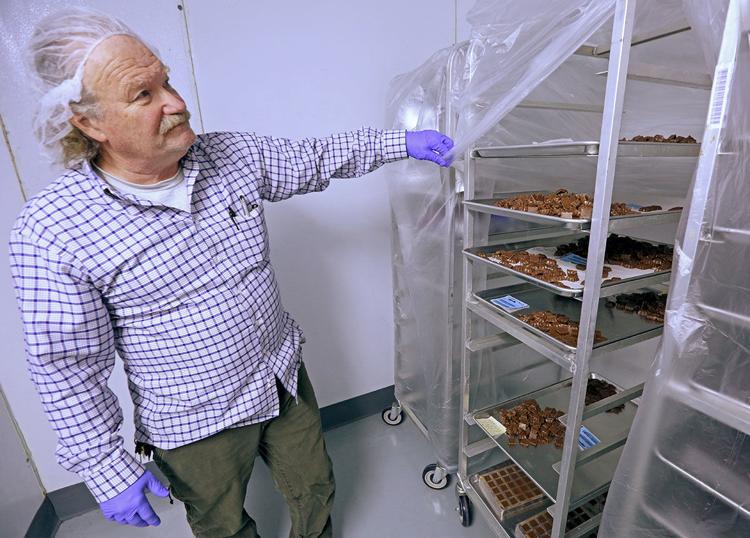 "I think that cannabis has really good potential to do good things in the world," Lanning said as he sat at a desk in the entryway to the offices of the bakery.
Chocolate-making on an industrial level is different, though, than say making cannabutter at home and knocking out a batch of cookies in your own kitchen. Because it's a state-sanctioned facility, standards are stringent when it comes to inspections and testing.
It takes about two weeks from when Arctic Bakery buys flower from local producers, extracts the THC, infuses chocolates with the concentrate, waits for testing from a state facility, packages it and delivers it to retailers.
The facility can make about 25 pounds of infused chocolate per day on average. One pound of chocolate produces 70 to 75 pieces of individually wrapped candy at 5 mgs of THC each. They come four to a box, small chocolate squares emblazoned with a star on top, lending to the candy's name.
"They're great, if I do say so myself," Lanning said.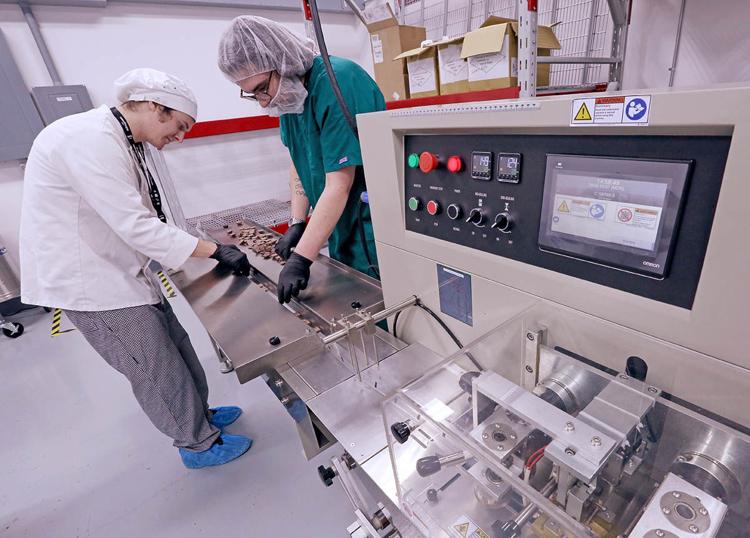 Isaac Chambers is the head confectioner for Arctic Bakery. His job is to make THC-infused chocolates all day, a career that puts his culinary degrees to use. Chambers attended the culinary programs at the University of Alaska's Anchorage and Fairbanks campuses, taking all the classes he could, including the dessert and chocolatier programs.
"In culinary school, I did have kind of a half-baked plan to do something like this," he said, laughing.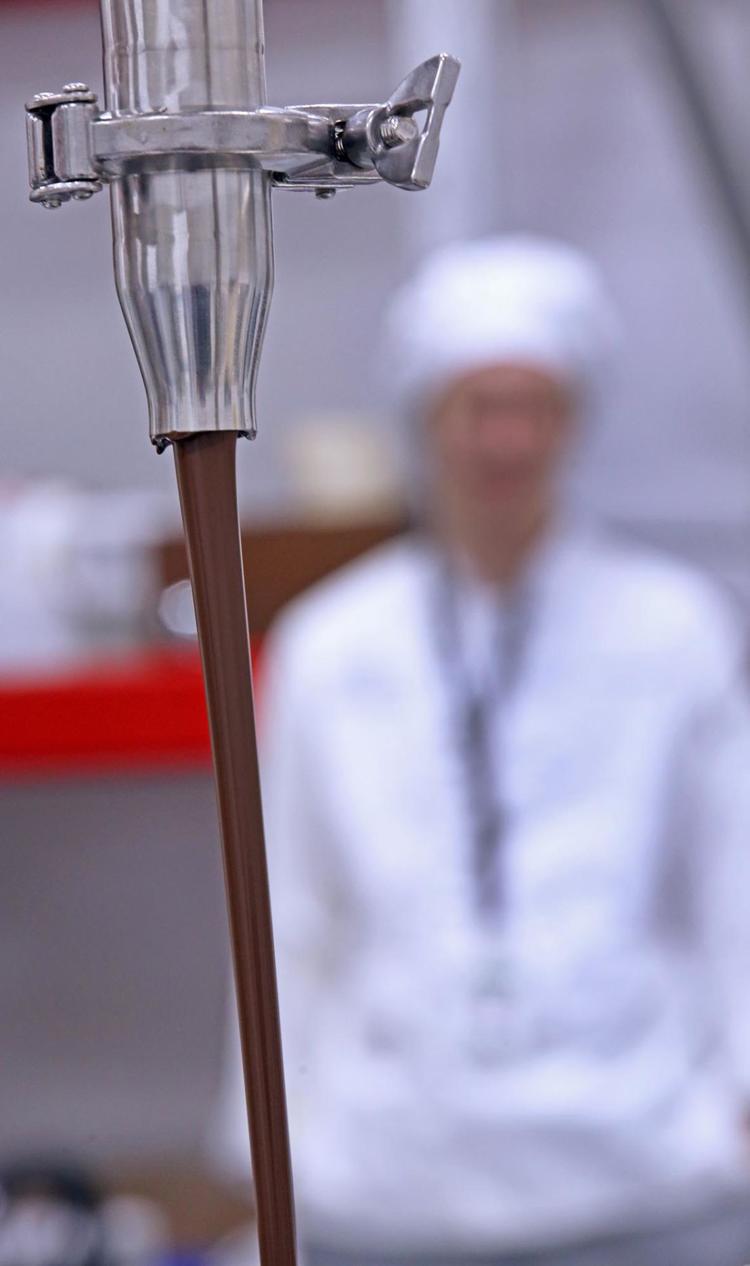 Every week Chambers makes one or two batches of chocolates, with "batch" being the loose term for the approximately 25 pounds of infused chocolate.
He starts by manning a piece of equipment called a KeyChoc, a large, industrial-sized tempering machine that keeps the chocolate at a melting point. Once the chocolate is infused and melted, he fills molds with the melted chocolate, lets them cool in a storage facility, then helps wrap them via an industrial wrapper that seals each individual piece in clear plastic and boxes them.
"There are lots of fun, little, cool kitchen gadgets," Chambers said in the bright, white kitchen area while demonstrating how the KeyChoc works.
When it comes to creating new flavors of chocolates, that is more team effort. Chambers might be the candy man in charge of making it, but the entire crew steps up when brainstorming ideas for their creations, which they do about once per week.
The facility currently makes a THC-infused milk chocolate, dark chocolate and dark chocolate with sea salt. They're waiting for approval from the Alaska Marijuana Control Office to start making a milk chocolate espresso and dark chocolate espresso. After the new year, they hope to start creating a blueberry as well as some other fruit-chocolate creations, such as an orange chocolate, eggnog chocolate or a Mayan chocolate for around the holidays.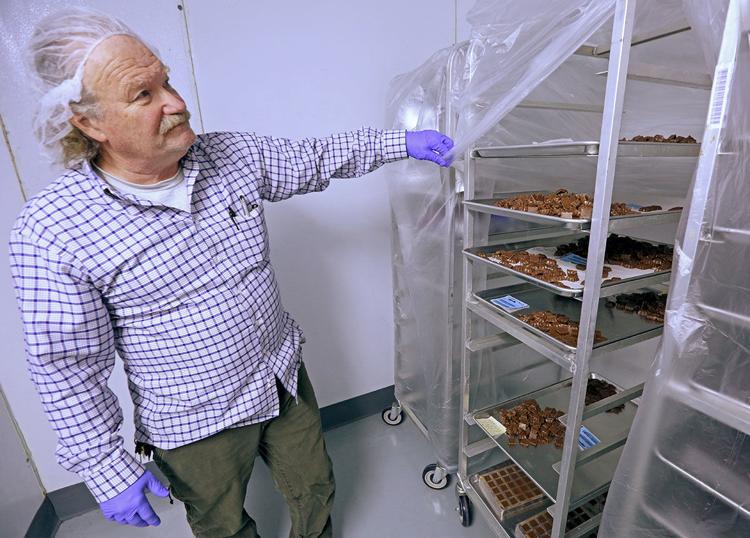 "With a lot of the other manufacturers, they've got a lot of similar flavors," Chambers said. "We're trying to branch away from that."
Not everything is a hit though. Take for example, a proposed chocolate blue raspberry flavor.
"That one was nixed right away," Chambers said. "I side-tabled it at the meeting."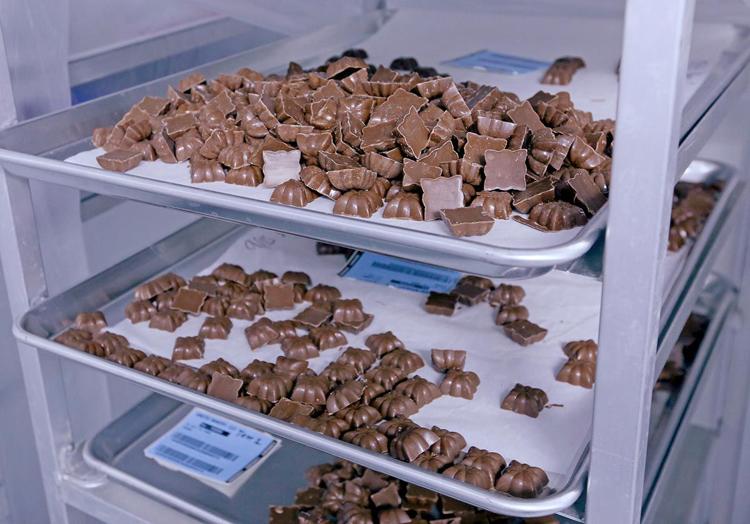 A lot of it is trial and error when it comes to flavors, figuring out what might or might not work. Chambers might spend a day mixing proportions of chocolate and espresso getting the flavors just right before infusing it with THC.
"When I have some free time, I spend it making those flavors and trying out those ideas," Chambers said. "They're not infused though, so we spend a lot of time sampling chocolate."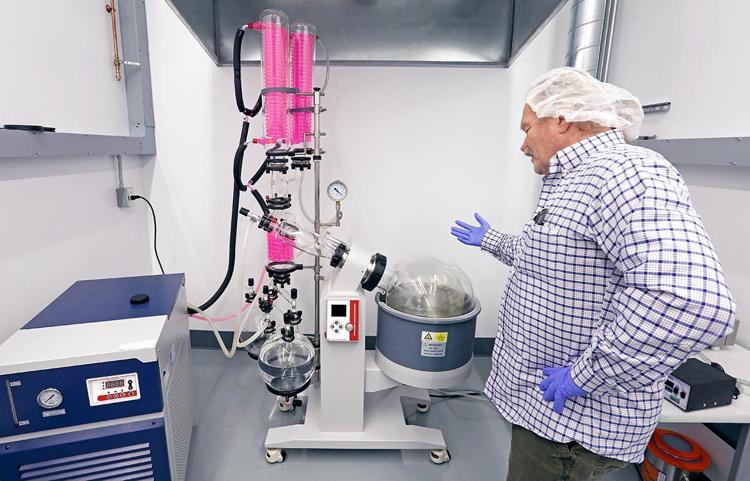 It's not all marshmallow fluff though at Arctic Bakery. Behind every piece of chocolate is a lot of science, all of which takes place at the facility's lab. Arctic Bakery makes its own concentrate, or distillate, that goes into its candies. To do that, Lanning, with the help of chemist Matt Vanagel, extracts the THC with a system that looks a lot like what a distillery might use to produce spirits. It's done by basically steeping marijuana flower in ethanol, then boiling off the alcohol. From there it's processed into a usable, desirable product that goes into their candies.
To get updated with the science, Lanning took a chemistry of cannabis class last summer at the University of Alaska Fairbanks.
"Getting into this, I figured I should know a little something," he said. "Most of this is standard stuff, but it's nothing unique. It's standard stuff for the cannabis industry."
Vanagel can talk at length in in-depth terms of the science behind cannabis and its processing. Also a UAF graduate, he's kind of the lab man at Arctic Bakery, the go-to science guy for their creations.
"They'll come up with ideas for products, and I'll tell them if we can do them," Vanagel said.
One of the reasons it all works for the bakery — that marriage of science, cannabis and chocolate — is the chocolate itself.
Arctic Bakery uses chocolate from Guittard Chocolate Company, one of the better chocolates on the market, Chambers, the confectioner, said.
"A lot of companies use chocolate liqueur, because you don't have to temper it," he said. "The tempered chocolate wafers that we use is pure cacao. The milk chocolate we use will have milk, sugar, vanilla, things like that."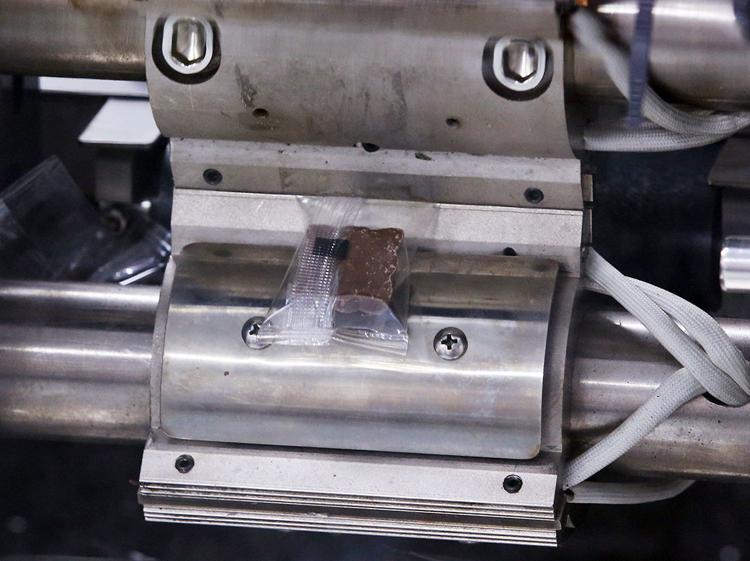 Eventually, the goal is to expand the business enough to where it is producing more chocolates than it is now as well as branching out into something like gum drops or jellied candies.
"One day you wake up and someone has to do it," Lanning said. "Edibles are a good way to do that, in my opinion. It gives us a lot more options to drive and bring the good parts of cannabis to the public."
Where to find Arctic Bakery products
Arctic Bakery's products can be found across Alaska at the following stores: Pakalolo, Great Alaskan Bud Company, Fairdanks, Grass Station 49, Pipe and Leaf, Cannabaska, Enlightened, Alaska Buds, Alaska's Green Light District, The Green Room, Alaskan Leaf, Nome Grown, Bristol Bay Bud Company, Catalyst, Raspberry Roots, Houston Grass Station, and AM Delight.