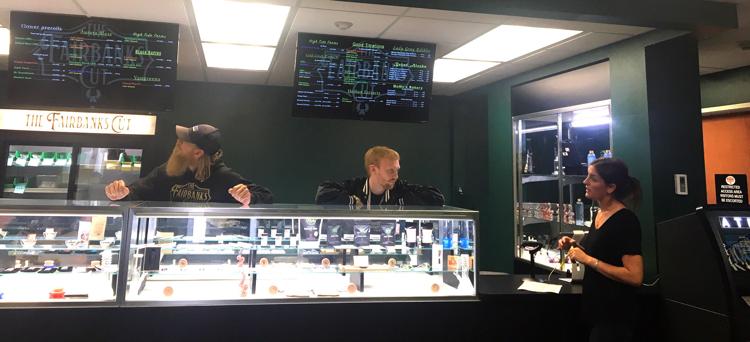 Fairbanks Cut, located in the eastside Fairbanks shopping district, is one of the latest entrants into the Fairbanks retail cannabis trade. Housed in the bottom floor of a construction company building, the spacious and tastefully minimalistic store opened in April and has seen a steady increase in clientele, according to manager and part-owner Dakota Sinclair.
"Business is good. It's still a work in progress, but we're slowly getting more of the things we want in here," Sinclair said.
Built to order by G2 Construction, the store is roomy and the vibe peaceful, with dark green walls and a merchandise alcove featuring T-shirts, hats and hoodies. Uncluttered and brightly lit glass cases display paraphernalia, bags of edibles and small silver bowls filled with various strains of buds. A cooler behind the counter holds concentrates and perishable edibles, and a case on the side displays the store's pet products, such as CBD dog treats, capsules and balms.
The menu is displayed on large, black flat screens mounted high behind the counter. Fairbanks Cut features product from growers and manufacturers statewide such as Aurora Blaze, High Tides Farms, Frog Mountain, Ester Horticulture and Research, Cold Creek Extracts, Lady Gray Edibles and MoMo's Bakery, to name a few.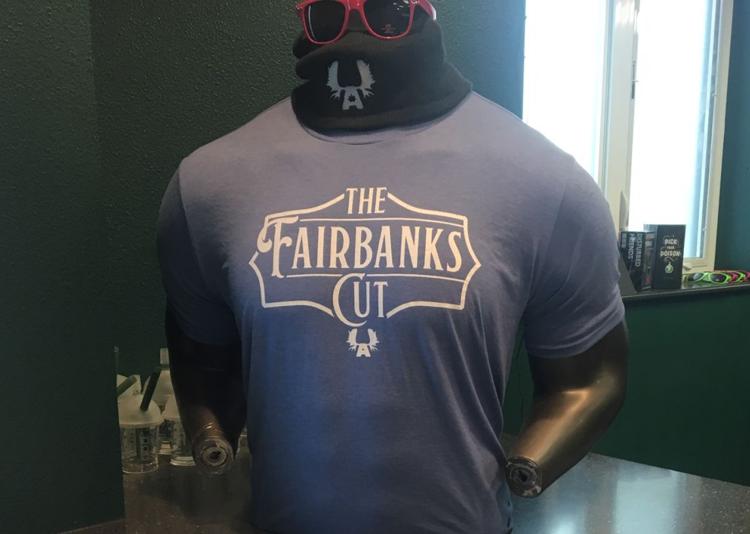 One of Fairbanks Cut's six owners, Craig Aslietti, also co-owns Dankorage, a popular and successful cannabis retailer in Anchorage. Aslietti spoke to Alaska Cannabis by phone recently to explain why he and his partners decided to open a Fairbanks branch. Not only did they want to get in before the city's licensing cap made it impossible to open a new store, but they also wanted to take advantage of existing relationships they had with growers in the industry, according to Aslietti.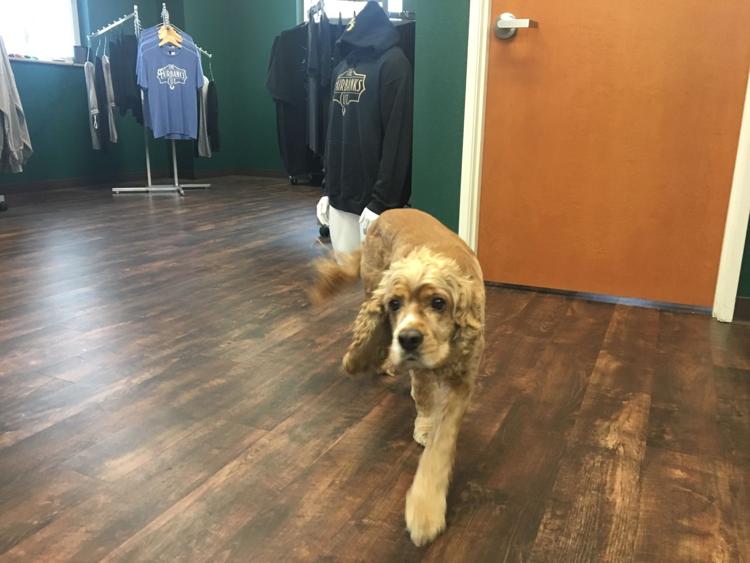 "Fairbanks really got up and running with cultivators before everybody else in the state, and Fairbanks has been so welcoming it just makes business easy. In the beginning, when Dankorage opened, we were only doing business with cultivators from Fairbanks and a few other towns, because we couldn't get any product from Anchorage for months and months. Those guys got it done, man, and they got it done fast."
Though a side road behind an under-used mall may not seem like the best spot to open a cannabis retailer in an already full market, Aslietti said the location actually makes sense. One of Dankorage's main suppliers is Aurora Blaze, a large Fairbanks cultivation operation owned by Brittany Gitschel. G2 Construction is owned by Gitschel's family and headquartered in a large wooden building at 188 Bentley Trust Road. Gitschel offered to partner with Aslietti to open a Fairbanks store inside G2's building. Though the spot is currently surrounded by vacant lots, the area is in for a building boom in the near future, according to Aslietti.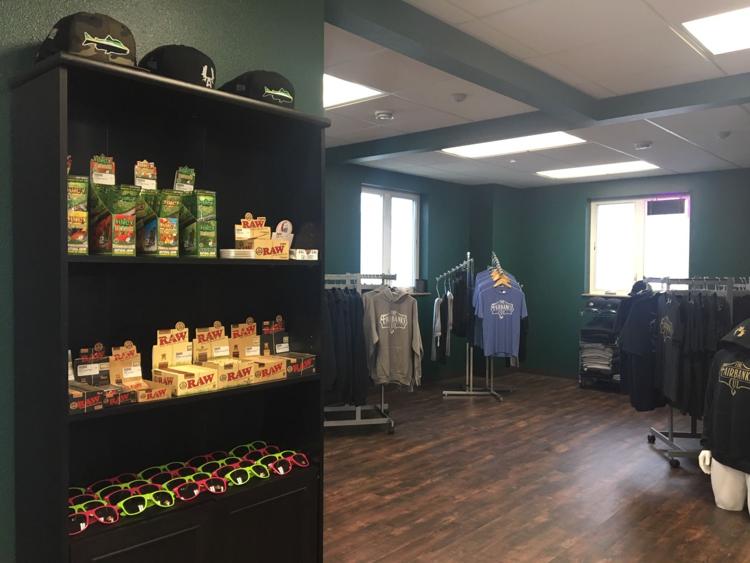 "There's really nothing around us, yet. That's the key. There's supposed to be hotels going up on each side of us and also a strip mall, and they're breaking ground in the spring," Aslietti said. "That was the big deciding factor for putting it there. We had other locations we could have gone with, but we thought, let's plan for the future. It should develop into a great location."
Though the store has only been open for four months, Aslietti said he and his co-owners are "very optimistic."
"We obviously started out slow but our sales figures are going in the correct direction. They're climbing, and that's a good thing. Fairbanks Cut is a completely different situation than Dankorage. We were one of the very first shops to open in Anchorage, so all we had to do was kick the doors open and we were killing it. Fairbanks Cut, on the other hand, we opened in an existing market and we have competitors that have been in place for years. Just like any business, really, that is started in a brand-new industry, you have to do it right, you have to bring something to the table that other people don't have, and you have to fight for every customer."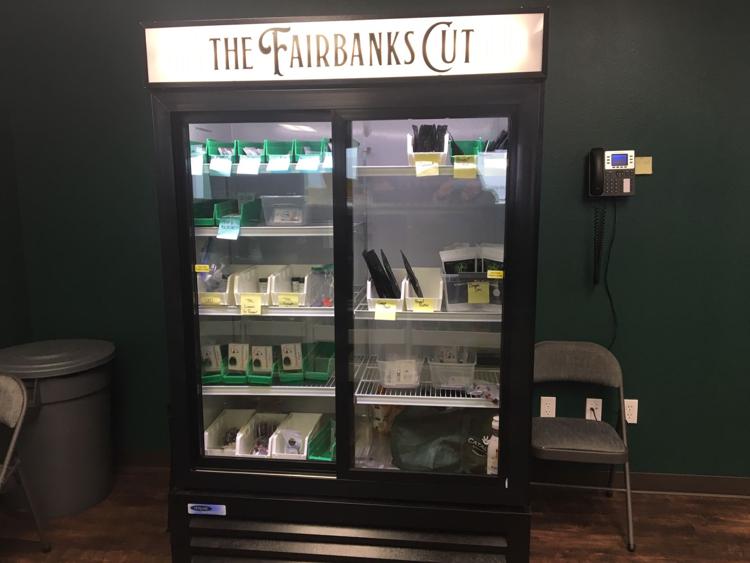 The store recently added new signage to increase its visibility, and its customer loyalty program is "growing exponentially."
"We started at zero and now have over 700 members. We can connect with you via text message and tell you about deals and keep track of when you came in last and what you got. At this time it's growing much, much faster than Dankorage," Aslietti said.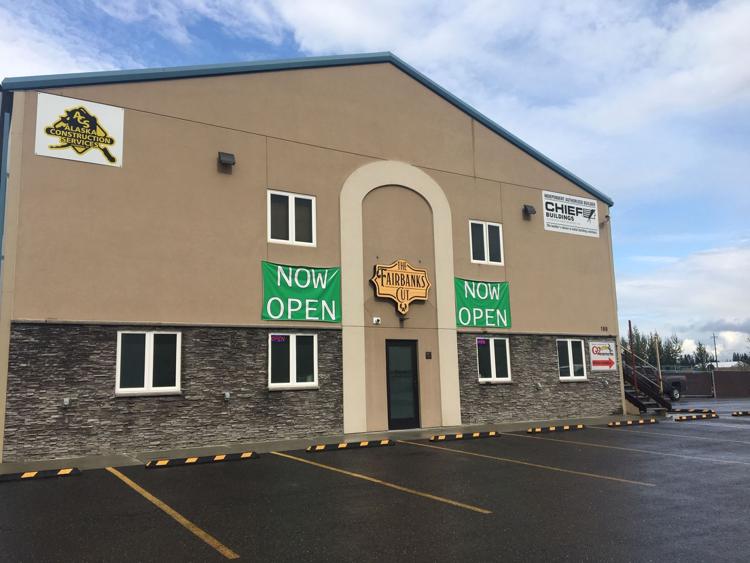 Fairbanks Cut is the first Fairbanks cannabis retailer to apply for an onsite consumption license. The Alcohol and Marijuana Control Office board of directors denied the application, on a 2-2 vote, at its meeting in early July in a disagreement over interpretation of the regulations, and Aslietti and his partners have already appealed the decision.
"The first step is to get in front of an administrative law judge, and then we essentially just tell him our story, present all the facts and see what he says. If it's in our favor then we'll take that back to AMCO," Aslietti said. "Another thing in our favor is that the city of Fairbanks is just awesome and super welcoming. Various departments, like the police and fire departments, have already come back and said they have no problem with this. The city is not an impediment, they're on our team."