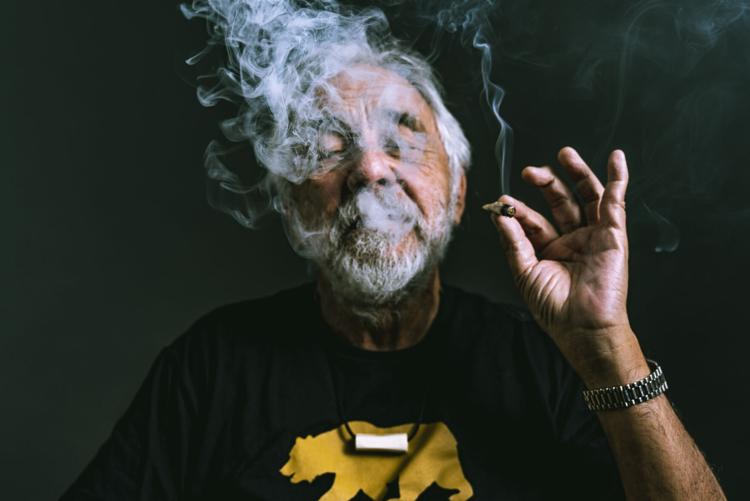 Though he's best known for his classic 1978 stoner comedy movie "Up In Smoke," Tommy Chong is a talented and versatile dynamo with an impressive array of accomplishments under his belt. A writer, musician, actor, comedian, director, wood carver and longtime cannabis rights activist, Chong enjoys a rare multi-generational and demographic-defying popularity that has earned him a unique place in the pantheon of celebrity.
Now 82 years old, this beloved elder statesman of weed has lent his name and effortlessly cool persona to Tommy Chong's Cannabis, a brand of fine cannabis products and merchandise. Since cannabis is still illegal on the federal level and cannot be transported across state lines, Chong's licensing company, Chongson Inc., licenses select partners to contract with cultivators and manufacturers in cannabis-legal states to provide top-quality products, which are then sold under his brand only in the state in which they are grown or produced. Chongson Inc.'s quality control team and Chong, as a lifelong connoisseur and cannabis expert, approve each product. 
Tommy Chong's Premium CO2 Extracted Cannabis Oil can be found in retail stores throughout Alaska and is currently the only product available here, but work is underway to expand the product line to include flower, pre-rolls, edibles and drinkables.
Erudite, charming, down-to-earth and irrepressibly upbeat, Chong discussed his love of cannabis — and Alaska — during a lengthy and laughter-filled phone conversation with Alaska Cannabist last month. Chong, who lives in Southern California with his wife, Shelby, said he was enjoying staying home during the state-mandated COVID-19 shutdown.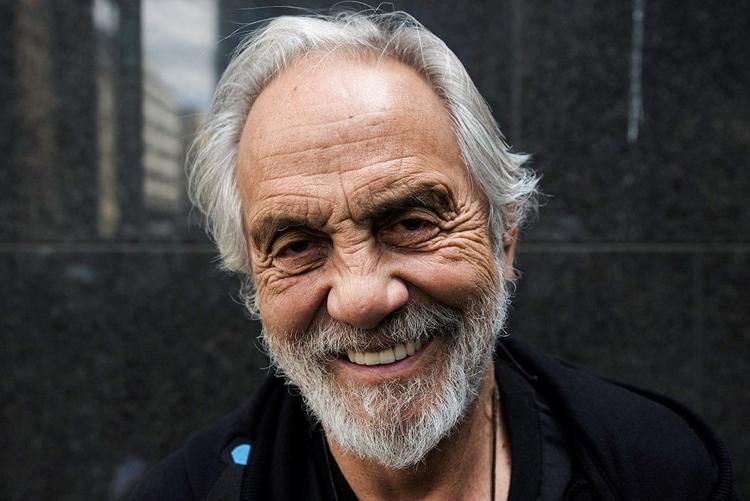 "I think I may just stay in lockdown forever," he said, adding that he does look forward to visiting Alaska as soon as travel restrictions are lifted. 
"The minute this is over I'm going up there as soon as I can. I've been to Alaska many, many, many times. I have a love affair with Alaska," Chong said. He attributes his love for the 49th state not just to the fact that we grow "the biggest and the best bud in the world," but also because it reminds him of home.
A naturalized American citizen since the 1980s, Chong was born in Edmonton, Alberta and lived a largely rural childhood in which harsh weather and hardship were a way of life.
"My mom had TB (tuberculosis) and I didn't get to see her up close until I was about 6 years old. I was with her when I was a baby, but then when I got older she got TB and I got pleurisy. So I ended up in the hospital, and then all of us ended up in a home because my dad had just come back from the war (World War II) and he had some medical issues. My mother was in the sanitarium and there were no relatives to take us, so we ended up in the Salvation Army home for a couple of years," he said.
The family eventually reunited and his father was able to buy a house on the outskirts of Calgary, "right at the end of where building permits were required." Though they were poor and their house had no plumbing or central heating, Chong describes it as "one of the greatest childhoods you could have."
"There's something about Alaska that reminds me so much of my early years in Calgary, you know. I went through maybe 10 winters where it's 60 below and a little wood stove keeps you warm, and we survived it," Chong said, noting that challenges can be good for children. "You do chores that keep you alive, and your little red wagon is not to play with, it's to carry wood in, and water, and the slop pail. We'd walk to school for miles through fields, and that's how I learned about nature. Oh, man, when I think about it now, I realize how blessed I was. It was incredible! And Alaska still has that same vibe."
The son of a Chinese immigrant father and a mother he'd been raised to believe was 100% white, Chong was surprised and delighted when he recently learned that his mother was actually part Assiniboine Indian and had been raised on a reservation near the Manitoba and Saskatchewan border.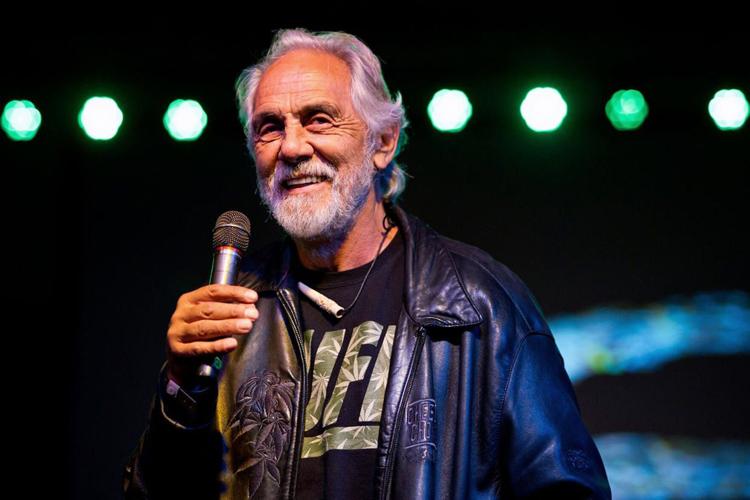 "I did a DNA test and I found out my mother was 24 to 25% Native, and that meant her mother was half. My mother married a Chinese guy and that was a big deal with her family, so I never knew about the Native connection," Chong said, laughing at the irony of the discovery. "My whole family — my aunts and uncles and everything — kept that secret. And my mom was one of eight kids, so there was, like, a ton of family that were hiding."
Chong recounted a story about an encounter that made him feel right at home while in Fairbanks for a solo comedy show. 
"I love Fairbanks. Last time I was in Fairbanks — because you know, I've been living in LA — there was a little mini blizzard going on. I just wanted to feel like old times, so I went walking out in the blizzard, in town, and I passed this Native lady. She was all in a parka and everything else, and she walked a few steps and then she stopped and goes, 'Wait!' I turned around and looked at her and she goes, 'I know you!' I said, 'What?' And she goes, 'Yeah, we watch your movies all the time.' We were just hanging out, talking, and that was in the middle of a blizzard in Fairbanks, Alaska."
A music-loving child who became entranced by the sound of his Uncle Bill's banjo playing while just a toddler, Chong learned to play the guitar and began working as a musician at a young age.
"This fiddle player across the field knew that I could play guitar, and his guitar player left town for a job, so I got recruited into playing parties. I was 8 years old and I was the rhythm guitar player for a fiddle player. That's where I got my music chops going," he said.
Chong was 17 years old and playing guitar in a rhythm and blues band in Calgary when he was first introduced to cannabis.
"I would go to jazz clubs, because if you were a musician you could get in free if you had your instrument with you. A jazz musician gave me my first joint and a Lenny Bruce record. I put the joint in my pocket right away, so we lit up his joint, and that was my first high. And the joint that was in my pocket? It lasted me a month, because I would just take a toke and put it out because I never knew if I was ever going to get another joint again. I'm lucky that I did that, because I never did get another joint until we moved to Vancouver."
Though his comedy albums and movies portray him as a super-stoner who can polish off an ounce of weed in one joint, Chong said the truth is actually quite different.
"To this day I'm a one-toker. I don't smoke a whole joint, I never have. I just smoke a couple of tokes and put it out, because I learned that a little bit of pot will do you."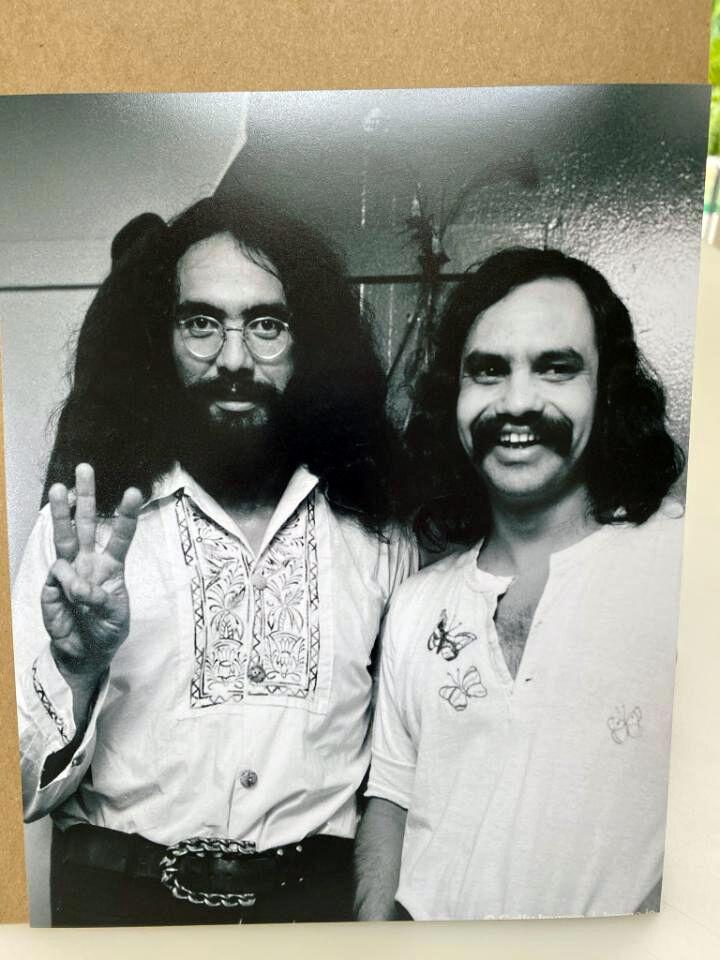 Chong and his band moved to Vancouver in the early 1960s and he purchased a nightclub with one of his fellow band members. The band went through several name changes and eventually recorded an album with a subsidiary of Motown Records.
Chong's career changed course after he met Cheech Marin, a Mexican-American from Southern California who moved to Vancouver in the late 1960s to escape the draft. The two began performing stand-up comedy together, and their signature brand of drug culture humor struck a chord with audiences. The duo recorded multiple, Grammy-nominated comedy albums and in 1974 won the best comedy album Grammy for "Los Cochinos." They broke into the movie industry with their 1978 release of the cult classic "Up in Smoke" and co-wrote and starred in six more movies, four of which Chong directed. 
Chong said many fans automatically assume he and Marin consumed vast quantities of weed while performing, but they never could have achieved their level of success if perpetually stoned.
"We started a system when we were doing our records. If we got too stoned we couldn't do anything. So we would come in there and we would be straight, and then we'd think of something and get an idea and we would create it and record it," Chong said. "When we finished it, then we'd get high and we'd listen to it. Then if there were any changes to be made we'd make them. But we would always do our work first and then we would get stoned later. That's the key. And when you're high you can make it funnier. You say, 'Oh, this is what we can do, blah blah blah,' and that's the way we did everything."
Chong and his longtime comedy partner went their separate ways in the mid-'80s after Marin decided to pursue a solo acting career. 
"Unfortunately, or fortunately, we reached the end of our career in movies — our careers, basically — and what happens is you get tired of doing the same thing. Everybody has their time, and then you have to step back and let someone else have their time," Chong said philosophically. "When Cheech and I started doing the records and the movies, we made sure that it came from our heart, you know. We wrote our own stuff, and that's why a lot of the stuff seemed so off-the-cuff and ad lib, because it was.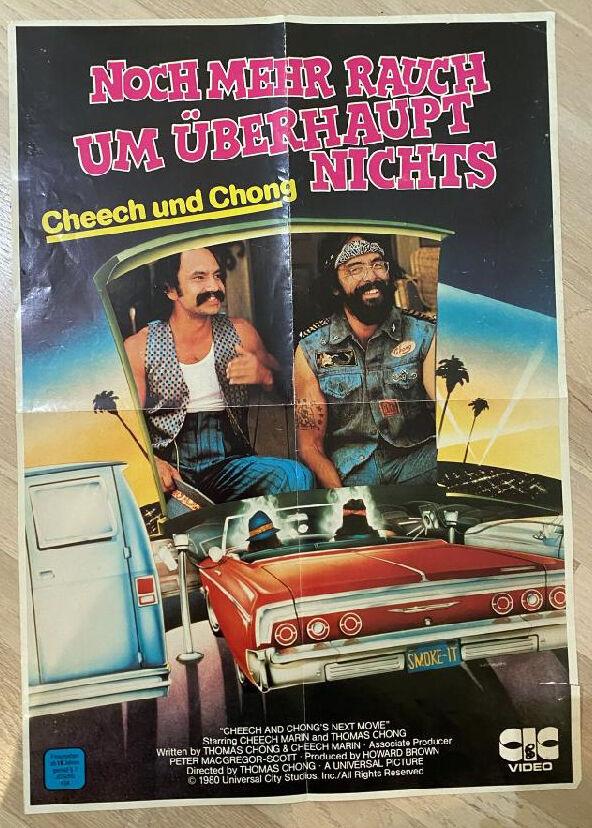 "Then Cheech went out on his own because he wanted to show the world that he was an intelligent, booksmart guy, so he became an actor. His roles were totally opposite to what his characters had been, but you believed him," Chong said with approval. "But that stoner character really is me. I really am that guy, because it's not just a character, it was a guy on a mission. I knew weed was good for you and I knew (cannabis prohibition) was a racist law."
After his split with Marin, Chong wrote, directed and starred in the movie "Far Out Man," appeared in the sitcom "Dharma and Greg" and had a recurring role on "That '70s Show." His son Paris founded a bong company called Chong Glass/Nice Dreams in 1999, and Chong helped finance and promote it. In 2003, Chong was charged with trafficking illegal drug paraphernalia over the internet after the business was targeted in a U.S. Justice Department sting operation. Chong agreed to plead guilty to one count of conspiracy to distribute drug paraphernalia if the federal government agreed to drop the charges against his son and wife.
Chong was sentenced to nine months in federal prison, fined $20,000 and forfeited $103,514 and all merchandise seized when the business was raided. He served his full term at Taft Correctional Facility in California and was released July 7, 2004. The story of his prosecution and prison term were detailed in the 2005 documentary "a/k/a Tommy Chong," and Chong published a 2006 memoir about his prison experience titled "The I Chong: Meditations from the Joint."
Chong has since been a contestant on "Dancing with the Stars," appeared on "The Masked Singer" and "Trailer Park Boys," and participated in cannabis legalization events. Throughout the years, he and Marin have reunited occasionally for comedy shows and TV and film work, and in 2013 they co-wrote and starred in "Cheech and Chong's Animated Movie."

Chong's main focus now is in growing Tommy Chong's Cannabis into a nationwide brand, a goal that becomes increasingly attainable as more states opt to legalize cannabis. 
"It's like an aptitude test for America, you know. You can see the knowledge creeping up, and it's an intelligent thing when you see states legalize it. You say, 'This state got legal. Oh, they're intelligent!' And then, 'Oh, there's another intelligent state!"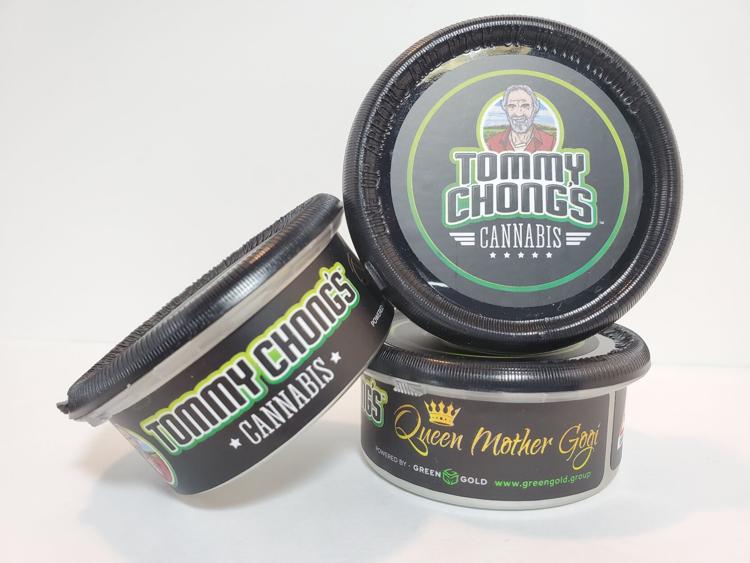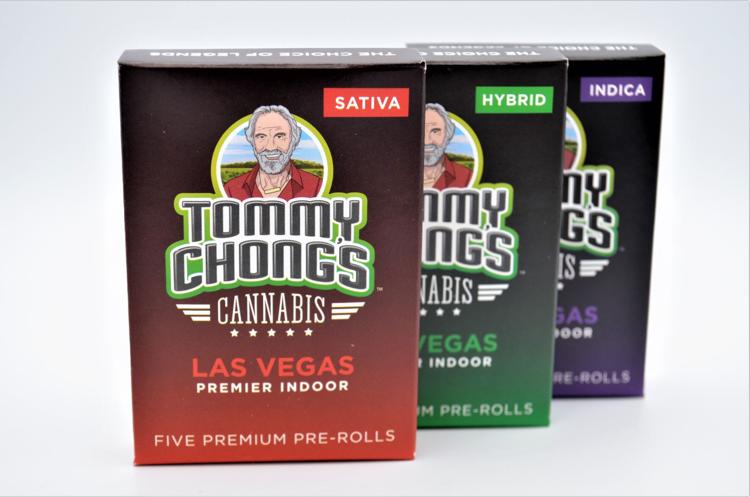 Chong believes cannabis will become legal on a federal level in the near future.
"Oh yeah, it will as soon as Biden gets in, as soon as we get rid of Trump. All they have to do now is take it from Schedule I, that's all. It should never have been there, never. It's a law enforcement bullshit thing, that's all it is," Chong said. "Once they legalize it federally it's all going to change. Right now, what they're trying to do is make it hard for you to get. To capture the flow, so that the money will go into their pockets, too. But all that bullshit will disappear, because it will be sold on such a wide scale the feds won't give a shit."
Chong's plans include partnering with Marin once again, this time to open a chain of "Cheech and Chong" retail cannabis stores. The first stores will open in California and expand from west to east, but Chong said Alaska won't be left behind.
"We'll have a store in Alaska, absolutely, because I love Alaska so much. It will be in Fairbanks, for sure. I have history in Fairbanks. I really intend to retire in Alaska," Chong said, adding that he wouldn't necessarily live here in the winter. 
Chong credits cannabis and CBD products with helping him successfully battle prostate cancer in 2012 and colorectal cancer in 2015. He still uses cannabis on a regular basis and said he probably always will.
"Pot has been around forever and it will always be around. It's a miracle plant! Especially during this pandemic, you know? It's really coming in handy now," he said with a wicked chuckle.
Chong said he only smokes cannabis occasionally because he now prefers to consume it as some form of edible, all of which are made by his Tommy Chong Cannabis brand in California.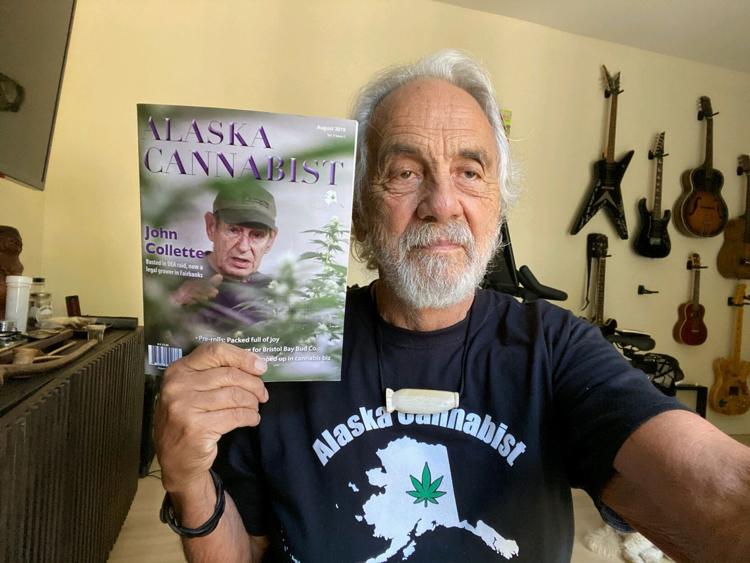 "We have THC and CBD sprays that you spray into your mouth like a breath spray. It actually is very nice, it's got a little menthol in it. We also have those little gel breath strips that are full of THC, and they're one of our big sellers. It's what my wife uses all the time to help her sleep. She'll wake up in the middle of the night and take a little breath strip, but she'll only take a half. No matter what it is, she takes half. She'll eat half a cookie, and then she has to hide the rest because if I find it, I'll eat it."
Tommy Chong's Fine Cannabis debuted in California and is now sold in 12 other states where cannabis is legal for medicinal or recreational purposes. His licensing partners are in the process of selecting existing cultivators and manufacturers in Alaska to expand the brand here. The process is a long and careful one because potential licensees must meet strict quality guidelines.  
"All our product is very pure. We go through a vetting process, because that was a problem when they first legalized it in California. You know how people are — they try to put bad, bad weed off on you, and we had people selling single joints that weren't the best. So we got rid of them right away, as soon as we found out. Our whole thing is about the purity of the product."
A dedicated believer in the physical benefits of cannabis, Chong said it has also helped him maintain a good attitude as he gets older.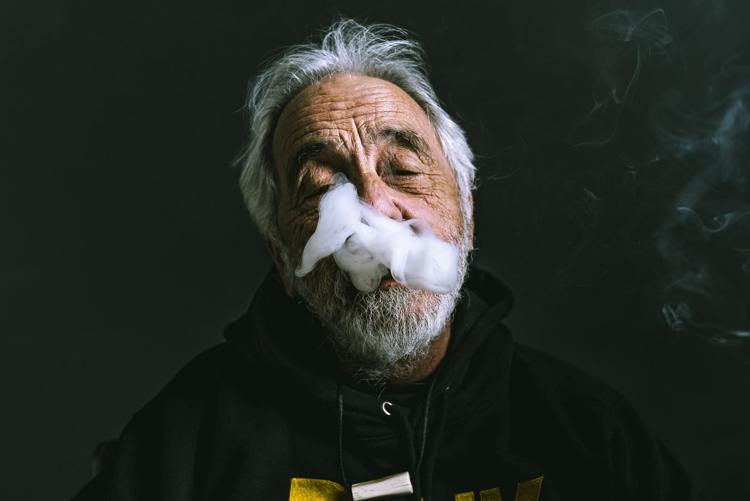 "I'm an advocate for healthy life. I want everybody to be healthy. When I see people overdoing the booze or the food, I realize that it's their karma and they have to live through it. They have to experience what they're going through, but you can only change yourself, and that's what I'm doing to this day. I'm 82 years old and I get reminded every day that I'm 82 years old, but I want to be the youngest 82 year old there is. Or 92 year old, or whatever.
"Carl Reiner died just recently and he was 98, and he still had the heart and a soul of a youngster. He's my hero, because we all have a choice. And my choice was, when I was 17 years old, when I first started smoking weed, I had a personality that I was comfortable with. And I still have that same mindset. Even though I'm 82, I still feel like I'm 17 years old."