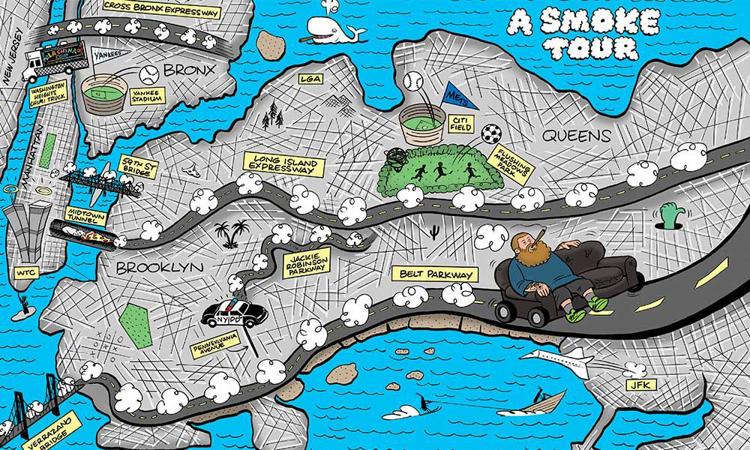 At the start of his new book, rapper, writer, talk show host, travel program star, cook, cartoonist, and full-time stoner Action Bronson complains about how writing it took away from his high time. He'd rather be chilling, apparently. But then he immediately proceeds to tell readers that he's incapable of sitting still, something that's obvious both from his resume as well as the 220 or so pages that follow.
"Stoned Beyond Belief" is essentially a companion book for pot smokers, jampacked with ideas for maximizing your high and having a good time, all of it accompanied by colorful graphics that are conducive to hours of perusal.
---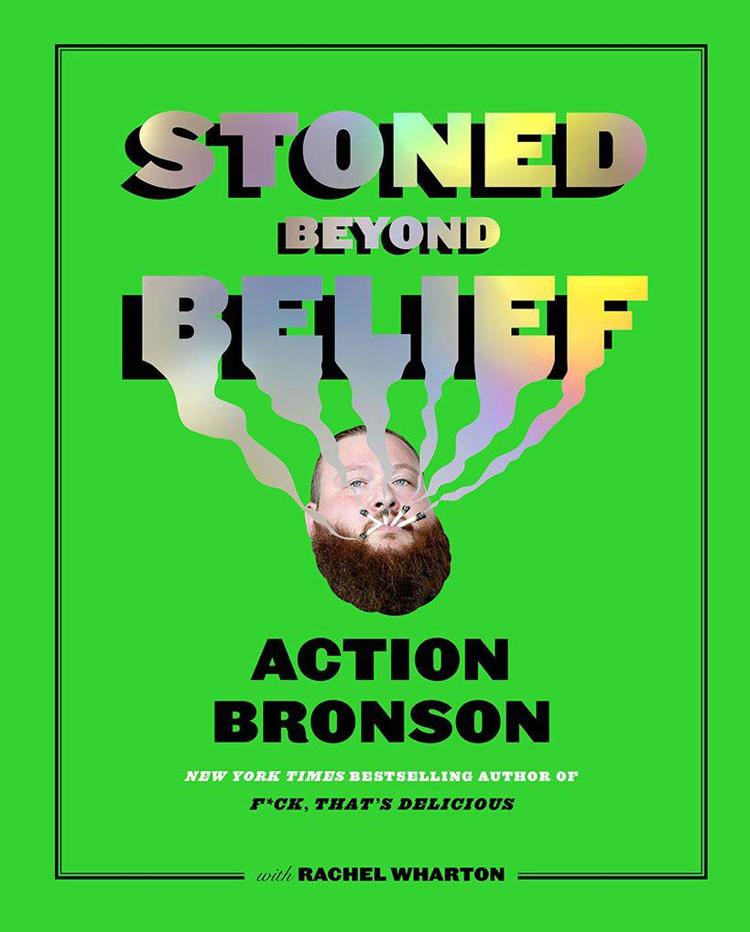 Action Bronson with Rachel Wharton
---
It's part memoir, as Bronson recalls just a fraction of the countless places he's puffed in and what ensued; part instruction manual on how to accomplish important tasks like rolling the perfect Dutch, pressing a dab, or scamming your best friend's weed; part guidebook to being blazed in exciting places like the beach, or better yet, school; part game manual in case you need something to do; and quite a bit more.
There's even a section written in Latin, but worry not, the pictures on those pages tell you all you need to know.
More than anything else, however, it's a cookbook with dozens of recipes to meet your caloric intake needs, which we all know can hit suddenly and hard. And one can tell just by looking at him that Bronson has the caloric intake part mastered. So be prepared for cheese. A whole lot of cheese. As well as grease, sugar, and expansive flavors.
Bronson has been smoking daily since he was a kid, and his goal in life and with this book, he explains, is to keep reclaiming the high he first got when he was in school. That high where, "You're like the old cars with the pop-up headlights, where one of them is stuck halfway down. You want to feel like you lost your phone: Where's my phone? It's literally right next to you."
With that in mind, the Flushing, New York-born ganja-seeker heads out to the West Coast to meet with the Alchemist and learn the best stuff and the new world of legal trade; seeks out the "Celestial Origins of Weed"; discusses hashish and extracts; recalls an entire day he lost after eating pot in pasta sauce; and even stresses the importance of bad weed for perspective on what the good stuff is ("Just like anything, you have to keep yourself grounded, so you don't get too self-indulgent).
Bronson also includes a handful of autobiographical cartoons about his eventful high life. The face-melting edibles in one of them are perhaps only topped by the wee dab of oil he gave his mom. He winds up putting her to bed while she screams, "Don't take off my shoes!"
Travel, trivia, television, tattoos, and a couple of timelines (including one second-by-second record of a coughing fit) can also be found.
After reading "Stoned Beyond Belief," Bronson's complaint about this book taking away from his high time doesn't hold up. Clearly this book was his high time. And it can be yours too.