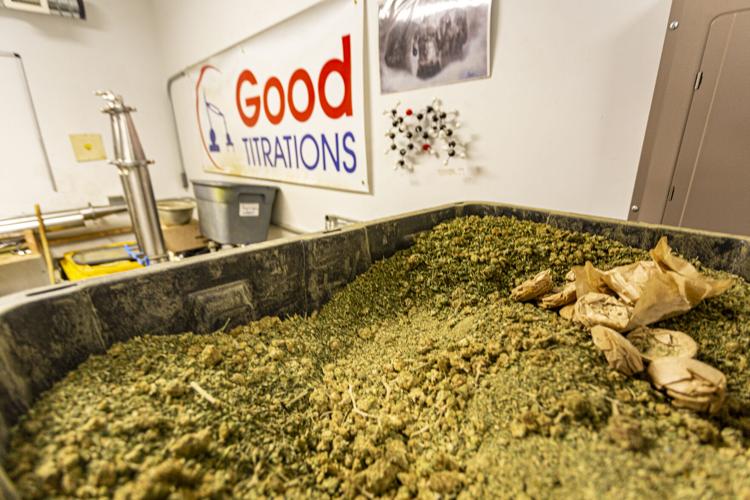 As the Alaska cannabis industry continues to grow, savvy entrepreneurs are turning to vertical integration to increase their odds of surviving in an increasingly crowded marketplace.
So just what is vertical integration? In standard business terms, vertical integration is a strategy in which a company owns the means of supply, distribution and retail sale of its product. In the cannabis industry, a vertically integrated company is one that owns and operates a cannabis cultivation facility, manufactures products such as concentrates or edibles, and sells through its own retail store or stores. Many vertically integrated cannabis companies are able to produce enough product to sell the excess to other retailers, thus increasing their profits and brand recognition.
Alaska Cannabist spoke to four vertically integrated cannabis operations around the state to get their take on the advantages and disadvantages of vertical integration.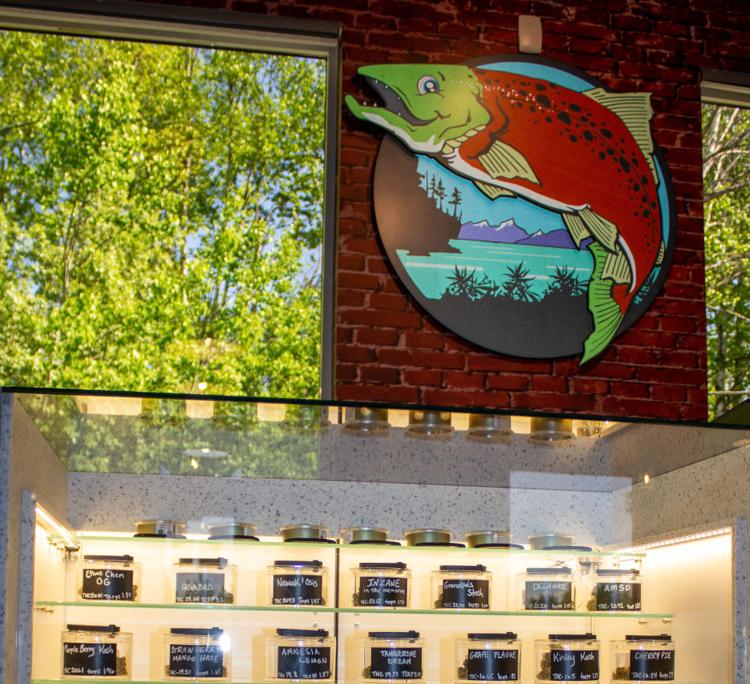 The chicken or the egg?
Though some companies start out as specializing in one aspect of the cannabis industry and begin to branch out into other aspects as they see the benefits, others have vertical integration in mind from the very beginning. However, various roadblocks such as licensing delays and a lack of adequate funding often mean they must start with just one phase of the operation and bring the others online as they are able.
John Fischer is one of the owners of Anchorage Bowl, LLC, a limited cultivation, retail store and edible manufacturing outfit in Anchorage. The business always planned on vertical integration and opened its cultivation operation in spring of 2019.
"The grow was the first one to get the OK to start going, then a few months later we got the OK for the retail. The kitchen is ready, so we can get the product manufacturing going any time we want. We're just waiting on approval," Fischer said, adding that they intend to make edibles such as gummies and brownies when they get their license.
Kyle Lutz, owner of cannabis retail store Laughing Salmon and High Tide Farms, LLC, a standard cultivation and concentrate manufacturing facility in Wasilla, also started out with vertical integration in mind but felt an incremental approach was the wisest. To that end, he started with an 8,400 square foot grow.
"We intended to get the grow going first so we could work out any bugs. We started with High Tide Farms in April 2017 and added the concentrate manufacturing about a year into it, in the summer of 2018. The manufacturing and grow are in the same building, which was purpose-built for us. Then we just wholesaled to other retailers and got some bills paid," Lutz said. "The whole time we'd been shopping around for a great location for the retail store, because we knew we wanted that in a separate building. The retail opened in May of this year."
Shaun Tacke and his business partners built Good Titrations in Fairbanks into a successful and high profile concentrate manufacturing before branching out into retail and cultivation. They originally planned to start out differently, but financial considerations and good business sense dictated they switch gears.
"When we first started this business plan and were getting it all together, concentrate manufacturing really wasn't on the forefront of our view. We actually picked our business plan as having a decent-size cultivation and also a retail spot to sell it. We were trying to go for vertical integration in that regard, but based on our raise — how much funding we had — we pivoted and switched to concentrate manufacturing.
"We had enough funding to do one of them, so we picked the one that's most specialized, has fewer competitors, and has one of the shortest cash conversion cycles. When you go and spend some money, how quickly can you turn it back into more money? Whereas growing takes a couple of months, concentrates only take a couple of weeks. So that avenue pivoted us to be able to take that revenue and invest it into the rest of our company," he said.
Syd Eubanks manages AKO Farms Direct, the retail side of AKO Farms, a standard cultivation and concentrate manufacturing operation in Sitka. The business is owned by Syd's parents, Liza and Marty Martin, and Eubanks has been involved in every stage of the planning and implementation of their business plan.
"We were going to open the retail and then go with grow and the concentrates, but we had an issue with placing the retail where we wanted to," Eubanks said, noting that other businesses had similar issues. "Most retailers that opened were scrambling to get a cultivation behind them, and most cultivators were scrambling get a retail behind them."
AKO Farms' master grower and majority owner, Justin Brown, designed the building and Eubanks helped build it. They had their first harvest in June 2018 and produced their first concentrate in January 2018.
"The whole building was built to make concentrates," Eubanks said, noting that the grow room was designed to accommodate the unusually large, 12- to 16-foot plants they use to make their product. "Our grow is sometimes laughed at because our plants are big, but it's like a laboratory. We put the highest quality stuff into it, and the process we use makes the plants very fruitful. Justin really knows his stuff, right down to our pluck cycle, which maximizes the concentrate. He's got it figured out."
While the grow and concentrate business got off the ground, Eubanks spent time visiting other retail stores to see what worked and what didn't. The company now has a small retail space built onto the side of the existing facility, but plan on opening a second, stand-alone store as soon as possible.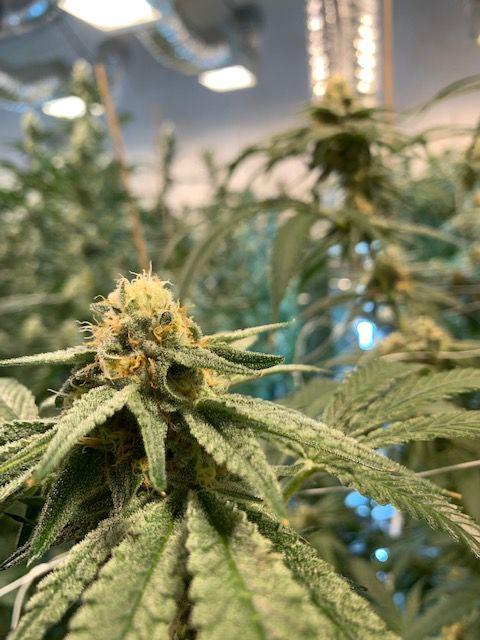 Upsides and downsides
The advantages of having a vertically integrated cannabis business are several. First, because you control the supply chain, you can achieve higher profit margins through economies of scale and can potentially save on overhead if all branches of the business operate out of a centralized location. You're also less sensitive to market disruptions, have greater control over product quality and variety, and can respond more swiftly to changing customer tastes.
Disadvantages include an increased workload and the fact that a significant capital investment is often needed. You also run the risk of being a "jack of all trades, master of none," or might not be good at all aspects of the business.
John Fischer at Anchorage Bowl said price and quality control are major advantages to having a grow operation to supply his manufacturing and retail operations.
"You look at some of the prices these people are charging and it's ridiculous. Some of the prices are $3,000 a pound. I don't care how good it is: Weed is weed is weed. It's a beautiful herb and I love it, but some of these prices? These guys have to come off their high horse. When we grow our own, we don't have to buy it for astronomical prices — we can just transfer it on and sell it out," Fischer said.
While vertical integration carries its own set of headaches and is more labor intensive than owning a single grow operation or retail store, the benefits are worth it, according to Fischer.
"You have to like to work a lot, which I'm OK with," he said, noting that he currently doesn't have any employees. "It's starting to move along. We hit a few bumps like everyone does when you first get started, right out the gate, but we're getting that cleared up and just moving on, one step in front of the other. It's like running a boat: Just keep everything running good and tight and everything should be all right."
Lutz, at Laughing Salmon, said vertical integration means a bigger investment of time and money, which can be an issue for some. The major benefits are the ability to "produce, manufacture and retail your own product at a reasonable price for consumers," he said.
"As the market gets glutted with more growers, the prices keep dropping on the wholesale for the flower. The way the state has set up the tax structure, it's a blanket flat tax, and that tax keeps going up more and more as the price keeps going down. So it makes it harder and harder for just growers to wholesale."
Lutz said he sees vertical integration as the wave of the future.
"In my eyes, the state hasn't put a cap on licenses and is just continuously giving them out. As they continue to do that, there's going to be more people who go more fully integrated. I foresee as more fully integrated companies come out, these other people who are lagging behind and just trying to do a cultivation are really going to struggle," Lutz said. "That's a natural cycle that I can foresee happening, these larger companies will start buying out the smaller companies that can't fully integrate themselves and aren't able to make enough profit off of it."
While starting out with the concentrate business helped Good Titrations build a huge customer base, it initially gave them less control of the goods needed to make their product because "You're at the whim of the market. If there's a shortage then the price goes up, and you have to compete with other manufacturers," Tacke said. "By us being able to grow it ourselves, harvest it and be able to process it right away, we can come up with a much fresher and better product for your consumers. You're not trying to charge and make money and find all of your profit in one sector of that."
"The difficulty and the disadvantages of it are that you have to be specialized in a bunch of different things. Sometimes someone who's great at retail but doesn't know how to grow is at a disadvantage at the beginning because they're trying to make a product that they're not familiar with."
Good Titrations' success has enabled it to purchase the old Chili's restaurant building in the big box store business district off the Johansen Expressway in Fairbanks. The building is being remodeled to contain a small cultivation facility, a large retail store, an edibles kitchen and an onsite consumption room and cafe. The company is exploring the possibility of acquiring additional cultivation operations to increase its ability to supply its own store and others around the state with flower, concentrate and edibles.
Competent employees, good management skills, cash flow, attention to detail and owner oversight are essential to pulling off a large scale, vertically integrated cannabis business, according to Tacke.
"Funding is huge, especially to pull off a good grow. Also, time and energy. All the different licenses for all the locations are almost a full time job in themselves," Tacke said. "You have to get people who you know are knowledgeable on your team. You need expertise, and to put in controls. Trust but verify, and go back and double-check everything."
Contact Alaska Cannabis staff writer Dorothy Chomicz at 459-7582 or at dchomicz@AlaskaCannabist.com.