One of the topics I see discussed quite often is how important are the numbers on your bag. Does a high THC content indicate superior weed? Many retailers tell me that almost every customer has two questions: 1) What is the best value on your menu? And, 2) What is the highest THC strain?
While THC is an important element in cannabis for several reasons, it is definitely not all there is to selecting a great strain for your own unique reasons.
This time, I decided to feature at least a few average THC to low THC strains. Personally, these types of flowers are better for me because I experience cannabis-induced anxiety quite often.
High THC can actually cause an anxiety attack rather than calm one's nerves, which could be what brought the customer to a cannabis shop to begin with. And too much THC too often can create a tolerance to THC, requiring the use of more and more product to enjoy its effects.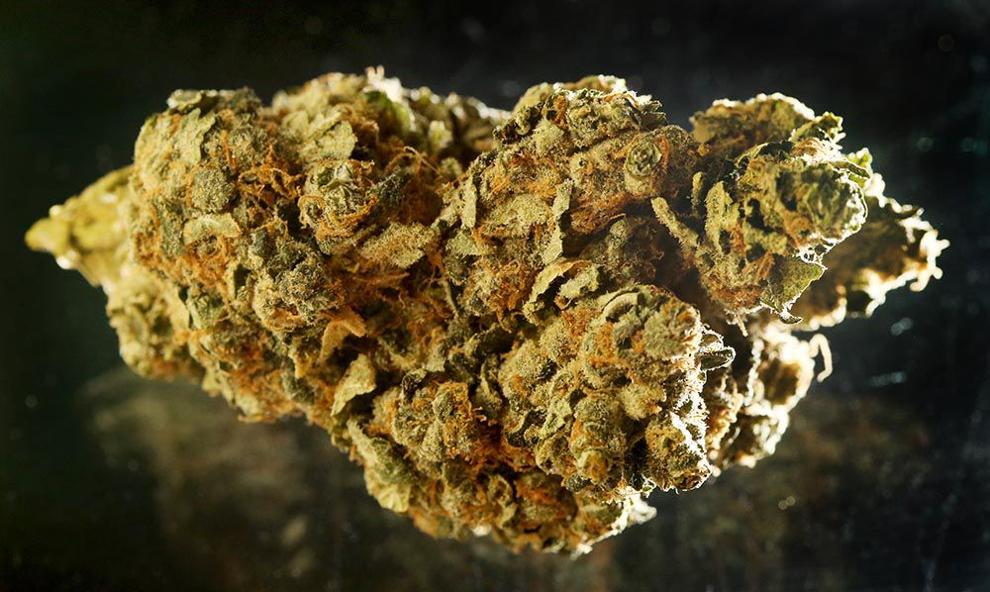 • Locomotion is an indica-dominant strain grown by Guest Services and can be found for sale at Grass Station 49. This strain has a THC content of 15.99 percent and a terpene content of over 2 percent.
Locomotion is a perfect flower for days when you just want to relax and enjoy. The aroma is extremely inviting; it draws you in with fruity, cheesie notes of sour and orange. Personally, this is one of my favorite strains on the market. Not only is it full of flavor but, because of the demand for high THC strains, Locomotion is also typically on a value menu. Make sure to check out this hidden treasure the next time you're inside Grass Station 49.
• Ron Bass's signature phrase "All love" describes Calm and Collective's Matanuska Thunder Fuck. This sativa is unique because the THC content is at 1.15 percent, but the THCA content tested at 20.21 percent.
Most of that THCA will convert to THC when it's decarboxylated, but this gives us an example of how we need to look at the entire panel, not just the THC content, when choosing a strain. I was able to meet up with Ron and Lacey while they were in Fairbanks for Vendor Night at Pakalolo. At the suggestion of their budtender, I chose MTF to review.
MTF's flowers are saturated in ripe crystals. The aroma drifts between funky, pungent, and sweet. Her smoke is earthy and smooth with a groovy head change and soothing relaxation. Being that MTF is a sativa, I braced myself for an anxious rush, but instead I felt clear, alert, and happy. I discovered my cares had melted away and a smile had affixed itself to my lips.
Moral of the story: Trust your budtender! Thumbs up to this award-winning flower and award-winning team! Whether or not this flower is the original MTF, it certainly is legendary.
• The next strain I chose to review this month is Sensi Star, by Alaska Tasty Cannabis. Sensi Star came in on the high side at about 21 percent THC. I found this gram in the deli at The High Expedition in Talkeetna.
This bud is unique; I hadn't ever truly experienced a flower that I could call chocolatey until now. Creamy, earthy decadence, this flower made my eyelids droop on the second hit. This strain is loved worldwide for its reputable and powerful indica effects. Sensi Star won awards at the Cannabis Cup three times.
Besides the chilled out relief, I can vouch for the appetite-inducing effects as well. Munchie alert! I have been really wanting to try some Alaska Tasty Cannabis, and I am very pleased with this purchase. Not only are the effects powerful, but I also found that the bowl lasted for a long time and so did the effects. Can't beat a great flower that burns slow, especially when the effects stay with you for a few hours. I'll be back, Alaska Tasty Cannabis.
• My fourth selection was Blueberry, by Snow-Capped Gardens. I purchased this nug at GoodSinse in Fairbanks at the recommendation of their manager. I asked for the tastiest, stinkiest weed they had, making no mention of the THC as a requirement.
This blueberry is one of the most aromatic and flavorful blueberries I have ever experienced. I take that back. This is the MOST flavorful blueberry I have ever had.
Effects are energetic, happy, relieved and smiley-faced. The high came on strong for an indica, a little rushed during the onset but mellow and chilled-out throughout. Great flower, testing at 18.74 percent THC.
I am a big fan of these guys now and will be looking for more-delicious flower from Snow Capped Gardens for sure.
Marcey Luther works for Alaska Blooms and has been a longtime vocal supporter of the legalized cannabis industry. Comments about the Bud Hub? Email editor@AlaskaCannabist.com.